Melbourne Cup Facts and Figures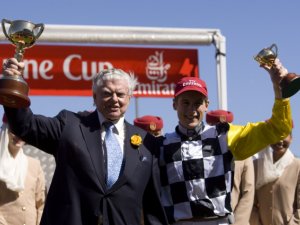 Bart's last Cup winner was Viewed in 2008.
• First run in 1861 under the banner of the Victorian Turf Club and won by the Etienne de Mestre-trained Archer who beat favourite Mormon by six lengths.
• When first run in 1861 the prize was 1420 pounds and the trophy a gold watch.
• Archer came back in the second running (1862) to beat Mormon, this time by eight lengths, a record margin that still stands (it was equalled in 1968 by Rain Lover).
• de Mestre (winner of the first two cups) would go on to train three other winners of the Melbourne Cup - Tim Whiffler (1867), Chester (1877) and Calamia (1878).
• Trainer Bart Cummings claimed the first of an incredible 12 Melbourne Cups in 1965 with Light Fingers.
• Bart Cummings' stable mate Galilee prevented Light Fingers making it back-to-back Cup wins, but gave Bart his second in a row.
• In 1967 Red Handed gave Bart his third straight Melbourne Cup victory.
• Bart Cummings' 12 Cup winners are Light Fingers (1965), Galilee (1966), Red Handed (1967), Think Big (1974, 1975), Gold And Black (1977), Hyperno (1979), Kingston Rule (1990), Let's Elope (1991), Saintly (1996), Rogan Josh (1999) and Viewed (2008).
• Kingston Rule (1990) holds the metric race record at 3:16.30.
• John Tait won four Melbourne Cups (The Barb 1866, Glencoe 1868, The Pearl 1871, The Quack 1872)
• Richard Bradfield won four Melbourne Cups (Patron 1894, The Victory 1902, Night Watch 1918, Backwood 1924)
• James Scobie won four Melbourne Cups (Clean Sweep 1900, King Ingoda 1922, Bitalli 1923, Trivalve 1927)
• W S Hinkenbothem won four Melbourne Cups (Mentor 1888, Carbine 1890, Newhaven 1896, Blue Spec 1905)
• Lee Freedman has five (Tawrrific 1989, Subzero 1992, Doriemus 1995, Makybe Diva 2004 and 2005)
• Frank McGrath won three (Prince Foote 1909, Peter Pan 1932 and 1934)
• George Hanlon won three (Piping Lane 1972, Arwon 1978, Black Knight 1984)
• Although Archer won the first Melbourne Cup with ridiculous ease the time recorded for the two-mile race was 3:52.00.
• In 1972 the race was altered to the metric distance of 3200m, 18.7 metres or 61.5 feet short of two miles.
• In 1985 the Cup prize money raised to $1 million. The owners of What A Nuisance (1985) received $650,000 and a $23,000 Cup.
• There are 25 three-year-old winners with Cross Counter the last one.
• The oldest horses to win the race were the eight-year-olds Toryboy (1865) and Catalogue in 1938.
• The last Southern Hemisphere three-year-old to win was the 1941 winner Skipton who gave champion jockey Billy Cook his first Cup win.
• There have been no dead-heats for first in the race but Topical and Gaine Carrington tied for third in Hall Mark's 1933 Cup and Lahar and Zazabelle also dead-heated for third in the 1999 Cup won by Rogan Josh. Note: We came very close in 2008 and 2011.
• Bobby Lewis is the most successful jockey. In 33 rides in the Cup he saluted the judge four times with The Victory (1902), Patrobas (1915), Artilleryman (1919) and Trivalve in 1927. He was also runner-up four times and finished third once on Phar Lap in 1929.
• Harry White steered the Bart Cummings-trained Think Big to successive victories in 1974 and 1975. He was back in the winner's circle again with Arwon in 1978 and another Cummings' mount Hyperno in 1979.
• Think Big failed to win a race in between his two Melbourne Cup wins.
• Horses to complete the Caulfield-Melbourne Cups double in the same year: Poseidon (1906), The Trump (1937), Rivette (1939), Rising Fast (1954), Even Stevens (1962), Galilee (1966), Gurner's Lane (1982), Let's Elope (1991), Doriemus (1995), Might And Power (1997) and Ethereal in 2001.
• Rising Fast would again win the Caulfield Cup in 1955 before running second to the Tommy Smith-trained Toparoa in the Melbourne Cup.
• Dual Melbourne Cup winners: Archer (1861-62), Peter Pan (1932 and 1934), Rain Lover (1968-69), Think Big (1974-75).
• Makybe Diva is the only horse to win the Cup three times in 2003, 2004 and 2005.
• Peter Pan was unable to contest the 1933 Melbourne Cup due to muscular rheumatism.
• Perhaps the unluckiest of all Melbourne Cup runners was Shadow King who ran in six Melbourne Cups between 1929 and 1935 finishing third behind Phar Lap in 1930, second behind White Nose in 1931, third behind Peter Pan in 1932 and second again behind Hall Mark in 1933.
• The longest-priced horses to win the race were The Pearl 100-1 (1871), Wotan 100-1 (1936), Old Rowley 100-1 (1940) and Prince Of Penzance 100-1 (2015).
• In 158 Melbourne Cups, 33 favourites have won with the shortest-priced winners being Archer 2-1 (1862), Tim Whiffler 5-2 (1867), Revenue 7-4 (1901), Phar Lap 8-11 (1930), Even Stevens 3-1 (1962), Let's Elope 3-1 (1991) and Makybe Diva at 5-2 in 2004.
• Heaviest weights carried in the Cup:- Winners - Carbine 10.5 (65.5kg), Archer 10.2 (64.5kg), Poitrel 10.0 (63.5kg), Redcraze 10.3 (65kg). Others: Rising Fast 10.0 (65.5kg) 2nd, Eurythmic 10.5 (65.5kg) broke down, Phar Lap 10.10 (68kg) in 1931 8th, Peter Pan 10.6 (66kg) in 1935 15th.
• Back in 1869 the VRC introduced a four day Spring Racing Carnival format.
• In 1875 the Melbourne Cup is first run on a Tuesday, prior to that the race was run on Thursday.
• The three-year-old filly Briseis (1876) created a record that is never likely to be equalled, winning the VRC Derby, Melbourne Cup and VRC Oaks in the space of six days. She was ridden by 13 year old Peter St Albans.
• Two years after the race being transferred to a Tuesday, in 1877 the first Tuesday in November was declared a public holiday in Victoria.
• The first 100,000+ race course attendance at a Melbourne Cup was in 1880. The Cup won by the unbeaten Grand Flaneur.
• 1882 was the first year bookmakers were licensed to bet on the Melbourne Cup.
• In 1894 Strand starts are introduced to Flemington for the Melbourne Cup.
• In 1916 a deluge of rain postpones the Melbourne Cup by 5 days.
• In 1925 the ABC provides the first transmission of the Melbourne Cup.
• Phar Lap (1930) won the Melbourne Cup as the shortest priced favourite in the history of the race at 11/8 on. He had to be hidden away at Geelong before the race after an attempt was made to shoot him and only emerged an hour before the race time of the Cup.
• In 1931 the totalisator (TAB) operated for the first time at the Melbourne Cup.
• In 1946 the Photo-finish System was first introduced to Flemington.
• Rising Fast (1954) won not only the Melbourne Cup, but the Turnbull Stakes, Caulfield Stakes, Caulfield Cup, Cox Plate, Mackinnon Stakes and the Fisher Plate on the final day of the Flemington Carnival.
• In 1958 starting stalls were used for the first time in a Melbourne Cup.
• Fashions on the Field first held at the Carnival in 1962.
• Maree Lynden was the first female to ride in the Cup on Argonaut Style in 1987.
• 2007 was the first time two female jockeys have contested the race (Lisa Cropp on Sculptor and Claire Lindop on Dolphin Jo).
• Michelle Payne became the first woman to win on Prince Of Penzance in 2015.
• Sheila Laxon, with Ethereal (2001), became the only woman (officially) to train a Melbourne Cup winner until Gai Waterhouse did it in 2013 with Fiorente.
• 2003 holds the record for the biggest crowd recorded at Flemington with 122,736 racegoers.
• Makybe Diva (2005) broke her own weight carrying record for a mare to victory by winning with 58kg.
• Vintage Crop changed the race forever in 1993 as the first 'overseas trained' winner. Media Puzzle won again for Dermot Weld.
• Delta Blues (2006) became the first Japanese horse to win the Melbourne Cup.
• French gallopers Americain and Dunaden won back to back in 2010/2011.
• In 2014 Germany won its first Cup when Protectionist for Andreas Wohler scored a massive win.
• Ireland won again in 2017 as Rekindling led home an Irish trifecta of Johannes Vermeer and Max Dynamite.
• Godolphin scored its first Cup after many years of trying when Cross Counter easily won under Kerrin McEvoy giving him his third Cup. It was a UK trifecta also in 2018.
• Red Cadeaux was second in three Cups before his sad demise when running in his fifth in 2015.
• Lloyd Williams won his fifth and sixth Melbourne Cup as an owner with Almandin in 2016 and Rekindling in 2017. The others were Just A Dash (1981), What A Nuisance (1985), Efficient (2007) and Green Moon (2012).
• The 2019 Melbourne Cup prize money rises to $8million with the winner getting $4.4million for connections.
• 2019 represents the 159th running of the Melbourne Cup.
No front page content has been created yet.