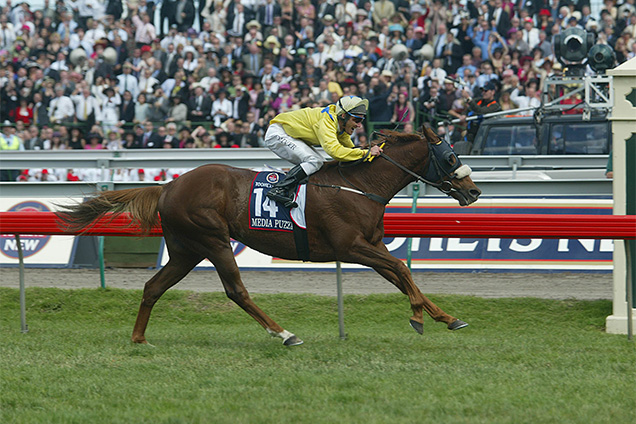 THE MELBOURNE CUP'S GLOBAL AFFAIR
Media Puzzle
wins an emotional Cup
The measure of the Melbourne Cup's aura was best exemplified by Mark Twain's 1895 indulgence that "The Cup astonishes me". However reality was that it was only some twenty years ago that the Cup was starting to go a trifle stale.
While eminently commendable by other standards, crowds of 80,000 - 90,000 were the norm. Even the injection of the first million dollar purse in 1985 wasn't enough to satisfy the Victoria Race Club's quest for acceptance. It was the year of 1993 that the 'Race that Stops a Nation' and the whole carnival itself came of age and became Australia's biggest international sporting, cultural and tourism vehicle.
Whilst there have been imported horses run in the Melbourne Cup for many years trained by locals, including Colin Hayes' two wins with Beldale Ball and At Talaq, it was the internationalisation of the race in 1993 that created such a distinct transformation in the race's fortunes.
Following a concerted effort by the VRC to attract horses from non traditional shores, it took only one reprise of the race for the investment to bear fruit and the lustre to return the status of the event to its rightful position.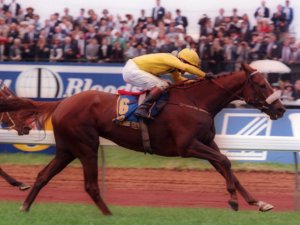 Vintage Crop in 1993
was a triumph for Dermot Weld
That 1993 running saw an overseas brigade led by Dermot Weld, a genius from County Kildare whose love of Banjo Paterson's poetry endeared him immediately to local sophistication, and a Crop of Vintage proportions.
While Drum Taps was afforded near favouritism, it was that long striding, ex-hurdler of chestnut colour that hurtled up the centre of the soggy Flemington track to deny Gai Waterhouse her first chance at glory. There are many stories of emerald stained cardboard exchanged for Australian currency by very versed folk of Irish extraction.
A year later Weld brought his champion back and he would put up an Herculean performance to run 7th to an ex-European stayer Jeune after suffering a terrible gash in the lead up to the race. Along with the fact British scribes could barely believe Sheikh Hamdan's son of Kalaglow would run two mile based on his form back home, they were also amazed at the effort of Vintage Crop to overcome such a potentially horrific incident pre race and show such courage.
This hero from the Curragh was a global jetsetter by the time Cup No 3 was an option. On another heavy surface, he came from yonder to deservedly fill third hole in a Cup trifecta for the ages. Winner Doriemus completed the celebrated Cups double and Nothin' Leica Dane ran the best race by a 3yo since Skipton's win in 1941.
When Oscar Schindler arrived in 1996 he was fawned over by all and sundry. The adulation confirmed him as 4-1 favourite but he failed to handle the pressure of the day in front of 90,149 racegoers. His disappointment did not act as a repellent with a total of eight overseas horses lining up in 1998. Included here was Lady Herries Caulfield Cup winner Taufan's Melody. He did not carry Ray Cochrane in the big Cup after his dubious, let's just say 'interesting' ride in victory at Caulfield.
Worldwide juggernaut Godolphin played their part in adding to the theatre of the carnival. To their credit they have shaken off numerous disenchanting efforts and returned where possible, gaining their biggest success here with All the Good taking a Caulfield Cup. They came closest at Flemington in '99, '01 and '09 when unconventional outsiders and lead outs Central Park, Give The Slip and Crime Scene almost pulled off surprises.
To the Australian punter, the men or women who cheer the riders in the stands with their each way ticket as the constitutional right to criticise, it seems little affection has been formed for Frankie. They sight his lack of success as the relevant reason for doubt but it would only take one Italian star jump in the Flemington mounting yard to go a long way toward redemption. Mind you it was Kerrin McEvoy who rode their Caulfield Cup winner. He was the one who almost got Crime Scene home in 2009 to prove a point.
The late Persian Punch provided his trainer David Elsworth with many happy memories both at home and abroad and he twice managed third placings in '98 and '01 running into two quality kiwi mares Jezabeel and Ethereal. Sadly Elsworth would have a far less sanguine memory of his last trip to Melbourne as his 2006 entrant Wunderwood would have to be put down after a terrible training accident at Mornington.
The Japanese
duelled in 2006
That year we saw the first non European triumph in the Cup. The Japanese have provided significant investment into the Australian industry, be it via ownership, breeding, financial or punting. This symbiotic relationship between the two countries had not led to them bringing a horse to race here until Eye Popper ran creditably the year previous.
With a strong basis and knowledge of what would be required here, Shadai Farm and Team Sumii unleashed a remarkable quinella. Their two mighty warriors Delta Blues and Pop Rock, long conditioned to the playground of Japanese staying races, cleared out by four lengths. Equine Influenza and subsequent quarantine regulations have thwarted their return.
Luca Cumani's reputation is well founded in Britain. He decided to expand his theatre of operations and include a mission halfway around the world. In that Delta Blues/Pop Rock annihilation, Luca had Glistening entered as a vague shot fired at the target. That 10th placing obviously whetted the appetite as he boarded up his Ebor Hcp winner Purple Moon for the 2007 version.
The experiment looked to provide the ultimate dividend as he kicked clear inside the furlong only for a potential staying superstar in Efficient to run him down. On a far more light-hearted yet clearly unprofessional note, the media down under became far more infatuated with daughter Francesca than the actual progress of Purple Moon. Her equestrian heritage and ability was conveniently forgotten.
They came even closer in 2008 as Corey Brown brought Bauer, with his part Australian ownership roaring, down the middle of Flemington after Viewed who had kicked clear. While the stable had thought Mad Rush was their best hope, Bauer (the Geelong Cup winner), came within the shortest margin in Cup history of winning it for Cumani. Shock wave therapy aside, it was a brilliant run.
However it is Weld the adventurer that you must return to. His skills and luck to pull off such a long distance crusade with precision rolled in an Irish lilt is both commendable and beautiful to the ear.
After Vintage Crop, his four time Irish St Leger superman was Vinnie Roe. Dermot brought him on three pilgrimages to Melbourne and three times he fell just short of the grandest reward. In the middle pin of his trilogy of starts he was beaten by an equine goddess, the quintessential Antipodean racing machine Makybe Diva.
However it was the entirety of the 2002 story that pulled at one nation's heartstrings and inspired another's pride. Dermot had had grand plans for Media Puzzle, a son of Theatrical but his emerging conveyance was forced to stand in a box for many months after breaking his pelvis not longer after a 4th in the English St Leger. Weld had pinpointed Melbourne but this clearly was not part of the script. The gelding was given the necessary time.
Once his recovery materialized, Weld then had another issue. To make the Melbourne Cup field he would have to run in Australia to lift his rating and associated weight to ascend the Order of Entry - the balloting table of entrants. Rarely has a provincial Cup, at Geelong some 75km from the definitive place of glory, taken on such significance.
The wizard put our finest at the time, Damien Oliver, on to test him out. A few bookies must have known this was for real as Media Puzzle tightened even before the Geelong race. The result was a frolic in the run, a 3½ length doddle in race record time eased down on the line and the resultant 1.5kg penalty was a blessing to both Weld and Oliver for varying reasons.
It was then that tragedy struck. Between the Geelong parade and the first Tuesday in November the jockey's family would again face the striking perils of race riding. Damien's brother Jason was killed in a barrier trial incident in Perth. The juxtaposition of the agony of the situation and the professionalism required to ride in the biggest test combined with the vastness of our continent provided a stark contrast. How could he concentrate?
Dermot's son Mark indicated, "These are only animals, it's only a horse race, people are far more important."
But with Jason's spirit and donning his brother's used riding breeches, Damien managed to conjure the perfect ride. A post race salute to the heavens and slap of the name on said pants said it all - there was no need for any more fitting public acknowledgement of the most poignant event in the Cup's history to that time. Hardened racing purists and narks of the greater community must admit to shedding a tear on this day.
With due recognition and respect for what he had just witnessed, Dermot could allow himself a chance to dwell on his own achievement. He said he was never prouder than to see his two fine stayers contesting the lead with 500 to go in a Melbourne Cup.
But it was Oliver's dedication and calm demeanour afterwards that belied the hurt and suffering he must have felt for himself, his family and importantly his brave mother. What must have gone through her mind during the race?
Americain was dominant
And then we saw the Gallic brigade. Alain de Royer Dupre had had brilliant success around Europe but had not come to these parts before. The French are renowned for their great trainers and talents with the horse.
Like Media Puzzle before him, the Dynaformer entire Americain took on the Geelong Cup as his pre-Cup mission. Surging through late he grabbed a win on the line bringing him right into calculations.
Consider as well he was now owned by Australians, ridden by a Frenchman based in Hong Kong and bred in the US as the name suggests, he was a complete global racing flag bearer.
After a damp weekend in Melbourne and with pace on, Mosse brought this fine stayer to the outside and he looked like he had joined in at the clock-tower, rushing away for a three length win. Tres Bein !! was the call.
Just to amplify how the French have adapted to our racing, a disciple of de Royer Dupre in the shape of Mikel Delzangles used exactly the same formula to win in 2011.
Dunaden had run some nice races in Europe in the Northern summer including a win in a G3 at Longchamp as well as contesting the Kergorlay. He got into the Cups with the same weight at Americain and came through the same lead up race being the Geelong Cup. It is amazing how that race has become THE progression for so many stayers.
But consider everything that happened in the time before the Cup, including the loss of Craig Williams to suspension and the addition of a newcomer to Flemington Christophe Lemaire, there was not much margin for error.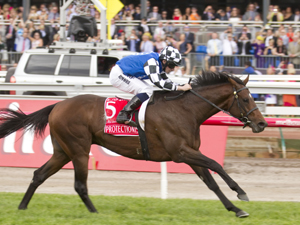 Protectionist was a German winner in 2014
In the closest margin in Cup history, it was a squeak for Dunaden. You can view the replay a hundred times and see exactly when Lemaire switches the stick from one hand to the other.
It was that precise moment 100m out that the French stallion picks up and gets back into the game. Two minutes went by for the photo but a nose was all it took for the big prize.
In Australia, the overseas entourage get quite the royal treatment both for their noble beasts and their handlers. Nevertheless it is their reputations that get dragged through the mud as an insatiable establishment stew over notable Cup failures as well as canning those who do not even make it to the final field of battle.
Recent Caulfield Cup and Geelong Cup triumphs show when the right style of horse comes here and settles in well, they are mighty hard to hold out.
Three recent editions have been run and won by ex-Euros in the form of Green Moon, Fiorente and Almandin with many more not far behind.
It was then Germany's turn to shine as Protectionist rated one of the highest ever after his demolition in 2014. He scored by four lengths under a top weaving ride by Ryan Moore who did the Cox Plate/Melbourne Cup double. The race has changed forever.
The Irish had won before but the biggest stable of them all, Ballydoyle's Aidan O'Brien had had a few goes. What would be hard to believe is that he would have the title snatched from him by his own son. Joseph had ridden with success but got too big. So his training career began and with the help of Lloyd Williams, teamed up with Rekindling.
The Euro 3yo came south and in the run to the line was in a struggle with Aidan's horse Johannes Vermeer. Rekindling got up late giving Williams the quinella and with Willie Mullins' Max Dynamite into third, gave the Irish the entire prize.
One year on and it was finally England's turn. They were yet to salute after so many horses had tried. But Charlie Appleby was having a big year including the Derby at Epsom with Masar.
He brought another 3yo south and the horse with Gordon Stakes and Great Voltigeur form Cross Counter was the one. He came from near last to defeat Marmelo and A Prince Of Arran making it a homeland trifecta on a wet track and it gave Kerrin McEvoy his third triumph.
Now up to the 159th running of the Cup, who takes up the challenge for the treasured trophy and re-emphasises the credibility of our most desired sporting prize in those foreign lands alongside more Eurozone invaders from England, Ireland, France and now Germany as well as Japan from the East.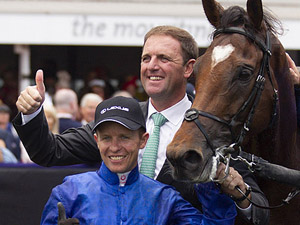 Kerrin McEvoy, Charlie Appleby and Cross Counter after the 2018 victory
Who will win the 'Loving Cup' in 2019?
No front page content has been created yet.