2019 Emirates Melbourne Cup Trivia
All in a Name
When it comes to picking Tuesday's Melbourne Cup winner you really need to have the odds stacked as much as possible in your favour.
Studying race form can undoubtedly help sort the best from the worst chances but occasionally the longshot does get up and leave the poor punter penniless. Remember Viewed was 40-1 in 2008 before Prince Of Penzance in 2015 at 100-1.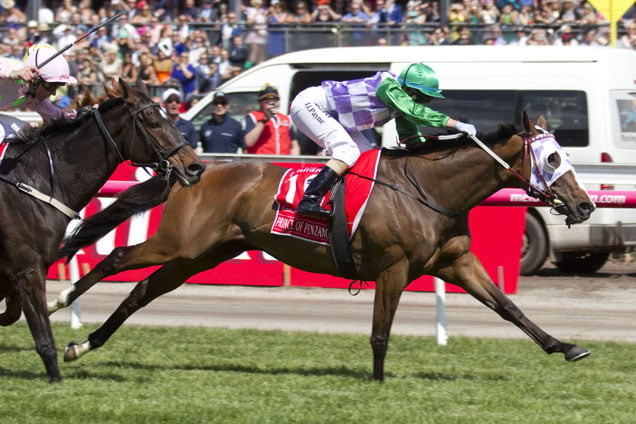 Prince Of Penzance in 2015 winning the Melbourne Cup at $101
But don't despair help is at hand and clues to the identity of this year's winner can be found by looking back through the history of the Cup which has been run 158 times.
Ideally this year's Melbourne Cup winner will have a single-word name with seven characters, have 'T" as a first initial, be handicapped around 52.5kg, carry number four saddlecloth, be drawn in barrier 11. Pity there is no such animal in the 2019 field.
But let's look closer.
The fact is that 89 horses with a single word name have won the Cup, 16 of them in the last 30 years, including five in a row - Dunaden (2011), Americain (2010), Shocking (2009), Viewed (2008) and Efficient (2007) plus Ethereal (2001) and Brew (2000) and also Fiorente then Protectionist, Almandin and Rekindling.
9 single named horses run in the 2019 Melbourne Cup.
Cross Counter (2018) was the last of 63 winners with a double-barreled name and interestingly there are 10 horses with this characteristic this year suggesting maybe number 64 might appear this year as many favourites this year have two names.
The first initial of the winner would be "T", which has been successful 16 times. There are two this year being Twilight Payment and The Chosen One.
However other prominent first initials have been "M" (12 wins) – Mer De Glace, Master Of Reality, Mirage Dancer, Mustajeer, Magic Wand, "B" (11 wins) – No runners and "S" (12 wins) – Southern France, Sound, Surprise Baby and Steel Prince.
Another clue to consider is that 32 Cups winners have had a name with seven characters – Latrobe is the only one.
Another 22 Cup winners have had a name with eight characters and 20 have had nine characters.
Age & Sex Counts
Four and five-year-old horses have the best record in the Melbourne Cup with 44/46 wins respectively.
The last five-year-old to win was Fiorente (2013). Before him Dunaden, Americain and Viewed then Makybe Diva in 2003 and Doriemus in 1995. The last four year old to win was Protectionist in 2014.
There are no Southern Hemisphere-bred three-year-olds in this year's Cup. Constantinople and Il Paradiso are Northern Hemisphere 3yos.
The last SH three-years-old galloper to be successful was Skipton (1941). Rekindling and Cross Counter have won as Northern Hemisphere 3yos in 2017 and 2018.
You are also keeping the odds in your favour if your selection is a male (142 wins) and not a female (16 wins), although it is worth noting that seven mares have won since 1988.
Significantly 70 stallions (Protectionist was the last) have won the cup compared to 51 geldings and 21 colts.
Colour is the key
Bay coloured horses clearly have the best Cup record with 73 wins and were chasing their eighth win in a row in 2007 only to lose out to a grey.
Brown horses have won 36 cups, while chestnuts have won 34, (Media Puzzle 2002) having had a purple patch of success winning eight Cups between 1987 and 1996.
Six greys have won the race, the last being Efficient in 2007. The popular Subzero (1992) was the previous winner.
All In Numbers
Theoretically the best horse in the Cup carries number one saddlecloth (Cross Counter). It is the third most successful and was last carried to victory by Makybe Diva in 2005.
Number four (Mirage Dancer) has the equal best record with 11 wins, the same as number 12 (Prince Of Arran).
Numbers to avoid are 21 (Steel Prince) while 7 (Latrobe), 16 (Neufbosc) and 18 (Surprise Baby) have won just two Cups each.
Saddlecloth 20 (Il Paradiso) has won three cups but was last seen first past the post more than 100 years ago in 1897.
Barriers count
The Chosen One has to create history when he drew barrier 18, which has never been successful in the Cup.
And the situation is not much better for Downdraft (barrier 15) given that Makybe Diva (2003) and Silver Knight (1971) are the only winners from 15.
Hunting Horn has the cherished barrier 11, which is the most successful with eight wins, five since the Cup went metric in 1972.
Weight A Worry
The Cup winner has mostly come from the weight range of 52 to 52.5kg winning 14 times. This year there are six horses with that weight scale – Constantinople, Il Paradiso, Steel Prince, The Chosen One, Vow And Declare and Youngstar.
Winning Form Good Form
Looking at form, 21 of the last 49 Melbourne Cup winners started in the Caulfield Cup, and ten of them won or were placed in the Caulfield event. Strangely none have won since Viewed ran there in 2008.
Nine Caulfield Cup starters will line up at Flemington including the first six across the line.
A race start on the Saturday before the Cup had also been an advantage with 24 of the last 49 winners lining up on Derby Day in either the Mackinnon or the Hotham Hcp (Lexus). In recent times that has turned around a bit and the Mackinnon is not on the day now anyway.
Worth noting is that 13 of the last 29 Cup winners won at their previous start. Five horses – Mer De Glace, Hunting Horn, Prince Of Arran, Downdraft and Surprise Baby fit that score.
Other Points
Cross Counter returns to defend his title. Others to run again from last year include Prince Of Arran, Finche, Rostropovich, Youngstar and Sound.
New Zealander Maree Lyndon on Argonaut Style in 1987 was the first female rider to contest the Cup. Clare Lindop was the first Australian female to ride in the Cup when unplaced on Debben in 2003.
In 2007 history was made when two females rode in the Cup for the first time. New Zealand rider Lisa Cropp on Sculptor and Clare Lindop on Dolphin Jo. Both ran unplaced.
Of course Michelle Payne became the first woman to win in 2015. No women ride in this year's Cup.
No front page content has been created yet.