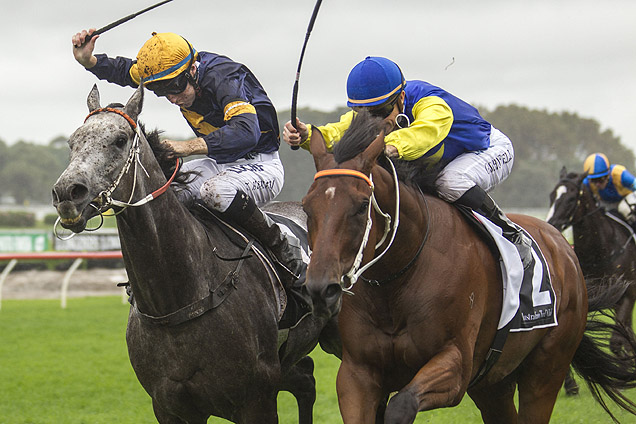 CANTERBURY June 9
Best Bets
RACE 1: (3) Dragonstone
RACE 2: (2) Ibaraki
For Value
RACE 7: (9) Rules Don't Apply (EW)
RACE 1: 3-1-11-5
RACE 2: 2-4-5-7
RACE 3: 4-6-8-1
RACE 4: 7-3-8-4
RACE 5: 5-6-3-2
RACE 6: 1-9-5-6
RACE 7: 9-16-2-3
TRIAL WATCH REPORT
Noted Trial Runners June 9
CANTERBURY WEDNESDAY: Dragonstone (R1); Mura Mura (R1/R2); Fangirl (R1); Authentic Jewel (R1); Celtic Harp (R1); Ibaraki (R2); Smarty Lee (R2); Allinthistogether (R3); Broken Arrows (R5)
TRIAL POINTERS
ROSEHILL June 4: I have been sweating on the return of the unraced IBARAKI since a big win in his first trial at Rosehill in December. This confirmed what he showed that day as he produced another classy performance to win his maiden heat over 900m (55.84; 35.20), overcoming a slow start to quickly take command turning for home and coasting to the line under no pressure.
RANDWICK May 28: MURA MURA wasn't the quickest of the 2YO heat winners over 1050m (64.22; 35.88) but was visually impressive as she held the lead easily and was held back to the chasers as Kerrin McEvoy was intent on giving her an easy time. Should have no trouble breaking her maiden. Maiden 3YO SMARTY LEE recorded the fastest win in the 1050m heats (63.96; 35.92)
ROSEHILL May 21: FANGIRL was second in the fastest of the five 2YO heats over 895m. She worked strongly to the line under a big hold and could have won the trial if called on by Tommy Berry in a big improvement on her first trial in February. DRAGONSTONE was another impressive runner-up in his 2YO heat. He made an impact winning his first trial in February and this effort to work home in great style from the rear underlined his potential.
RECENT TRIAL WATCH WINNERS: No Impediment; Nikohli Beagle; Isalute; Daphne Jean; Shotgun Alli; Cape Breton; Fenech; Goofy Mick; Bitcoin Baby; Stoical; Wicklow; Escape Artist; In The Congo; Katalin; Ballistic Lover.
BLACKBOOK REPORT
RECENT BLACKBOOK WINNERS: Lunar Flare; Great House; Tiger Of Malay; Rogue Rocker; No Compromise; Realm Of Flowers; Reloaded; Laure Me In; Baller; Zaaki; Cherry Tortoni; Embracer.
Blackbookers – Selected June 5
(Follow for next 3 starts)
BAGLIONI: Missed run at vital stage. Won't be big odds next time.
BERDIBEK: Going well. Ready to be placed to advantage.
MASERARTIE BAY: Set up for a suitable staying race.
PETRUCHIO: Back in good form after a long absence.
PIONEER RIVER: Likes the Flemington straight.
TYCOONIST: Luckless over last 400m. Forgive run.