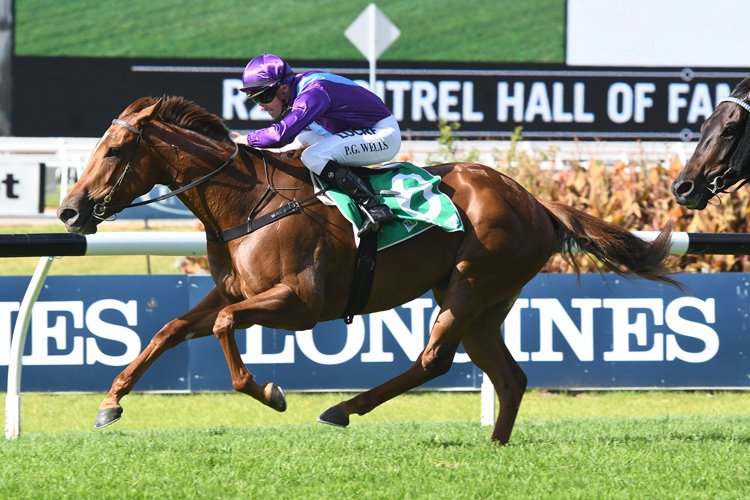 WARWICK FARM May 11
RACE 6: (12) Lisdoonvarna (EW)
RACE 7: (3) Ita (EW)
RACE 1: 4-8-10-5
RACE 2: 5-1-14-3
RACE 3: 5-1-3-2
RACE 4: 4-1-3-7
RACE 5: 4-5-3-8
RACE 6: 12-11-5-10
RACE 7: 3-1-10-7
TRIAL WATCH REPORT – May 11-12
NOTED TRIAL RUNNERS
WYONG THURSDAY: Secret Revolution (R2); Emilia Romagna (R2); Hawaii Five Oh (R2); Controlocracy (R3); Lucky Variety (R3); Diamond Flare (R5); Conspiracist (R5)
SCONE FRIDAY: The Rockwell Scale (R2); Pacheco (R2); Rock Chant (R2); Hamaki (R2); Baltic Coast (R3); Wingardium (R7)
RECENT TRIAL WATCH WINNERS: Divine Okay; Show Me Your Love; Rustic Steel; Showtime Lady; Portray; Oryx; Amati; Tycoonist; Thorpe; African Daisy; Excelladus; Bethencourt; Essonne; Podium; Democracy Manifest; Kementari; Najmaty; Owen County; I'm Secret; Best Side; Moroccan Lad; More Sundays.
TRIAL POINTERS
RANDWICK May 2: DIAMOND FLARE has had an interesting 12 months since his only start last season, having had a name change (formerly Dickson Horse), six trials and three suspensions for bad barrier behaviour. With a stallion chain added he was on his best behaviour to record a most impressive win in his 1045m maiden heat in fast time (64.94; 36.30), cruising in the lead and having plenty in reserve as he strolled home by almost six lengths.
ROSEHILL April 29: Unraced 3YO CONSPIRACIST is another budding star for Team Hawkes. Kept on ice since winning his first trial in December, he was a class above his rivals dictating from the front in his 900m heat (55.62; 35.24) with Willie Pike having plenty of horse under him over the last 200m as he ran out a soft winner by 1.15 lengths, a margin that flattered his rivals. Other youngsters making a good impression were the 1030m heat winner SECRET REVOLUTION (64.26; 35.79) and the 900m heat winner WINGARDIUM (55.73; 35.61).
NEWCASTLE April 26: A show of strength from the Kris Lees stable, with the leading trainer winning 10 of the 18 heats from 37 runners. There were some nice prospects among the 2YOs including LUCKY VARIETY.
WARWICK FARM April 22: Another strong trial from robust maiden 3YO THE ROCKWELL SCALE. He was very eager to run through the first half of his 807m trial and was never off the bit to clock fast time (48.18; 34.30). He's now won two trials since he was placed in his first race start in December and is ready to compete when he resumes. In the 2YO grass trials the talented filly EMILIA ROMAGNA performed boldly in her 813m heat in good time (48.35; 34.00).