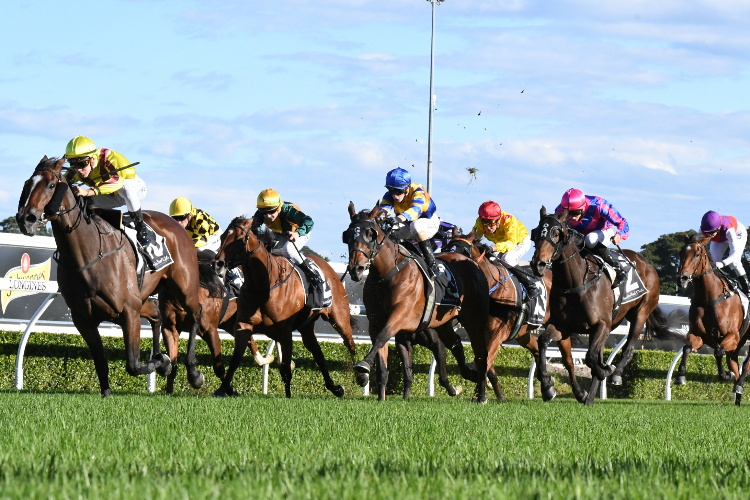 RANDWICK KENSINGTON September 15
For Value
RACE 6: (10) Oh Please Dianna
RACE 7: (9) Sequana
RACE 1: 1-3-6-9
RACE 2: 7-12-8-5
RACE 3: 6-1-3-5
RACE 4: 7-6-1-5
RACE 5: 6-4-2-3
RACE 6: 10-11-5-1
RACE 7: 9-3-7-11
TRIAL WATCH REPORT
Noted Trial Runners – September 15-17
RANDWICK WEDNESDAY: Antonio Giovanni (R1); Vyner (R1); The Poacher (R2); Lady Fraulein (R2); French Bonnet (R5); Promise Of Success (R5); Splendiferous (R6); Overmann (R6)
KEMBLA GRANGE THURSDAY: Huzzah (R1); Pick The Score (R2); Sarsen (R6); Edmonton (R6)
NEWCASTLE FRIDAY: Edmonton (R3); Akhtar (R3); Mirra Vision (R6); Madam Legend (R6); Bargain (RF6); Hush Writer (R7)
RECENT TRIAL WATCH WINNERS: Dalgarno; Dalaalaat; Giannis; Entriviere; Anamoe; Jesse James; Benaud; Kallos; Solar Apex; Kooled; Speech; Nature Strip; Eyewitness; Invincible Vision; Profondo; Arthur Francis; Quick Tempo; Bruckner; Masked Crusader; Madam Legend; Andermatt.
TRIAL POINTERS
RANDWICK September 10: Good mare MADAM LEGEND trucked through her 1050m trial (62.88; 34.30) on the A Grass for a dominant win that points to her being in the right form to add another good class race to her record. She was under a throttle hold to win by a half length.
RANDWICK September 2: MIRRA VISION took the honours in the 1050m heat, recording slick time (62.33; 34.31) as she ran home strongly from off the pace. She easily ran past the leaders over the last 100m, an effort that suggests she has held her form well since her Randwick win in July.
WARWICK FARM August 30: PICK THE SCORE is a sharp short course mare and her speed should see her hard to run down when produced fresh after her fast 810m heat win (47.71; 33.20).
BLACKBOOK REPORT
Eligible Blackbook Runners – September 15
RANDWICK KENSINGTON WEDNESDAY: Amoretti (R3); Eight Diamonds (R5); Ashim (R7)
NEWCASTLE FRIDAY: Yearning (R2); Sky Lab (R8); Cepheus (R8)
RECENT BLACKBOOK WINNERS: Hitotsu; Love Tap; Mr Mozart; Animate; Entriviere; Contemptuous; Jamaea; Geist; Superstorm; Signora Nera; Coastwatch; Madam Legend; Masked Crusader; Super Effort; Bella Nipotina
Blackbookers – Selected September 11
(Follow for next 3 starts)
CHERRY TORTONI: Game in defeat. Always competitive.
GLENEAGLES: Plenty of merit in his closing effort.
MYSTIC JOURNEY: Good to see her back in good form.
NIMALEE: Will be well placed against her own sex.
PERSAN: Strong return by a quality stayer.
SIR DRAGONET: Showed his class. Sure to be fitter.