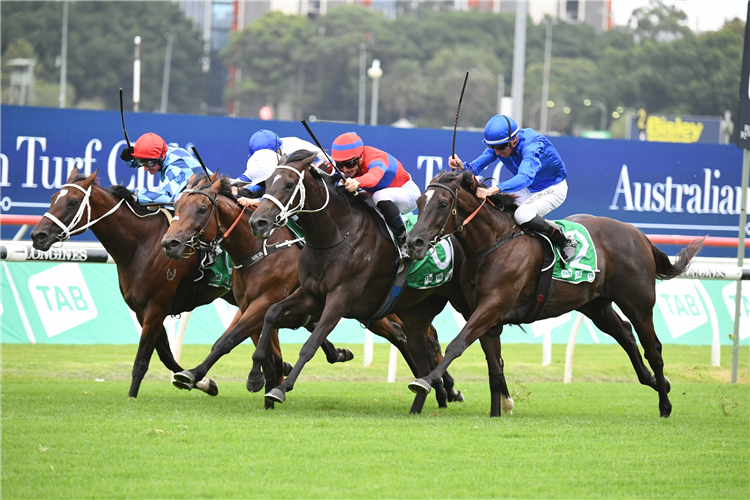 CAULFIELD September 18
Best Bet
RACE 5: (3) Ranveer
For Value
RACE 3: (5) Elusive Express
RACE 4: (8) Timson
RACE 6: (7) Snickerdoodledandy
RACE 9: (9) Geist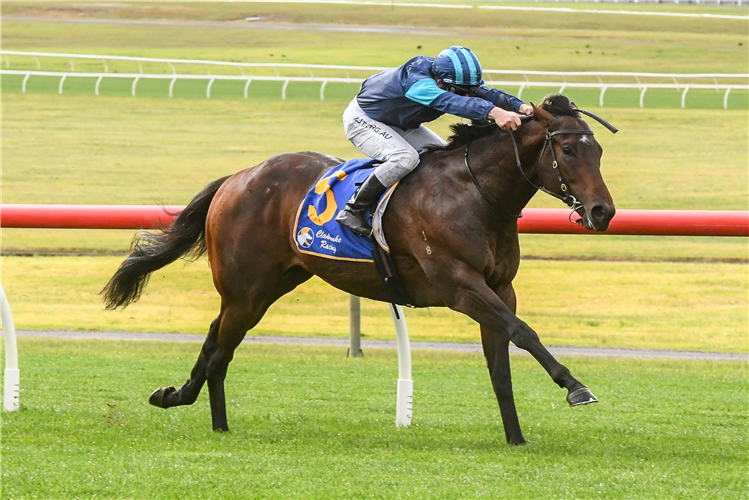 RACE 1: 11-2-7-3
RACE 2: 2-5-8-7
RACE 3: 5-3-6-7
RACE 4: 8-9-3-1
RACE 5: 3-7-1-5
RACE 6: 7-3-11-1
RACE 7: 11-12-6-4
RACE 8: 2-5-1-7
RACE 9: 9-4-10-3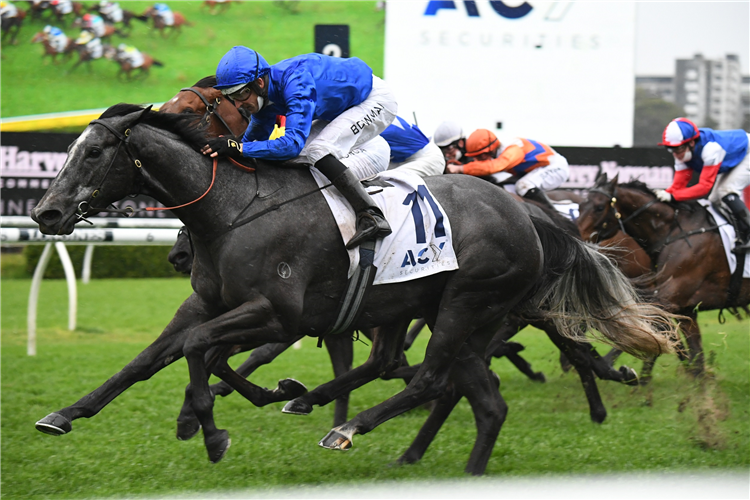 RANDWICK September 18
Best Bets
RACE 5: (11) Atishu
RACE 9: (14) She's Ideel
For Value
RACE 1: (15) Foxie La Belle
RACE 3: (13) Akihiro
RACE 4: (7) Super Effort
RACE 10: (6) Valaquenta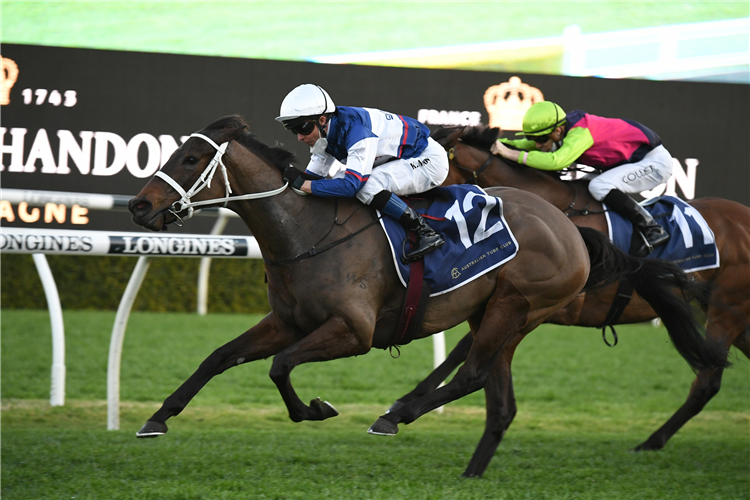 RACE 1: 15-3-17-2
RACE 2: 5-4-8-1
RACE 3: 13-4-9-2
RACE 4: 9-5-11-2
RACE 5: 11-3-5-12
RACE 6: 4-1-7-6
RACE 7: 7-2-9-5
RACE 8: 4-1-3-7
RACE 9: 14-7-4-3
RACE 10: 6-10-12-11
RANDICK MULTI
RACE 4 (9) SUPER EFFORT: Has made excellent progress this prep with two wins and two luckless seconds and sure to be a big player again if he holds that form. Last time he gave 7.5kg to a talented winner Brigantine when making ground late over 1300m at this course and looks well placed over this extra trip with 2kg less to carry from a kind draw.
RACE 5 (11) ATISHU: She's taking on a strong field but the dual acceptor gets a big vote of confidence from top stable preferring this event over an easier race on this card. The former Kiwi was super impressive when an on pace first-up winner over 1400m at this course then the ride was questioned when she got lost on a chopped up track before making up lengths to finish fourth over 1500m on September 4. Sure to be fitter and her light weight and good barrier should see her ridden a lot closer this time. Can measure up.
RACE 9 (14) SHE'S IDEEL: Ideel by name and nature as this mare is ideally placed to add to her excellent course and distance record. The big factor is the drop back to handicap conditions from her two top notch wfa performances since resuming in the G1 Winx Stakes (fastest last 600m sectionals) and G2 Chelmsford Stakes. She's down 4kg to the limit weight off those efforts and that clearly gives her a superior rating to her rivals. She's been in the money in six of her eight starts at Randwick, winning both her starts over this distance.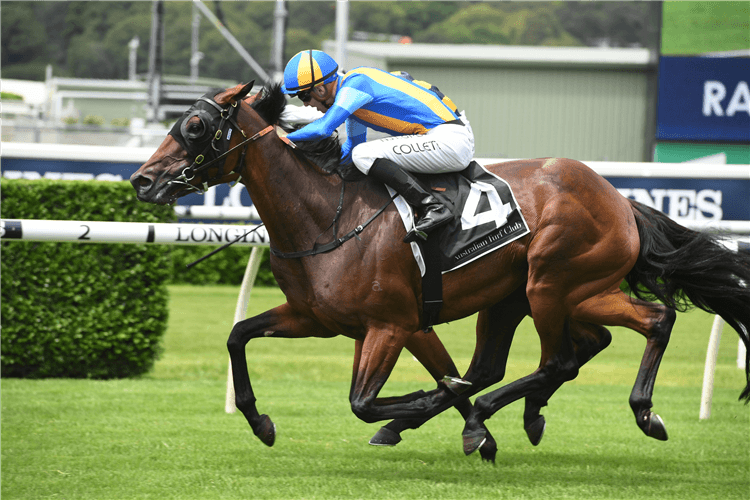 TRIAL WATCH REPORT
Noted Trial Runners – September 18-21
RANDWICK SATURDAY: Harmony Rose (R5); Gytrash (R8); Eduardo (R8); Lost And Running (R8); Marway (R10); Lord Olympus (R10);; Mamaragan (R10); Quantico (R10); Gravina (R10); Starspangled Rodeo (R10); Valaquenta (R10)
CAULFIELD SATURDAY: Athiri (R2)
NEWCASTLE SATURDAY: Six Again (R2); Steelsheen (R4); Princess Glamour (R4)
NOWRA SUNDAY: Marvelous (R5); Snitzonfire (R5)
WYONG TUESDAY: Legend I Am (R3); Battleton (R3); Snitzonfire (R3); Six Again (R5); Yumi (R5); Shihonka (R5)
RECENT TRIAL WATCH WINNERS: Madam Legend; Huzzah; Promise Of Success; Dalgarno; Dalaalaat; Giannis; Entriviere; Anamoe; Jesse James; Benaud; Kallos; Solar Apex; Kooled; Speech; Nature Strip; Eyewitness; Invincible Vision; Profondo; Arthur Francis; Quick Tempo; Bruckner.
TRIAL POINTERS
RANDWICK September 10: Everest contenders CLASSIQUE LEGEND and LOST AND RUNNING hooked up in the only black type trial over 1000m on the course proper. LOST AND RUNNING, having his second trial, showed early pace wide on the track to share the lead, At the 200m LOST AND RUNNING was well held under Hugh Bowman, sitting a half length back on the outside before closing late to be beaten only a short head by Classique Legend in good time (58.52; 34.39). In the shorter 740m trials EDUARDO used his natural speed to lead MAMARAGAN from start to finish in their heat (43.82; 33.86) with both sprinters going to the line with plenty in hand.
RANDWICK September 2: GYTRASH was having his second trial following his placing behind EDUARDO at Warwick Farm last month and was given a good test to win his 742m heat. He was awkwardly placed in the middle of a line of five behind the leading pair at the 400m but once Jason Collett angled him into the clear his class kicked in although he was pushed along to gain the upper hand over the last 100m, scoring by a half length (44.60; 33.81). The trial had plenty of depth with subsequent winner ANAMOE finishing third. LORD OLYMPUS worked along to win his 1050m heat in good time (63.39; 34.70).
GOSFORD August 30: John Thompson's problem child MAMARAGAN bounced back from his Kembla Grange failure with a classy win in a strong 800m heat (49.08; 34.68) while the quality mare ATHIRI was in strong form winning her open trial.
WARWICK FARM August 30: EDUARDO had his second trial as he gears up for his Everest bid. He was ridden in his 810m heat by track rider Michelle Read, who gave him plenty of galloping room sitting wide and make the home turn four deep under a hold. Ocean Emperor railed up and was unextended to win the heat (47.82; 33.01) with EDUARDO closing off to be beaten less a length. Maiden heat winners to blackbook included SIX AGAIN and the wayward PRINCESS GLAMOUR, who won her heat by 2.9 lengths after she shied and ran out in the last 50m when leading by six lengths.
RANDWICK August 20: LOST AND RUNNING began his Everest build up with a tradesman win over the smart sprinter MARWAY in the 850m heat (49.52; 34.18). They sprinted hard to the line together in fast time with both working well within themselves.
WARWICK FARM August 17: Crack sprinters EDUARDO and GYTRASH made their first trial appearances for the season. They contested an 805m heat on the course proper with EDUARDO's natural speed giving him the edge over the short course. He shared the lead but his class kicked in over the last 400m as he did it well within himself to record a soft win in the fastest heat of the morning (47.31; 33.20). GYTRASH lobbed along at the rear and worked it into it strongly over the last 200m for an equally impressive third, 3.75 lengths from the winner.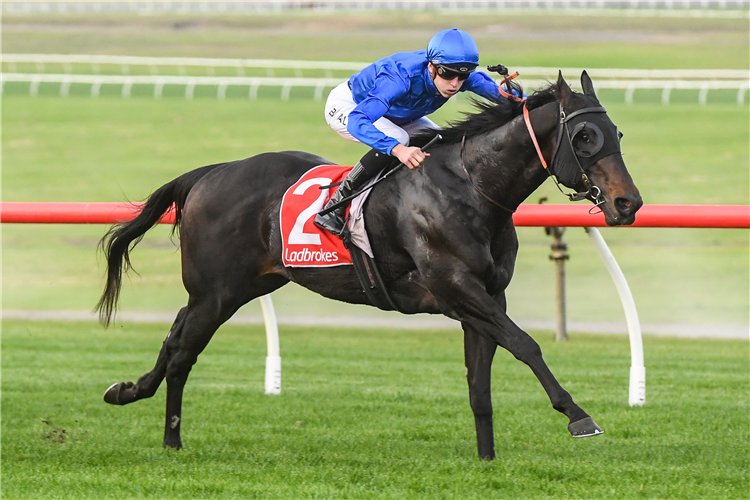 BLACKBOOK REPORT
Eligible Blackbook Runners – September 18
RANDWICK SATURDAY: Battleground (R1); Kiss The Bride (R2); Foxborough (R3); High Supremacy (R3); Aramato (R5); Atishu (R5); She's All Class (R6); She's Ideel (R9)
GOLD COAST SATURDAY: Ruuca (R1); Purrfect Deal (R2)
CAULFIELD SATURDAY: Athiri (R2); Athelric (R4); Forbes (R5); Dawson Diva (R6); Irish Flame (R8); La Mexicana (R9); Shaik (R9)
RECENT BLACKBOOK WINNERS: Yearning; Hitotsu; Love Tap; Mr Mozart; Animate; Entriviere; Contemptuous; Jamaea; Geist; Superstorm; Signora Nera; Coastwatch; Madam Legend; Masked Crusader; Super Effort; Bella Nipotina
Blackbookers – Selected September 11
(Follow for next 3 starts)
CHERRY TORTONI: Game in defeat. Always competitive.
GLENEAGLES: Plenty of merit in his closing effort.
MYSTIC JOURNEY: Good to see her back in good form.
NIMALEE: Will be well placed against her own sex.
PERSAN: Strong return by a quality stayer.
SIR DRAGONET: Showed his class. Sure to be fitter.