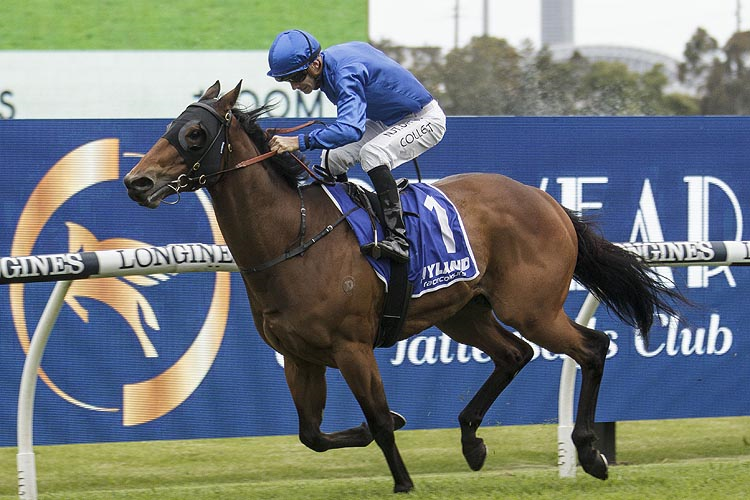 RANDWICK April 24
RACE 1 (11) Ahead Start (EW)
RACE 3: (3) High Supremacy
RACE 5 (3) Deprive (Value)
RACE 7: (10) Savatiano (EW)
RACE 8: (9) Starspangled Rodeo (EW)
RACE 9 (12) Salina Dreaming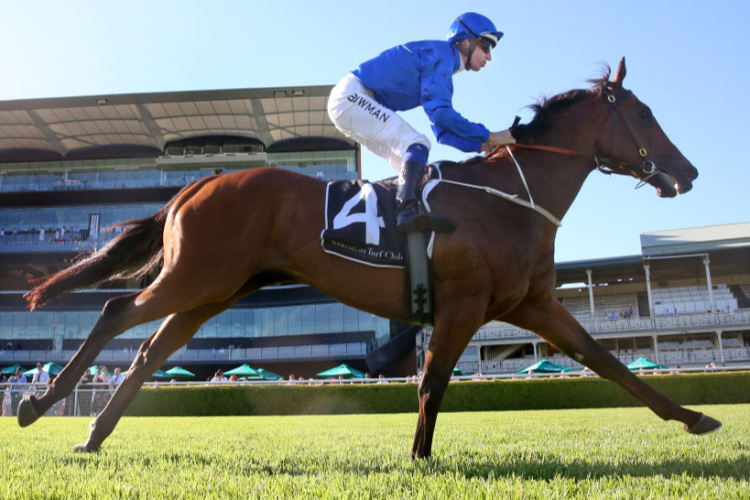 RACE 1: 11-12-9-1
RACE 2: 2-1-3-4
RACE 3: 3-1-2-5
RACE 4: 1-5-9-2
RACE 5: 3-4-5-8
RACE 6: 2-1-3-14
RACE 7: 10-2-5-4
RACE 8: 9-4-14-7
RACE 9: 12-15-2-7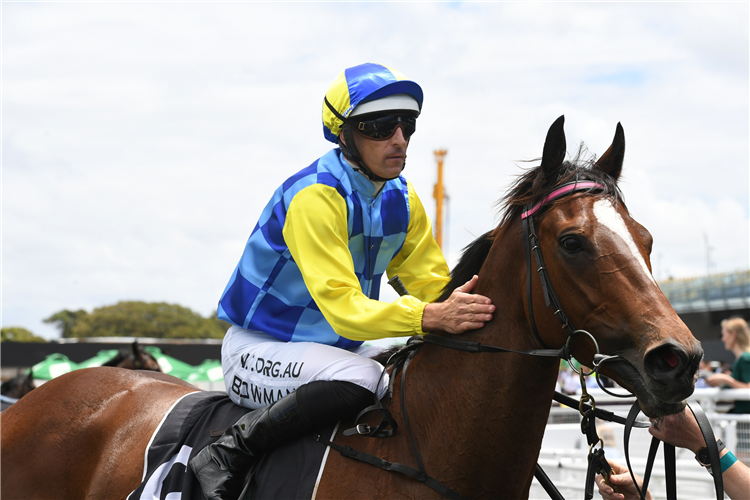 RANDWICK MULTI
RACE 3 (3) HIGH SUPREMACY: He was out of luck in the Canberra Guineas (1400m) and then clearly could have won the G3 Carbine Club over 1600m at this course on April 10 with a fair crack at them over the last 400m. Historically it's the right program leading into this race against the Derby horses coming back in distance from 2400m. Count on him to make the expected progression, being a lightly-raced son of Savabeel who is certain to relish getting out to 2000m for the first time.
RACE 5 (3) DEPRIVE: There was a time not that long ago when he was unbeatable at Randwick, winning six races in succession at this course including three over this trip. The signs are good that he is set to run to his best again as he was never tested second up in the G3 Star Kingdom (1200m) at Rosehill on April 3 but still posted the fastest last 200m of the day against the on pace pattern. Excellent value as he'll be fitter and is better off this time under the set weight conditions.
RACE 9 (12) SALINA DREAMING: Stepping up to this higher grade from midweek BM 72 company but her first-up win over 1100m at Warwick Farm on March 31 left no doubt that she is in the right form to continue her climb up the ladder. Made it five wins from nine starts when she strolled home by three lengths untouched under 59.5kg and gets every chance to go on with it dropping 6kg in weight from an ideal inside draw.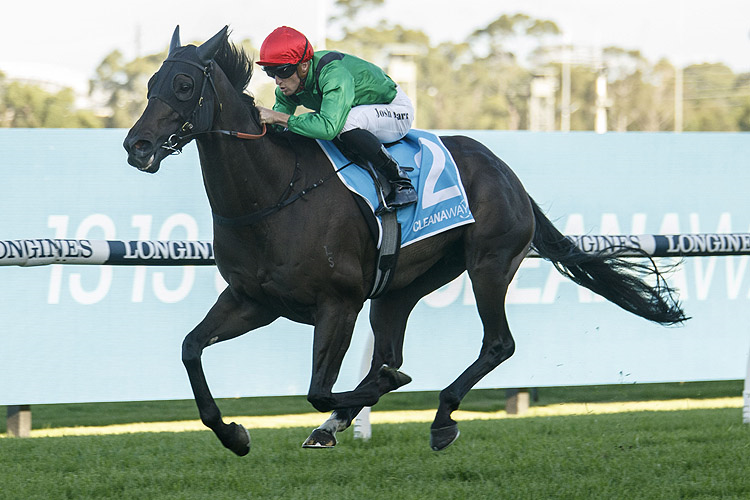 TRIAL WATCH REPORT
Noted Trial Runners April 23-26
TRIAL WATCH BEST: Savatiano (EW); More Prophets (EW); Intrepidacious (EW)
RANDWICK SATURDAY: Victorem (R5; Savatiano (R7); Kementari (R7); Arapaho (R8); More Prophets (R9)
DOOMBEN SATURDAY: Andermatt (R8)
CAULFIELD SATURDAY: Intrepidacious (R4); Sakura (R6)
KEMBLA GRANGE SATURDAY: Mareeba (R1); Starz (R2); Finn's Fortune (R2); Sempreinte (R2); Victorella (R4); Queen Bellissimo (R4)
RANDWICK KENSINGTON SUNDAY: Perfect Radiance (R4); More Prophets (R6); Count De Rupee (R6); Yamazaki (R7)
GOSFORD SUNDAY: Whasir (R3); Aeneas (R3); Pacific Ocean (R3); Mareeba (R4); Miss Spiteful (R6); Rahni Factor (R6); Duchess (R6)
BATHURST SUNDAY: Dynamic Impact (R7)
PORT MACQUARIE MONDAY: Miss Twenty Twenty (R3)
RECENT TRIAL WATCH WINNERS: Cotehele; Cork Harbour; Xtremetime; Monte Di Fiore; Jamaea; Good Omens; Ellsberg; True Valentine; Luvoir; De An Andretti; Aslav; Statesville; Paulele; Nature Strip; Capital Reign; Shadow Colour; Enchanted Heart; Grande Rumore.
TRIAL POINTERS
RANDWICK March 11: In the 735m heats the fastest time was posted by the unraced maiden MAREEBA (43.57; 33.34). Looks ready.
HAWKESBURY April 19: Bjorn Baker won five heats with particular interest in the first appearance by his new import ARAPAHO recording a solid win in his 1250m heat. The fastest 1000m heat was won by the 3YO maiden performer WHASIR (58.45) while there was plenty of merit in the 800m open heat win by DYNAMIC IMPACT (47.38).
RANDWICK APRIL 9: INTREPIDACIOUS is an excellent trial performer, posting her second win in preparation for her return to racing. Looks ready to go as she was always in control of the fastest 1040m heat (63.20; 34.79), leading under restraint and having plenty in hand as she coasted to a soft 2.3 lengths win.
BLACKBOOK REPORT
Eligible Blackbook Runners – April 24-25
RANDWICK SATURDAY: High Supremacy (R3); Zaaki (R4); Deprive (R5); Hilal (R6); Queen Of Wizardy (R6); Masked Crusader (R7); Prague (R7); Royal Celebration (R8); Nudge (R8); Flat Heaven (R9)
CAULFIELD SATURDAY: Gimmie Par (R1); Standoff (R4); Brimham Rocks (R7); Legionnaire (R9)
DOOMBEN SATURDAY: Reloaded (R5); Maozi (R7); Gem Of Scotland (R9)
MORPHETTVILLE SATURDAY: Too Good Too Hard (R2)
FLEMINGTON SUNDAY: Real Sensation (R5); Brimham Rocks (R7); Black Penn (R8)
RANDWICK KENSINGTON SUNDAY: Cinquedea (R6); Miss Einstein (R6); Flat Heaven (R7); Bound To Win (R7)
GOSFORD SUNDAY: My Swashbuckler (R2)
RECENT BLACKBOOK WINNERS: Anamoe; Mo'Unga; Translator; Dom To Shoot; Masked Crusader; Mount Popa; Gem Song; Chaillot; Subedar; Scorched Earth; Nimalee; Emanate; Bonaparte; Marsannay; Poetic Charmer.