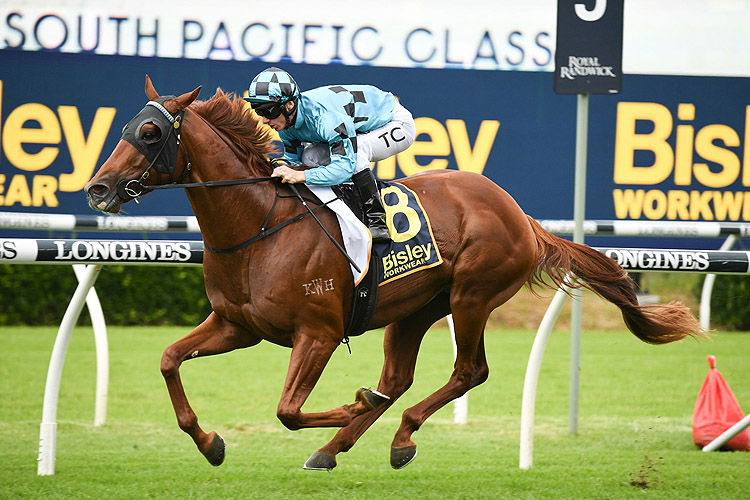 ROSEHILL September 14
Inside Grass; Soft 7
11 Heats – 2 x 1030m (1 Open; 1 Maiden); 9 x 900m (3 Open; 1 3YO; 5 Maiden)
Chris Waller won seven of the 11 trials while the Gerald Ryan/Sterling Alexiou team picked up three heats.
Ryan and Alexiou's quality 4YO ELLSBERG was among the better performed runners on the day and didn't disappoint, winning the open heat over 1030m (63.51; 35.95).
He worked to the line nicely after sitting three wide but his time was bettered by his impressive maiden stablemate ISLAND LEGEND in the other 1030m heat (63.47; 35.79). This unraced 3YO by Capitalist was having his third trial and won as he liked by almost eight lengths after leading by five at the 500m.
Ellsberg hits the line strongly to win the opening trial at @rosehillgardens on Tuesday over Much Much Better and My Delight. The @GRyanRacing 4yo is a $26 chance in @tabcomau's #TheGoldenEagle market. pic.twitter.com/W8nrQzvDBV

— Racing NSW (@racing_nsw) September 13, 2021
Waller's best performed winner was the handy mare DANCING GIDGET in her open heat over 900m (56.63; 34.77). The time wasn't great but she did enough to beat stablemate KIKU.
Waller won another open 900m heat with ZA CEIBAS, a new addition to his team after winning his only start in New Zealand in May. The time was slow (57.73;36.45) but the heat had depth with his classy stablemates GRACE AND HARMONY and NUDGE having easy trials.
Ex-Kiwi Za Ceibas, now with @cwallerracing, wins his first local trial at @rosehillgardens on Tuesday over stablemates Grace And Harmony and Pretty Elsa. @tabcomau pic.twitter.com/VzblgtcA6B

— Racing NSW (@racing_nsw) September 13, 2021
LUVOIR from the Richard and Michael Freedman yard won the other open heat over 900m in much quicker time (56.19; 35.08) beating the Waller pair LORD ARDMORE and APRIL RAIN. LORD ARDMORE is another new arrival from NZ with good restricted class prospects.
The promising MINSK MOMENT, a debut winner for Waller at Canterbury in June, set the time standard in the 900m heats (55.54; 36.01), winning easily by more than five lengths.
Waller's maiden runners to make an impression included the heat winners MYSTIC MERMAID (56.07; 35.73); ISOLYFE (56.08; 35.23) and MONTENEGRO (56.73; 34.88).
NOTED TRIALS
X Ellsberg; Grace And Harmony; Island Legend; Isolyfe; Lord Ardmore; Minsk Moment; Montenegro; Mystic Mermaid; Smirnova; Yonkers
RECENT TRIAL WATCH WINNERS: Snitzonfire; Eduardo; Princess Glamour; Six Again; Madam Legend; Huzzah; Promise Of Success; Dalgarno; Dalaalaat; Giannis; Entriviere; Anamoe; Jesse James; Benaud; Kallos; Solar Apex; Kooled; Speech; Nature Strip; Eyewitness; Invincible Vision; Profondo; Arthur Francis.