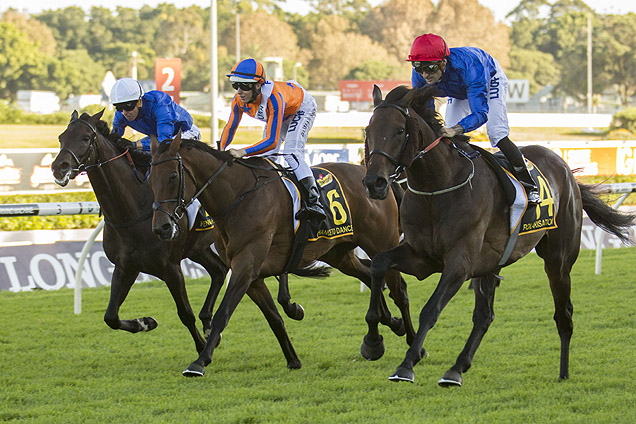 NEWCASTLE November 17
Beaumont Track; Good 4
15 Heats – 1 x 1200m (Open); 5 x 1000m (2 Open; 3 Maiden); 9 x 845m (1 2YO; 3 Open; 5 Maiden)
Nathan Doyle has been a rising talent in the Newcastle training ranks and these trials underlined how well his growing team is developing.
Doyle won four heats with TEQUILA CABOS, WEALTHOFKNOWLDEGE, HARD LANDING and LEADER BIAS and also had a good second with DON'T DOUBT KATIE. I was particularly taken with the maiden heat win by WEALTH OF KNOWLEDGE, an unraced Capitalist filly who posted the fastest time in the five 1000m trials (61.85;34.40) in the style of an early winner.
Another impressive maiden winner was the Kristen Buchanan-trained ONE WAY STREET, an unraced Super One 4YO gelding with a big build and obvious ability. This was his first trial and he made an impression sitting outside the lead before extending without effort and going through the line with plenty to offer in the fastest of the nine 845m heats (48.64; 33.47).
Jason Deamer has a nice 2YO prospect in HARD TO SAY, an Exceed And Excel colt who was fourth in the Breeders Plate on debut in the spring. He has plenty on his rivals in the 2YO heat, winning in fast time (48.67; 33.10) and looks a likely prospect for the Magic Millions in January.
NOTED TRIALS
XX Hard To Say; One Way Street; Wealthofknowledge;
X Atherton; Don't Doubt Katie; Ficsmm Dave; Hard Landing; Hard To Say; Holy Reign; Kayden's Joy; Klinsmann; Miss In Charge; Miss Valbonne; Perfect Point; Riccardo; Royal Ballet; The Bopper; The Borough; Twisted Nikkas;
A @GaryPortelli quinella with Malabar (by Dissident) beating stablemate Tenderize (Snitzel) in a 2yo trial at Warwick Farm on Tuesday with a few lengths to Shalaa Magic (Shalaa) in third. @tabcomau @Darby_Racing pic.twitter.com/DgOem9Gwbi

— Racing NSW (@racing_nsw) November 16, 2021
Kermadec @godolphin filly Victorine wins a 2yo trial at Warwick Farm on Tuesday, Emelia Romagna (Pierro) finished second and Controlocracy (More Than Ready third. @tabcomau pic.twitter.com/KOrijhtpWI

— Racing NSW (@racing_nsw) November 15, 2021
WARWICK FARM November 16
21 Heats - Polytrack/Inside Grass (Soft 5)
5 x Polytrack – 1 x 1175 (Open); 4 x 740m (1 2YO; 3 Open); 21 Heats -
16 x Inside Grass – 3 x 1200m (1 Open; 2 Maiden); 3 x 796m (3 2YO); 3 x 793m (3 Open); 3 x 790m (3 Open); 4 x 786m (4 Maiden)
A big set utilising the polytrack and inside grass tracks but few topliners engaged and not a lot to get excited about.
NOTED TRIALS
X Boomsong; Costa De Oro; Controlocracy; Edison; Glacier Queen; I Am Power; Key Largo; Kobe Rocks; Lina's Hero; Malabar; Mirror One; Nation Pride; Party For One; Rule Of Law; Southern Lad; Vigoureux; Welsh Legend
"Expat and Edison having a good old-fashioned stoush here."@BBakerRacing's Edison won out late in a trial at Warwick Farm on Tuesday over Expat with a gap to Mr Cantankerous in third. @tabcomau pic.twitter.com/auQRJtlJGi

— Racing NSW (@racing_nsw) November 15, 2021
Affidavit, by Frosted and a grandson of Golden Slipper winner Forensics, wins a Warwick Farm 2yo trial on Tuesday over Fine Vintage (Supido) and Smartawi (Smart Missile). @tabcomau @godolphin pic.twitter.com/azzdBrtZTj

— Racing NSW (@racing_nsw) November 16, 2021