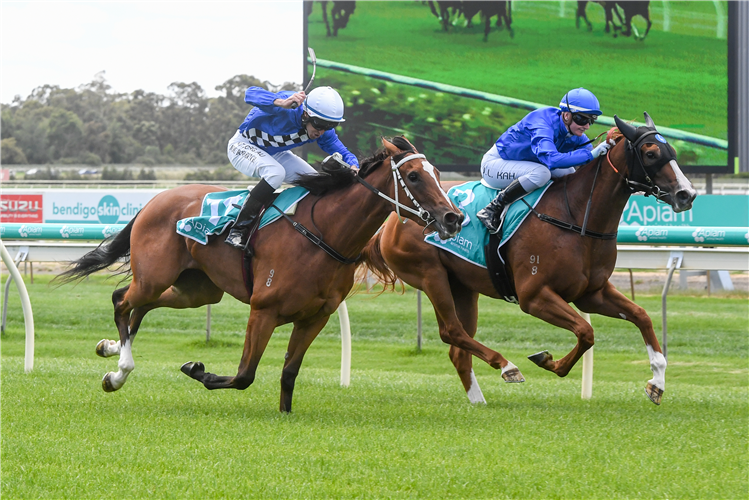 HAWKESBURY November 22
Inner Grass; Heavy 9
19 Heats – 5 x 1000m (2 Open; 3 Maiden); 14 x 800m (3 Open; 3 2YO; 8 Maiden)
Trainers from Rosehill, Randwick and Warwick Farm sent big teams to this session and came away with some good results.
Bjorn Baker and the Gerald Ryan/Sterling Alexiou team each won four heats. James Cummings won three for Godolphin and the John O'Shea and Ciaron Maher/David Eustace stables each picked up a pair.
The heavy ground obviously had an impact on performances. Riders preferred to get away from the rails as the session progressed but the track held up well with good times posted in the late 800m trials.
The fastest 1000m heat was won by the Maher/Eustace maiden HUNDRED PROOF (59.77; 34.73) while Bjorn Baker's speedy filly RUPERTAAR is set for a first-up win after running freely to record the fastest 800m heat win (46.98; 33.07).
Another fast Baker runner SIR CRACKLE also looks set to improve on his last prep after he worked strongly to hold off the race fit JUAN DIVA in a strong 800m heat (47.88; 33.73).
Other 800m heat winners to make an impression included the maiden pair ROCK CHANT and EVER BELL and the Godolphin Group winner CLOUDY.
Bjorn Baker's Fastnet Rock filly ROCK CHANT was brilliant speeding through the heavy ground to win her heat by more than eight lengths in fast time (47.97; 34.08). This was only her second trial and she obviously has the speed to win races.
EVER BELL, an unraced Headwater filly trained by Matt Dunn, also showed excellent speed to run fast time in the third last heat of the day (47.51; 33.92) beating Godolphin's Group placed filly TRIFACCIA. I have a huge opinion of TRIFACCIA and her impressive trial to peel wide from last and surge home under a big hold from Rachel King points to her blossoming into a top filly.
CLOUDY, a Group winner for Godolphin in Adelaide, is also set for bigger things. She led her heat comfortably and was hard held to the line to win narrowly in good time (48.36; 33.75).
In the three 2YO heats over 800m John O'Shea's Written Tycoon filly PRETTY SHAMROCK impressed sitting three wide outside the lead before showing good acceleration to skip away and win by a soft three lengths (48.62; 34.38). O'Shea also won another 2YO heat with KING'S STAR (48.61; 34.59) while another of his youngsters KING OF NAPLES was narrowly beaten in the fastest of the three juvenile of heats won by NACHO NACHO MAN (48.56; 34.30).
NOTED TRIALS
XX Cloudy; Juan Diva; Rock Chant, Rupertaar; Trifaccia
X Ever Bell; Gulf Of Panama; Gulf Of Venice; Honey Creeper; Hundred Proof; Kanazawa; King Of Naples; King's Star; Pretty Shamrock; Russians; Sir Crackle; Socialist; The Ecuadorian; The Herald; Wolf Queen.