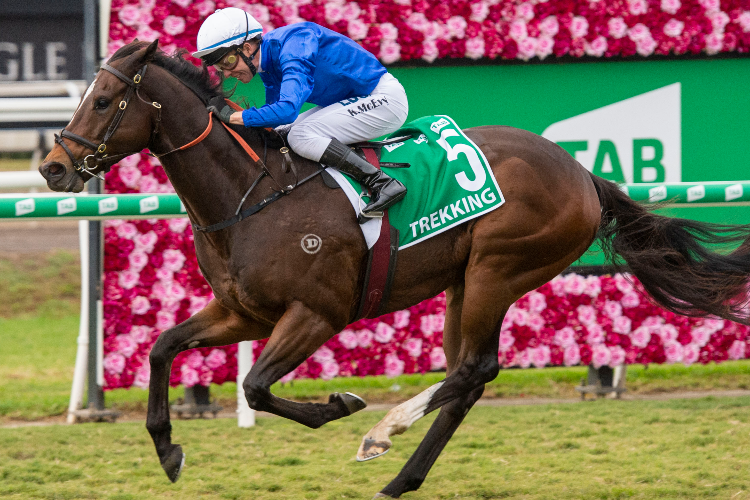 HAWKESBURY April 19
Inside Grass; Good 3
27 Heats – 2 x 1250m (2 Open); 9 x 1000m (4 Open; 3 2YO; 2 Maiden); 16 x 800m (8 2YO; 5 Open; 3 Maiden)
It remains an unexplained anomaly why no sectional times (last 600/400) are available for Hawkesbury trials despite an electronic timing system. Is it the responsibility of Hawkesbury Race Club or Racing NSW?
A massive set featured a strong representation from the Godolphin stable with several certain to be heading to the Brisbane carnival. TREKKING and ATHIRI were standout winners of their 1000m heats in fast times while James Cummings would have to be pleased with sound efforts from VARDA, EMANATE, RAISON D'ETRE, KATALIN and TINY.
Bjorn Baker won five heats with particular interest in the first appearance by his new import ARAPAHO recording a solid win in his 1250m heat. There was plenty of merit in the efforts of his three 800m open heat winners EXOTIC RUBY (47.53); DYNAMIC IMPACT (47.38) and TURNSTYLE (47.02).
For the record the fastest 1000m heat was won by the 3YO maiden performer WHASIR (58.45) while the Bryce Heys-trained KEY LARGO was quickest in the 800m heats (46.67). The fastest 2YO heat over 800m was won by SKY CASTLE (47.14) from the Ryan/Alexiou stable while Annabel Neasham's TURBOART (59.65) went quickest in the three heats over 1000m for the juveniles.
Other 2YOs to take the eye included PROFONDO, SINBA, BRUJA, WELL IN SIGHT and NOBLE BEAUTY.
TREKKING (James Cummings): Second trial for this top class sprinter as he gears up for what is certain to be a Brisbane campaign where obvious targets are the Doomben Ten Thousand and a maybe a tilt at a second Stradbroke win. He quickly opened up a clear lead on his rivals in his 1000m heat (60.00) and coasted over the last 400m to score by five lengths.
A big win to @godolphin Group 1 winning sprinter and 2 x Everest runner Trekking in a trial at @hawkesburyrc on Monday from @jcoyleracing pair St Covet's Spirit and Salsonic. @tabcomau pic.twitter.com/9Ko98Ob4vp

— Racing NSW (@racing_nsw) April 18, 2021
ATHIRI (James Cummings): Just as impressive as her older stablemate, leading at her leisure in her 1000m heat and cruising home by 3.3 lengths in quicker time (59.56). It was sharp work in her first trial since January and augers well for her Brisbane prospects.
NOTED TRIALS
XX Athiri; Trekking
X Arapaho; Bruja; Dynamic Impact; Emanate; Exotic Ruby; High Academy; Katalin; Key Largo; Lunar Tramp; Noble Beauty; Profondo; Raison DÉtre; Sinba; Sky Castle; Tiny; Turnstyle; Varda; Well In Sight; Winds Of War
NEWCASTLE April 19
Course Proper; Good 4
15 Heats – 1 x 1200m (Open); 6 x 950m (4 Open; 2 Maiden); 8 x 800m (2 Open; 5 2YO; 1 Maiden)
Little to write home about from this set although the enigmatic STRAWB continues to trial well in preparation for her return to racing.
She tracked three wide and extended strongly when called on for a soft win in her 950m heat (55.32; 34.60), backing up the good form she showed in her recent Gosford trial. It seems she is more settled and her past barrier behaviour is behind her.
Strawb reels in her rivals to take out a trial at @newcastleraces_ on Monday over @Leesracing pair Kinloch and Confessed. @tabcomau @NathanDoyle015 pic.twitter.com/QKZZaBXp8I

— Racing NSW (@racing_nsw) April 19, 2021
CAFE ROYAL posted the fastest 950m heat win in good style while the Paul Perry-trained MINDREADER should be hard to beat in maiden company after a sharp win in the quickest 800m heat (49.40; 34.72).
The Jason Deamer-trained 2YO MONSIGNOR went quick on the rail to post the fastest time in the five 2YO heats over 800m (49.65; 34.76) although I was more taken by the closing effort of the runner-up TALONS. Other 2YOs showing good potential included COMPASSIONATE, TUPELWARA and KISS SUM.
NOTED TRIALS
X Almania; Bethencourt; Café Royal; Compassionate; Kiss Sum; Midland; Mindreader; Predictable Miss; Snowzone; Special Reward; Strawb; Tactical Advantage; Talons.
An all the way win for @Leesracing's Special Reward in a trial at @newcastleraces_ on Monday from the @kimwaugh6 duo Bethencourt and Atherton. @tabcomau @ausbloodstock2 pic.twitter.com/xRxT2sgNE3

— Racing NSW (@racing_nsw) April 18, 2021
WARWICK FARM April 16
Polytrack; Synthetic
8 Heats – 2 x 1175m (2 Open); 6 x 740m (2 Open; 2 2YO; 2 3YO)
Chris Waller sent a small team to this set and called on Hugh Bowman to give his runners easy condition trials including the G1 winner Humidor and rising star April Rain.
HUMIDOR was having his first trial after a break and as expected in a heat over 740m he was out the back from the start and was never put under pressure. However it was his work through the line that took the eye. Bowman allowed to worked strongly for 400m past the post, in effect giving the gelding a 1200m trial. HUMIDOR can find form early in his preps and I suspect Waller has his eyes on the Doomben Cup for the versatile gelding.
APRIL RAIN is a real talent. Like Humidor she made the trip to Warwick Farm purely for exercise in her first appearance since February. She was cuddled by Bowman in her 740m heat and is obviously being prepared for the Brisbane carnival.
Gary Portelli's Capitalist 2YO gelding CAPITAL REIGN recorded a big win in the fastest of the six 740m heats by 7.5 lengths (42.85; 32.90). He did the right thing by us winning on debut at Canberra after a similar fast polytrack trial win at Warwick Farm and his speed will take him a long way in city company.
NOTED TRIALS
XX Capital Reign
X Aeneas; April Rain; Escape Artist; Lord Zolulander; Humidor; Perfect Radiance; Petronius; Provide; Septimus Severus; Yamazaki