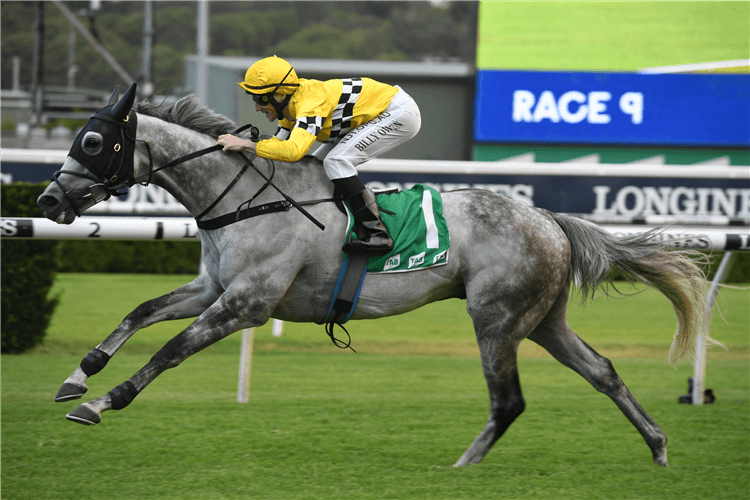 RANDWICK November 11
Polytrack; Synthetic
12 Heats – 1 x 1250m (Open); 6 x 1080m (2 Open; 4 Maiden); 5 x 780m (2 2YO; 1 Open; 2 Maiden)
Rare to see a full set of Randwick trials conducted on the synthetic track. The good thing was seeing several previously noted runners reaffirm their earlier trial form.
MISS GLENN (Richard & Michael Freedman): This smart unraced Written Tycoon filly looks a readymade winner. She has now won two of her four trials with this effort another impressive confirmation of her talent. She bounded to the lead under a hold in her 1080m heat (63.55; 34.65) and was in a world of her own leading easily by several lengths, maintaining her advantage to the line under no pressure.
PIZARRO (John O'Shea): Unraced All Too Hard colt has been on most hot trial lists for some time. He has put in eye catching performances in his four trials since April with this winning effort surely having him ready to win on debut. Back last on settling in his 1080m heat (64.91; 35.13), he made a long run three and four deep to join the lead under a big hold and had plenty up his sleeve in the run to the line.
The Waterhouse/Bott team were to the fore winning four heats including both 2YO trials over 780m with smart youngsters. Their Exceed And Excel colt ATHLETICA showed impressive natural speed to post the quickest time in the five heats over the distance (44.73; 32.88) while stablemate ENZINA, a racy filly by Menari, showed similar pace to win her heat (44.90; 32.92).
Exceed And Excel colt Athletica, trained by @GaiWaterhouse1 & Adrian Bott, stretches away late to win a 2yo trial at Randwick on Thursday from stablemates Rise Of The Masses (Russian Revoltion) and Okataina (Savabeel). @tabcomau pic.twitter.com/CTbP5blY2u

— Racing NSW (@racing_nsw) November 10, 2021
Menari filly Enzina, another youngster from the @GaiWaterhouse1 & Adrian Bott yard, takes out a 2yo trial at Randwick on Thursday from Ningaloo Star (Deep Field) and Golden Queen (Gold Standard). @tabcomau pic.twitter.com/Vd69X24NTz

— Racing NSW (@racing_nsw) November 10, 2021
They also have a good maiden prospect in WRITTEN DOUBT, an unraced 3YO filly by Written Tycoon. She was having her third trial and looks to have a bright future after a sharp win in her 780m heat (45.43; 33.10).
John O'Shea's team also performed well winning three heats. His unraced Zoustar filly BLACK ON BEAUTY improved on her first trial to win her maiden heat over 1080m with style (65.47; 35.72) while his classy grey BERDIBEK worked well within himself to win his open heat (65.41; 33.72) in his first outing after a break. The Villiers Stakes and other features up to 2000m will be ideal summer targets for him.
MENSA MISSILE went quicker winning the other open heat over 1080m (63.60; 33.73) after the smart runner FORZANINI put plenty of pace into the heat with a fast mid trial sprint to take the lead. They worked to the line together with the runner-up given an easy time.
BADEN ROAD, a well tried maiden filly from the John Sargent stable, was a keen winner of the fastest heat over 1080m (63.37; 35.16). The unraced runner-up SOLVERE was equally good in her first trial appearance for the Anthony Cummings yard.
NOTED TRIALS
XX Miss Glenn; Pizarro
X Athletica; Baden Road; Berdibek; Black On Beauty; Embeller; Enzina; Forzanini; Golden Queen; Lashes; Lucky Sun; Mensa Missile; Solvere; Written Doubt
ROSEHILL November 8
Inside Grass; Heavy 8
15 Heats – 3 x 1030m (1 Open; 2 Maiden); 6 x 900m (3 2YO; 2 Open; 1 3YO); 6 x 897m (6 Maiden)
Heavy conditions didn't detract from some sharp performances by lightly raced prospects.
SHIHONKA (Gai Waterhouse/Adrian Bott): Promising Capitalist filly has freshened up nicely from her Melbourne trip where she failed in a Group race at Caulfield, the first time in four starts that she has finished out of the money. Had no trouble leading the open heat over 1030m (63.05; 35.74) and extended nicely when called on to run freely to the line.
SNAPDANCER (Ciaron Maher/David Eustace): Signs are strong that this top stable has set this quality mare for a first-up win after two Sydney trials. Improved on her Randwick trial on October 19 to control her 900m heat from the front and had plenty in the locker cruising to the line under a strong hold. Her time wasn't flash (55.84; 35.33) but you had to like the way she went about her work.
Snapdancer, from the @cmaherracing & David Eustace yard, does it easily in an all the way trial win at Rosehill on Monday from Bandersnatch with My Demetra in third. @tabcomau pic.twitter.com/CZ1iH9HplQ

— Racing NSW (@racing_nsw) November 7, 2021
SUPER VOGUE (Hawkes Racing): Unraced Press Statement filly really too the eye with the way she went through her gears to record a strong win in her 897m maiden heat (55.56; 35.58). Settled in the back half before getting into her work over the last 500m, making ground easily through the field and easily running past the leaders for a soft 1.7 lengths win.
For the record the fastest heat winners over the varying distances were HARAPAN in the 1030m heats (62.93; 36.18); COMMAND APPROVED in the 900m heats (54.75; 35.30); and KIPSBAY in the maiden heats over 897m (54.44; 35.25).
A second trial win for @GaiWaterhouse1 & Adrian Bott's Spirit Of Boom 2yo colt Command Approved at Rosehill on Monday. He leads all the way to beat Vinnie's Spirit and Calgary Stampede. @tabcomau pic.twitter.com/g8o9iftDNw

— Racing NSW (@racing_nsw) November 7, 2021
Sprit Of Boom youngster COMMAND APPROVED is a readymade runner from the Waterhouse/Bott stable. He has won both his trials impressively and is sure to be favoured to win on debut.
NOTED TRIALS
XX Shihonka; Snapdancer; Super Vogue
X Acapella Sun; Allusionist; Almighty Rising; Calgary Stampede; Clemenceau; Command Approved; Emilia Romagna; Harapa; Irish Angel; Kipsbay; Lady Lucilla; Moon Dancer; Negation; Never Second; Pentacost; Per Ivy; Saigon; The Ecuadorian; Waverider Buoy; Winnertakesitall
Snitzel filly Swift Sweet, trained by @mark_mnracing, takes out a 2yo fillies trial at Rosehill on Monday from the closing Negation and Wollombi. @tabcomau pic.twitter.com/eLUsXhsbpw

— Racing NSW (@racing_nsw) November 7, 2021
Rubick filly Evening Star, trained by @GRyanRacing, leads throughout to win a 2yo fillies heat, her first trial, at Rosehill on Monday over Emilia Romagna and Waverider Buoy. @tabcomau pic.twitter.com/lDQ0A4WCqe

— Racing NSW (@racing_nsw) November 7, 2021