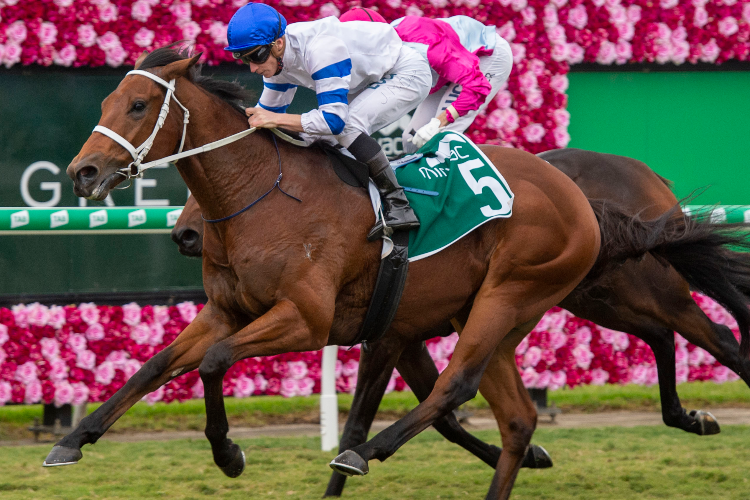 RANDWICK January 23
Soft 5; Course Proper/Randwick A Grass
17 Heats: Course Proper – 2 x 900m (Group/Listed); A Grass - 1 x 1200m (Open); 7 x 1045m (3 Open; 1 2YO; 3 Maiden); 7 x 735m (1 Open; 4 2YO; 2 Maiden)
A reminder that autumn is coming quickly with a number of Group stars out for preparatory trials ahead of their new campaigns. It was knowing where to look in the two course proper heats for the black type horses, suffice to say all the big names did as much as their riders wanted under obvious strict instructions from their trainers.
Dreamforce takes out the opening heat @royalrandwick on Thursday - what do you make of those chasing? Standout, Vegadaze, Libertini, TheGoldenEagle winner Kolding all doing some nice work.@JTRacingRwik @tabcomau @7horseracing pic.twitter.com/xWlNtb64Cb

— Racing NSW (@racing_nsw) January 22, 2020
In no particular order note that Dreamforce, Standout, Greysful Glamour, Libertini and Kolding (Heat 1) and Sweet Deal, Lanciato, Kings Will Dream and Fiesta (Heat 2) are all working strongly towards their autumn goals. We can get more specific when most have their expected second trials before resuming.
An exception is the outstanding miler KOLDING who has now had two trials and was trucking behind the pack at the finish in the first of the fastest 900m heats (54.29; 35.50) won by Dreamforce. Expect him to sprint strongly first-up off this work.
Dual Everest winner Redzel is back and hacked through his 735m heat in pedestrian time (44.45; 34.40), leading under no pressure and not asked to respond when challenged late by the winner Power Of Attorney. The eye catcher behind them was the good sprinting mare I Am Excited.
In other quality heats there was plenty to like about the work of dual G1 winner Fîerce Impact in his 1200m heat won by the talented Ulusaba while Coruscatewas a classy winner of the fastest 1045m heat (1.02.55; 35.66) where the late finish of Subpoenaed also took the eye.
Black Magnum, You Rang and Intrepidacious looked in good form recording strong wins in their 1045m heats.
Artie Schiller filly Kaakit Akit showed promise with the fastest of the 2YO heat wins over 735m (43.56; 33.60) and the Godolphin youngster Gravina was an eye catcher motoring home late in her heat won by On The Lead.
Among the maidens, there looks certain wins in store for promising fillies Enamour and Heart Breaker after their wins in the joint fastest times for the 735m heats (43.26). The latter was super impressive running the fastest last 600m of the morning (33.40).
NOTED TRIALS
XX Kolding; Coruscate; Heart Breaker
X Dreamforce; Standout; Greysful Glamour; Libertini; Sweet Deal; Lanciato; Kings Will Dream; Fiesta; Ulusaba; Fierce Impact; Black Magnum; Subpoenaed; Intrepidacious; Strasbourg; You Rang; Power Of Attorney; Redzel; I Am Excited; Kaakit Akit; Orpheum; Sahra; Shimbashi; On The Lead; Gravina; Enamour.
Sweet Deal for @JTRacingRwik leads home a host of Group 1 winners in heat 2 @royalrandwick on Thursday - Prince Fawaz, Happy Clapper, Kings Will Dream, Funstar to name a few. @tabcomau @7horseracing pic.twitter.com/XFuFHuhAlY

— Racing NSW (@racing_nsw) January 22, 2020
Power Of Attorney for @RoblRacing nabs dual #TheTABEverest winner Redzel, without his blinkers, to take out a 735m heat @royalrandwick on Thursday. Watch out for the likes of I Am Excited, Phoenix River and Pohutukawa in this heat. @tabcomau @7horseracing pic.twitter.com/Yqr9QUufRd

— Racing NSW (@racing_nsw) January 22, 2020
ROSEHILL January 28
Soft 6; Course Proper/Inside Grass
19 Heats: Course Proper – 2 x 900m (Group/Listed); Inside Grass – 5 x 1030m (2 Open; 1 2YO; 2 Maiden); 12 x 900m (2 Open; 5 2YO; 2 Open 3YO; 3 Maiden)
More big names were on display with Godolphin trainer James Cummings having to come away delighted with the way some of his key autumn players performed in the opening trials of their autumn preps.
Not the least was the gun 3YO colt Bivouac, who looked bigger and stronger as he cruised to a soft win in the first of the 900m heats on the course proper (55.97; 35.50). Behind him Cummings would been grinning over the way the way Avilius hit the line.
In the second black type heat Godolphin's Golden Slipper winner Kiamichi was a different filly – no doubt appreciating the soft track conditions - to the one that trialled at Rosehill two weeks ago when she showed her customary speed to run out a clear winner in slightly quicker time (55.58; 35.60). Again Cummings had plenty to smile about after soft trials in the same heat from Deprive, Flit and Soothing while the Waterhouse/Bott camp would have been more than satisfied by the effort Dawn Passage put in for a strong third.
Group 1 Golden Rose winner Bivouac and @HugeBowman outpoints Hush Writer to win a 900m trial @rosehillgardens on Monday. Plenty of quality having a quiet time in behind, watch out for Cascadian, Avilius, Shadow Hero and Castelvecchio. @tabcomau @7horseracing pic.twitter.com/QPclDQ4YMw

— Racing NSW (@racing_nsw) January 27, 2020
In other heats the enigmatic God Of Thunderwas a standout, carving out the fastest 900m heat win (52.90; 33.40) on the inside grass with an explosive turn of foot over the last 400m to score by more than five lengths. Nothing came close to his time - now we only have to rely him on him to produce this form on race day!
The best 2YO trial came from the classy Dame Giselle, doing all she had to for a soft win with plenty in hand in the quickest of the 2YO heats (54.18; 34.10).
Among the maidens the Rubick filly Questing may be small but she has the speed required to pick up a provincial event at least. She flew over 900m in 54.19 (34.50) in her first outing since her only race start last March. No Doubt A Star is another maiden who looks close to a win after an eye catching second in his 900m heat in good time (54.86; 35.30).
NOTED TRIALS
XX Bivouac; God Of Thunder; Questing
X Avilius; Kiamichi; Dawn Passage; Missile Mantra; Pinvincible; Super Cyclone; Can Do It; Mensa Missile; Glenall; Resin; Brazilica; Sylvia's Mother; Galantheum; Dame Giselle; Osamu; Jor El; Barbaric; Anaheed; Capri Lane; Mirra Vision; Astralis; No Doubt A Star.
Golden Gift winner Dame Giselle given a cuddle by @mcacajamez to win her 900m trial @rosehillgardens on Tuesday. The @SnowdenRacing1 filly is second favourite at $11 with @tabcomau in the Golden Slipper. @7horseracing pic.twitter.com/FTEYKo8Pw5

— Racing NSW (@racing_nsw) January 27, 2020