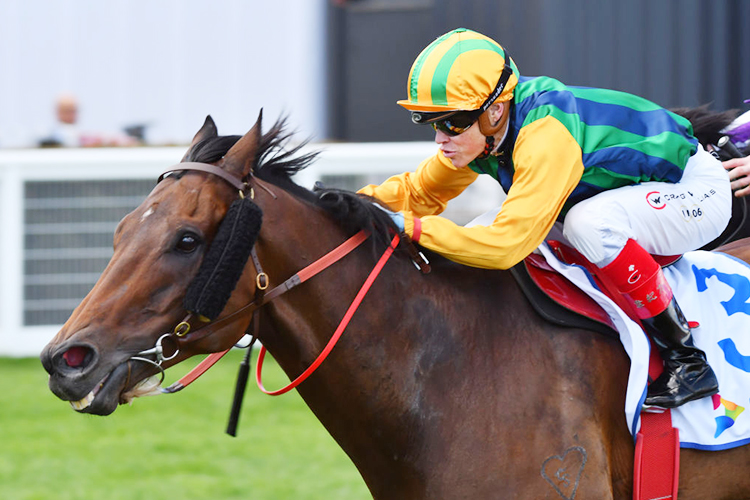 RANDWICK February 17
Soft 6; 20 Heats
Course Proper – 1 x 1000m (Group/Listed)
Randwick A Grass - 2 x 1200m (2 Open); 6 x 1050m (3 Open; 3 2YO); 8 x 742m (1 Open; 5 2YO; 2 Maiden)
Synthetic Polytrack – 1 x 1250m (Open); 2 x 1080m (2 Open)
Solid 1000m heat for the Group and Listed horses on the course proper with CON TE PARTIRO – back from a visit to stud - taking the honours from Villiers winner QUACKERJACK with the promising CALIFORNIA ZIMBOL the pick of the trial with his strong third. Top class Kiwi filly PROBABEEL worked to the line strongly with her last 100m a feature. PIERATA was out the back having no more than an exercise gallop.
Plenty to look at from the opening trial @royalrandwick on Monday - @GaiWaterhouse1 mare Con Te Partiro downs Villiers winner Quackerjack, while behind them the likes of Probabeel and Pierata do their best work late. @tabcomau @7horseracing pic.twitter.com/3zpmsZBRGr

— Racing NSW (@racing_nsw) February 16, 2020
BALL OF MUSCLE: Short course specialist is a perennial trial star and backed up his recent Warwick Farm trial win with another typical speed display, having too much class for his rivals in the fastest 742m heat (43.08; 32.70). Seems certain to run boldly wherever he is produced first-up.
Ball Of Muscle for @PrideRacing won his trial well this morning @royalrandwickpic.twitter.com/IZx1haMxn6

— Sky Racing (@SkyRacingAU) February 16, 2020
ARGENTEUS: Team Snowden keep rolling out impressive 2YOs. It has taken him three trials to get his act together but this high priced Written Tycoon colt really has a future judging by the way he trucked to an impressive win in his 1050m heat in good time (62.87; 34.80).
STELLAR PAULINE: Magic Millions runner-up showed her class to cruise to a soft win in her 742m heat in the second fastest of the 2YO trials (43.93; 33.30) after the standard was set by Dubai Star (43.49; 33.10). She will be a player in the good races.
MAMARAGAN: Unraced Wandjina colt backed up his sharp Randwick trial win on February 6 with another stylish display to win his 742m heat by a soft margin. Time wasn't exceptional (44.27; 33.80) but he did it in style with plenty in hand.
POSTCODE: Early season placegetter could be the best maiden among the tried 2YOs. Showed positive improvement from his first-up trial second to Mamaragan on February 6, this time tracking very deep from the 600m in his 742m heat but still having his rivals well covered and forging clear for an easy two lengths win. Could have gone much quicker than his 44.00 (33.40).
NOTED TRIALS
XX Argenteus; Ball Of Muscle; Stellar Pauline; Mamaragan; Postcode
X California Zimbol; Probabeel; Nettoyer; Saas Fee; Aspect Ratio; Lost And Running; Intrepidacious; Mayaaseh; Thy Kingdom Come; Castlecomer; Salateen; Evening Slippers; Pretty In Pink; Dubai Star; Haven; Enigma; Kyo; Rock Dove; Brabham.
WARWICK FARM February 13
16 Heats; Heavy 9
Course Proper (2 Heats – 1 x 1000m; 1 x 900m);
Inside Grass (1 Heat- 1 x 1200m);
Synthetic Polytrack (13 Heats – 2 x 1175m; 11 x 740m)
Second session in three days at Warwick Farm but limited to only three grass trials due to the heavy conditions. The Group and Listed horses were given use of the Course Proper in two heats while there was one average 1200m heat on the inside grass. Significantly there were a number of quicker trials over 740m on the synthetic track compared to those run two days earlier.
Liked the strong third by MISTER SEA WOLF in the first black type heat over 1000m while James Cummings had to be pleased by the way DEPRIVE tracked wide from well off the pace to round up his classy stablemate SAVATIANO for an impressive win in the 900m heat, albeit in slow time given the heavy conditions. (55.27; 35.35).
Dawn Passage and @clarkyhk take out the opening 1000m heat at Warwick Farm on Thursday ahead of Spring Champion Stakes winner Shadow Hero and #TheGong winner Mister Sea Wolf. @GaiWaterhouse1 @tabcomau @7horseracing pic.twitter.com/cHFHVjLq9h

— Racing NSW (@racing_nsw) February 12, 2020
A huge trial from @godolphin's Sydney Stakes winner Deprive who came from last to win Trial 2 this morning with @mcacajamez in the saddle pic.twitter.com/OGuCCFTlqX

— Sky Racing (@SkyRacingAU) February 12, 2020
The polytrack trials saw some sharp performances in good times compared to the Tuesday session with the most notable wins coming from FASIKA (45.12; 34.40); EVERY ROSE (45.57; 34.70); DENIKI (44.80; 34.70); and MO'S CROWN (44.68; 33.90).
Gimcrack Stakes winner Every Rose made light work of her trial this morning @mark_mnracing @Darby_Racing

Looking forward to seeing this flashy filly back at the races @racing_nswpic.twitter.com/yrbiaPb0Cm

— Sky Racing (@SkyRacingAU) February 12, 2020
NOTED TRIALS
XX Deprive; Fasika; Every Rose; Deniki; Mo's Crown
X Mister Sea Wolf; Savatiano; Wagner; Gemmahra; Avion Fury; Shadow Bridge; Sabor; Blaze A Trail; Acumen.
WARWICK FARM February 11
Synthetic; Polytrack
7 Heats – 2 x 1175m (1 Open; 1 2 & 3YO); 5 x 740m (1 Open; 2 2YO; 1 3YO; 1 Maiden)
Polytrack trials can be unreliable but there were some quality runners in these heats. The times were reasonable for the synthetic surface.
Standout winners were the talented 2YO FARNAN, promising 3YO HUMAN NATURE and a maiden newcomer VECTOR.
FARNAN did it easily to win his trial in the fastest of the five 740m heats (46.09; 35.30) and seems ready to put the lie to his failure in the Magic Milli9ons in January. Behind him there was a lot to like about the way the unraced NORTH PACIFIC found the line for second in his first trial appearance.
Lightly raced HUMAN NATURE has plenty of talent and looks set for a strong return to racing after winning his 740m heat in 46.43 (35.40), showing he had come on well since his previous trial when an eye catching second in a turf trial at Warwick Farm on February 3.
Boom sire Deep Field has another promising type in the unraced VECTOR, a member of the Hawkes team who showed real talent to lead and forge away for a classy four lengths win in his 740m heat in good closing sectionals (46.48; 35.30).
NOTED TRIALS
XX Farnan; Human Nature; Vector
X Imaging; Trope; Xylaroo; Oh Say; North Pacific; Peak.