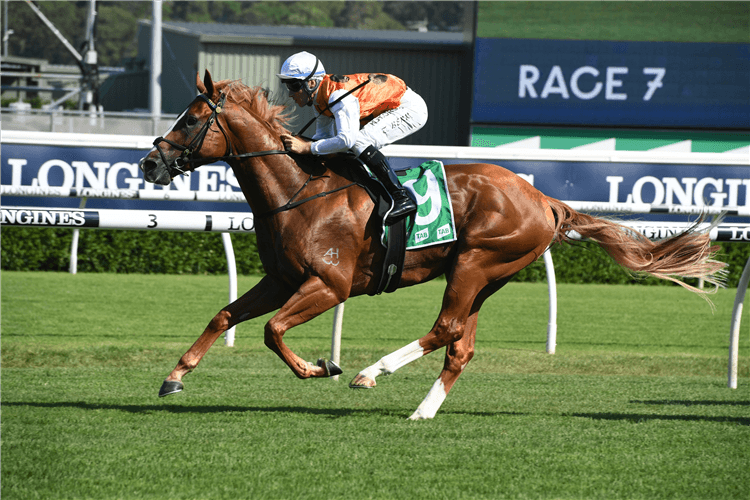 ROSEHILL February 25
Inside Grass; Soft 5
16 Heats – 4 x 1030m (3 Open; 1 Maiden); 12 x 900m (3 Open; 1 3YO Open; 6 2YO; 2 Maiden)
STANDOUT (Gerald Ryan): Lived up to his name as his win in easily the fastest of the 1030m heats (62.89; 34.40) was indeed the standout performance of the session. He was in cruise mode sitting three deep in a line behind the leaders and stamped his class on the trial with impressive work between the 200m and 100m as he asserted his authority with Tommy Berry sitting stone cold in the saddle. Top class work.
Standout coasts across the line with his ears pricked...impressive trial from the @GRyanRacing trained colt under @TommyBerry21 pic.twitter.com/Y1rg30reTX

— Sky Racing (@SkyRacingAU) February 24, 2020
BOOKER (Gerald Ryan): The G1 winning mare is obviously close to her best form for her new stable judging by the way she sped to a 5.3 lengths win in easily the fastest of the 900m heats (53.70; 33.40) under the kindest of rides form Josh Parr. No knock on the strong work of top class pair SANTA ANA LANE and FASIKA behind her but she is obviously ready to go first-up over a short course.
Group 1 winner Booker, now with @GRyanRacing, runs out an easy winner of a @rosehillgardens trial on Tuesday with Fasika and superstar Santa Ana Lane chasing her home. @tabcomau @7horseracing pic.twitter.com/FksgGEhnFG

— Racing NSW (@racing_nsw) February 24, 2020
NOTED TRIALS
XXX Standout
XX Booker
X Lewis; Imaging; Hilo; Re Edit; Zakat; All Time Legend; Santa Ana Lane; Fasika; Unforgotten; I Thought So; Kementari; Invictus Prince; Rock; Sancy; Forbidden Love; Kaakit Akit; Brooks Battle; Canadian Spice; Tamerlane; Never Never River; Doubtland; Kobestar; Return With Honour; Cosmic Forcer; Heart Of The Oak; Starla; Archanna; Phoenician Queen.
A new side to @cwallerracing mare Unforgotten as she leads all the way to win a 900m trial @rosehillgardens from I Thought So, Diplomatico and our first look at the newly gelded @godolphin Group 1 winner Kementari. @tabcomau @7horseracing pic.twitter.com/y92xGjtlqq

— Racing NSW (@racing_nsw) February 24, 2020
Roman Consul Stakes winner Cosmic Force returned today to take out the 3YO Trial at @rosehillgardens under @mcacajamez @SnowdenRacing1 pic.twitter.com/tskK5bgULw

— Sky Racing (@SkyRacingAU) February 24, 2020
HAWKESBURY February 20
Inside Grass; Soft 7
11 Heats - 1 x 1250m (Open); 4 x 1000m (2 Open; 2 Maiden); 6 x 760m (1 Open; 2 2YO; 3 Maiden)
NOTED TRIALS
X Fierce Impact; Ilwendo; Yamakazi; You Excite Me; Parineeti; Easy Eddie; Night Flyer; Border Control; Sugamo; Foxy Rocket; Blueant.
NEWCASTLE February 19
A Grass - Soft 7
20 Heats - 1 x 1200m (Open); 7 x 1000m (4 Open;'3 Maiden); 12 x 800m (3 Open; 4 2YO; 5 Maiden)
NOTED TRIALS
XX Stella Sea Sun; Bobbing; Tawfiq Boy; Miss Canada; From The Hip;
X Oakfield Missile; Trumbull; Star Crossed; Atherton; Bangkok; Golden Tycoon; Chosen Prince; Cheat'm; Galaxy Belle; Barossa Rosa; Tempel One; Roman Candle; Fused Magic.
Bernie Kelly's Provincial Championships winner Bobbing begins his warm up for the @_TJC Country Championships Qualifier on March 8 with a nose second in a 1000m trial @newcastleraces_ on Wednesday behind Wild About Her. The promising Geo finishes a close fourth. @tabcomau pic.twitter.com/x1DOlH5BHT

— Racing NSW (@racing_nsw) February 18, 2020