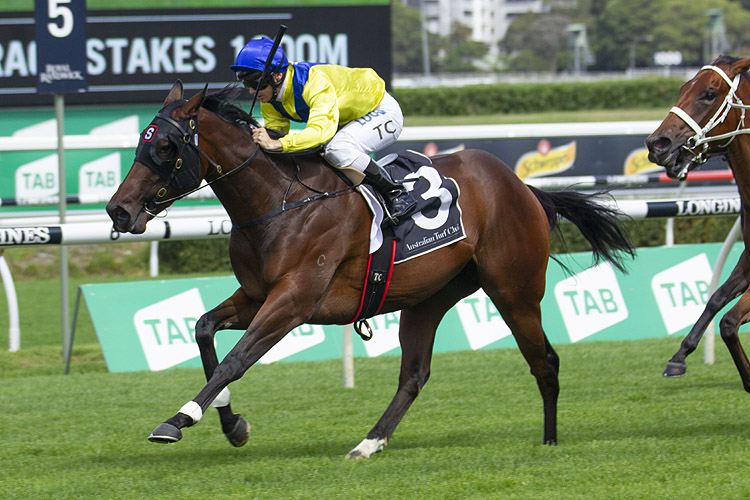 RANDWICK March 12
A Grass/Polytrack; Soft 6
20 Heats; A Grass 16 Heats - 1 x 1200m (Open); 9 x 1045m (3 Open; 3 2YO; 3 Maiden); 6 x 735m (1 Open; 3 2YO; 1 3YO; 1 Maiden); Polytrack 4 Heats – 1 x 1250m (Open); 1 x 1080m 9Open); 2 x 780m (2 Open)
A big set featuring a number of major race contenders, not the least being the top Melbourne youngster HANSEATIC, KEMENTARI and ANAHEED.
Nothing between Group 1 winning duo Kementari and Super Seth at the end of their 1050m trial @royalrandwick on Thursday with Special K getting the nod. @tabcomau @FreedmanRacing @godolphin @7horseracing pic.twitter.com/XHpwYySomg

— Racing NSW (@racing_nsw) March 11, 2020
Godolphin had to be happy with the trials from CHENIER, BEST OF DAYS, HOME OF THE BRAVE and SPECIAL SNAP while the Snowdens played a big hand as usual with a host of good trial efforts including MILITARY ZONE, BRAVE SONG; HEROESS; SMART IMAGE; BRAZENPINE and MILITARY MAGIC.
Good maiden trials came from MADAM LEGEND; EAST ASIA and LANDO BAY while ENCOUNTABULL, PANNA COTTA, SMART IMAGE and HEROESS impressed with their 2YO heat wins.
KEMENTARI (James Cummings): His comeback as a gelding is going well judging by the way he won his second trial over 1045m in a sharp 62.80 (34.40), controlling the trial from the front and working well within himself to the line to hold off a late sprint by the top Melbourne 3YO SUPER SETH.
He's a $7 chance with @tabcomau in Saturday's week's @Longines Golden Slipper, @godolphin colt Hanseatic and @KPMcEvoy take out a 1050m trial @royalrandwick on Thursday.
What do you make of his Slipper hopes?@7horseracing @FreedmanRacing pic.twitter.com/GpTt7foePN

— Racing NSW (@racing_nsw) March 11, 2020
HANSEATIC (Anthony Freedman): No doubt he will be a big player in the Golden Slipper after this trial win. Handled the clockwise way of going with ease to win his 1045m heat after tracking very wide. Time wasn't flash (64.23; 35.40) but showed his class to respond with a sharp turn of foot in the soft ground at the 200m.
ANAHEED (Peter & Paul Snowden): Scooted through her favoured soft conditions to record the fastest time of the 1045m heats (62.55; 34.00), travelling easily outside the lead before asserting herself to score a soft three lengths win. She's in the right form to perform well over the carnival.
NOTED TRIALS
XX Kementari; Anaheed; Hanseatic
X Chenier, Best Of Days; Super Seth; Military Zone; Jen Rules; Brave Song; Personal; Raison D'Etre; Encountabull; Madam Legend; Go For Gold; Lando Bay; East Asia; Home Of The Brave; Ranier; Panna Cotta; Windsweep; Heroess; Mrs Maisel; Smart Image; Colonel; Brazenpine; Military Magic; Shuwaamekh; Rouchel; Loveseat; Special Snap; Seraglio.
Chenier had a good hit out in this morning's trial...next stop Rosehill Guineas @FreedmanRacing @godolphin pic.twitter.com/6igVyTPPcn

— Sky Racing (@SkyRacingAU) March 11, 2020
WARWICK FARM March 10
Inside Grass; Heavy 8
12 Heats – 1 x 1200m (Open); 5 x 805m (1 Open; 3 2YO; 1 3YO); 6 x 802m (6 Maiden)
X Canasta; Miss Invincible; Joy And Mirth; Damaged; Long Weekend; Extreme Jewel; Zedward; Lucicello; Duenna; More Oomph; Blazing Line; Enjaaz; Mustang Suzy; Threeood; Side Hustle; Missile Heat; Criaderas
.@JamesCummings88's Exceed and Excel colt Damaged narrowly won his trial at Warwick Farm this morning, just nosing out @GaryPortelli 's Long Weekend@mcacajamez @godolphin pic.twitter.com/uIBCkXwZzK

— Sky Racing (@SkyRacingAU) March 10, 2020
WARWICK FARM March 5
Inside Grass/Polytrack – Heavy 8
10 Heats – Inside Grass 3 x 1200m (2 Open; 1 Maiden); 4 x 807m (4 Open); Polytrack 3 x 740m (1 Open; 2 2YO)
They got through only 10 of 20 scheduled heats before the weather conditions became too severe to continue. The last three heats were run on the synthetic track before the session was abandoned.
Greg Hickman is tightening the screws on PIERATA with the gun sprinter put into his 807m heat from the start in contrast to his earlier trial at Randwick on February 17 when he went around at the back of the field for untested exercise.
He couldn't be faulted with a strong showing in the heavy conditions, recording an acceptable 48.14 with his last 600m in 34.05 the fastest of the session. The good mares PRETTY IN PINK and MADAM ROUGE put in eye catching efforts behind him.
Easy work for @HickmanRacing star 5yo Pierata taking out an 807m trial at Warwick Farm on Thursday from Pretty In Pink and Invictus Prince.@tabcomau @TommyBerry21 @AquisFarm @7horseracing pic.twitter.com/jV7Fx4dSf7

— Racing NSW (@racing_nsw) March 4, 2020
The fast mare REBEL MISS recorded the quickest 807m heat time (47.64; 34.15). The quality pair STAR OF THE SEAS (48.89; 34.52) and CORUSCATE (48.63; 34.63) also handled the heavy going confidently to win their 807m heats.
NOTED TRIALS:
X Love Shack Baby; Girl Tuesday; Star Of The Seas; Diplomatico; Tricky Gal; Coruscate; Sebring Express; Pierata; Pretty In Pink; Madam Rouge; Rebel Miss; Tailleur; Miss Exfactor; Our Bellagio Miss; Too Much Class.