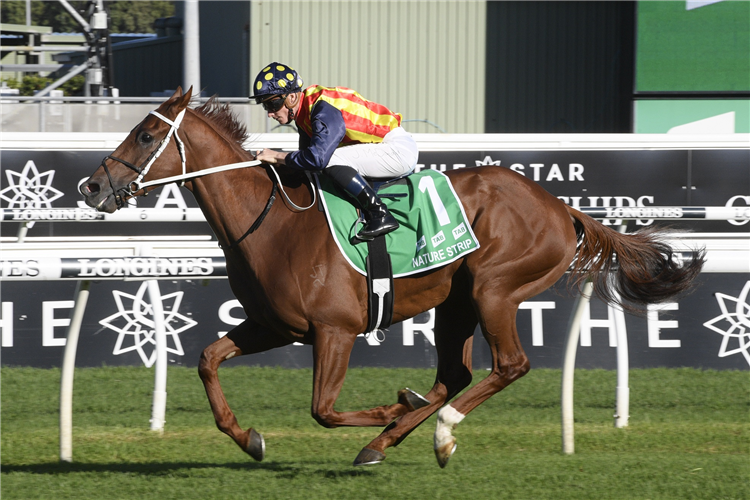 ROSEHILL August 4
Course Proper/Inside Grass; Heavy 8
17 Heats - Course Proper 1 x 1000m; 1 x 900m (Group/Listed); Inside Grass 3 x 1030m (2 Open; 1 Maiden); 12 x 900m (3 Open; 2 3YO; 7 Maiden)
A big day out for the Waller stable with a host of his top guns warming up for their spring campaigns. It is a set that will produce a host of winners in coming weeks.
You can't harness natural speed so it was good to see the brilliant NATURE STRIP work through his gears for an easy win in the second of the Group and Listed heats over 900m. He's in great order and the challenge for Chris Waller will be taking him to an even higher level in the spring sprints.
HEAT 1 (1000m – 63.40; 36.66): Bjorn Baker's honest grey FUN FACT set the pace and when called extended smoothly to score by a soft 2.3 lengths but most eyes were on the Waller stars working well within themselves behind him. It was hard to miss the easy work of SHARED AMBITION (3rd) and VERRY ELLEEGANT (4th) as they went to the line together under no pressure and a couple of lengths clear of their stablemates FUNSTAR (6th) and HERENGAWE (5th) having equally easy trials.
The @BBakerRacing grey Fun Fact leads all the way in his 1000m heat @rosehillgardens with the likes of Holyfield, Verry Elleegant, Shared Ambition and Funstar having pleasing hitouts. @tabcomau @7horseracing pic.twitter.com/HOlxQbqT2F

— Racing NSW (@racing_nsw) August 3, 2020
HEAT 2 (900m – 55.98; 35.32): James McDonald was happy to let the pacy SPIRITUAI PURSUIT lead NATURE STRIP, cruising wide on the track until straightening when class kicked in. McDonald barely moved as NATURE STRIP took control with the feature of his trial being how easily he put three lengths on the second horse in the last 50 metres. While most behind were given easy rides an effort to note was RELOADED (7th) working through the line strongly from last although 10 lengths from the winner.
"He can't be more impressive this morning."

There's you're #TheTABEverest favourite Nature Strip making a mess of his rivals in a 900m trial @rosehillgardens on Tuesday. @tabcomau @7horseracing @cwallerracing pic.twitter.com/BsISwLAYC8

— Racing NSW (@racing_nsw) August 3, 2020
The other 15 trials on the inside grass saw Waller win another five heats with TORYJOY and the young maidens ROUSSEAU, ICONICALLY, YIYI and HOT SPRING GOLD.
However John, Michael and Wayne Hawkes would have taken plenty from the trial results as their classy team performed impressively. They won heats with exciting spring contenders NORTH PACIFIC and KINGSHEIR and unexposed maidens INITIATION and STARBORETA backed up by some eye catching efforts from big race contenders MASTER OF WINE, MASKED CRUSADER, ZEBROWSKI, WILD PLANET, HULK and OLE KIRK.
Plenty is expected of @HawkesRacing's Masked Crusader this spring and he kicked off with this pleasing second to Manly Cove for @BBakerRacing in a 900m trial @rosehillgardens on Tuesday. @tabcomau @7horseracing pic.twitter.com/T6Zpf0oMwS

— Racing NSW (@racing_nsw) August 3, 2020
Gerald Ryan also sent out some impressive winners with CISCO BAY and MR MOSAIC recording big margin wins in their heats. CISCO BAY set the time standard in the 1030m heats (63.22; 35.32) and MR MOSAIC opened up for a super eight lengths win his 900m heat (55.35; 34.96).
Some smart three-year-olds in action in this @rosehillgardens trial as @HawkesRacing's North Pacific, $11 with @tabcomau in the G1 Golden Rose, downs @GRyanRacing's Return With Honour and Gunnamatta in third. @7horseracing pic.twitter.com/4mdTLnnbTv

— Racing NSW (@racing_nsw) August 3, 2020
The Bjorn Baker-trained MANLY COVE was a stylish all the way winner of fastest 900m heat (55.28; 35.10) but the closing runner-up MASKED CRUSADER was the one who took the eye after covering a lot of extra ground.
NOTED TRIALS
XXX Nature Strip
XX Shared Ambition; Verry Elleegant; Mr Mosaic; Masked Crusader
X Big Angel; Blaze A Trail; Cadenabbia; Cisco Bay; Commanding Missile; Egyptian Missile; Eight Diamonds; Fun Fact; Funstar; Herengawe; Hot Spring Gold; Iconically; Initiation; Kingsheir; Manly Cove; Master Of Wine; Mission River; Morethannumberone; North Pacific; Osamu; Ole Kirk; Phemonoe; Reloaded; Return With Honour; Rousseau; She's Ideel; Toryjoy; Yonkers; Zebrowski
GOSFORD August 3
Course Proper; Soft 6
18 Heats – 1 x 1200m (Open); 6 x 1000m (3 Open; 3 Maiden); 11 x 800m (4 Open; 1 3YO; 6 Maiden)
Interesting to see James McDonald and Glen Boss attend this set for select rides. McDonald was on hand to ride for Kim Waugh and Kris Lees and Boss made the trip to handle just three for Brad Widdup.
The unraced 3YO BIG HAPPINESS, a colt by Poet's Voice trained by Kristen Buchanan, stole the show when he cleared out to a big win by more than seven lengths in his first trial appearance, setting the time standard for the 800m heats by being the only winner to break 49 seconds (48.75; 35.13)
Brett Partelle's Sacred Sword wins an 800m trial @gosford_races on Monday from Rare Episode and @Leesracing's Special Reward, who is nominated for Saturday's Missile Stakes @rosehillgardens, in third. @tabcomau pic.twitter.com/ve8mseovLk

— Racing NSW (@racing_nsw) August 3, 2020
NOTED TGRIALS
XX Big Happiness
X Aliferous; Bethencourt; Bring Glory; Celer; Fall On A Star; Hard Faith; Lambdona Energy; Le Romain; Miss Fox; Ocean Go; Poetry In Motion; Sharpay Ruler; Rare Episode; Reaching; Rifles; Special Reward.
RANDWICK July 31
Kensington Track; Heavy 9
3 Heats – 3 x 850m (Group/Listed)
This small but elite set was held over from the previous Tuesday trials run on the Polytrack to give the Group and Listed horses the use of the Kensington grass. The cones were out approx. 3-4 metres.
HEAT 1 (50.46; 34.29): The fastest of the three heats and no surprise to see a specialist sprinter in HOME OF THE BRAVE do it easily on his favoured track conditions. Ridden with no urgency early, he tracked the leaders and railed through under a quiet ride to get the better of the talented SPLINTEX by a half length. The runner-up also had a soft time over the last 200m after covering more ground sharing the lead.
CON TE PARTRIRO (3rd) tracked deep and worked to the line under a ride while KOLDING (5th) and DREAMFORCE (4th) were out for exercise and were not asked for any serious work.
.@godolphin's Home Of The Brave edges out Splintex and a closing Con Te Partiro in an 850m Kensington track trial on Friday. @tabcomau @7horseracing pic.twitter.com/Y59zTLtNLO

— Racing NSW (@racing_nsw) July 30, 2020
HEAT 2 (51.67; 35.04): Another pleasing win for Godolphin with the classy mare SAVATIANO relishing the soft ground and doing all that was required to get the better of the promising ENTENTE. The runner-up jumped successfully from a provincial maiden win straight into Group company in the autumn and should make further progress through the spring.
Another good mare SWEET DEAL had a very easy time running through the line strongly for fourth and can be relied on to perform when fresh. KINGS WILL DREAM (6th) was another of the Waller stars out for conditioning exercise.
The interesting runner was John's O'Shea's lightly raced mare ALL SAINTS' EVE. She showed considerable potential in the autumn and her two recent trials have been quite impressive. She was under a hold to work home strongly and my advice is to keep her under a close watch as she progresses into the spring.
She won #TheHunter for @godolphin and Savatiano is back with a Kensington trial win on Friday over Entente and Wolfe with a few other spring hopefuls stretching out behind them. @tabcomau @7horseracing pic.twitter.com/vTNyRCHXkl

— Racing NSW (@racing_nsw) July 30, 2020
HEAT 3 (51.50; 35.01): Top shelf Kiwi mare MELODY BELLE took the honours, responding to riding over the last 200m to split the leaders and get the better of the quietly ridden FIERCE IMPACT by a half length in the closing stages. Suspect her stable wanted to her have a solid hitout to have her sharp for 1200m first-up.
I really liked the way MISTER SEA WOLF (4th) found the line late under no pressure while the exciting prospect MAMARAGAN (5th) was not asked to extend over the closing stages after travelling strongly from the start.
An effort to note came from the ex-Kiwi mare RONDINELLA. She may have been last over the line but she was out the back from the start under a big hold and was only allowed more rein from Glen Boss over the last 100m, putting in strongly as she extended her work through the line. This was her second noted trial for John O'Shea and again confirms her place in our blackbook.
Outstanding @TeAkauRacing mare Melody Belle wins a star studded 850m Kensington trial on Friday for @KPMcEvoy
accounting for Fierce Impact and Quackerjack. @tabcomau@7horseracing pic.twitter.com/kYUIyjPqoq

— Racing NSW (@racing_nsw) July 30, 2020
NOTED TRIALS
XX Savatiano; Mister Sea Wolf
X All Saints' Eve; Entente; Fierce Impact; Home Of The Brave; Mamaragan; Melody Belle; Rondinella; Splintex; Sweet Deal