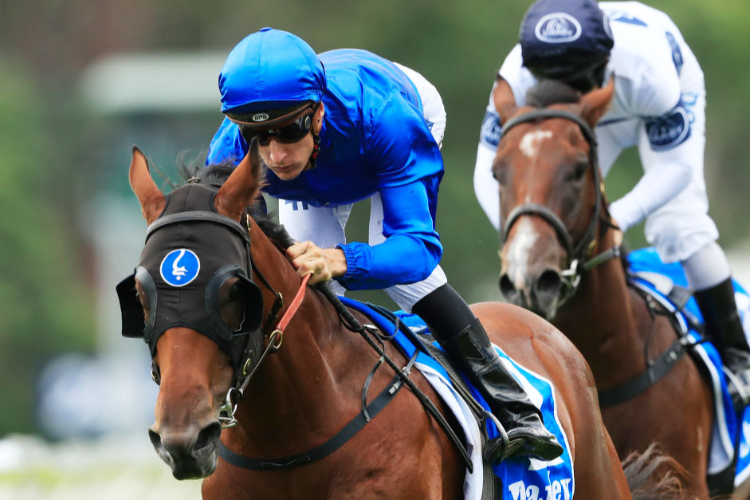 HAWKESBURY August 17
Inside Grass; Soft 7
14 Heats – 1 x 1250m (Open); 5 x 1000m (2 Open; 3 Maiden); 8 x 800m (2 Open; 6 Maiden)
Godolphin sent 20 horses to these trials but it was all about their number one sprinter BIVOUAC in his first trial as a 4YO. And he didn't disappoint, showing his class to sit three wide in his 800m heat before drawing clear under no pressure for a soft win with plenty in reserve in reasonable time (48.20). Behind him his stablemates GLACIERS, PROMOTIONS and ROHERYN all worked strongly to the line.
Is this the first step towards the #TABEverest for @godolphin star Bivouac? The Group 1 winning four-year-old clocks 48.20 downing stablemates Glaciers and Promotions @hawkesburyrc. @tabcomau @7horseracing pic.twitter.com/ThFpECOT7c

— Racing NSW (@racing_nsw) August 17, 2020
Other Godolphin runners to impress included the heat winners AMITTO (1000m/61.08), KNICKPOINT (800m/47.77) and MASHRABIYA (800m/48.37) while James Cummings would have been equally pleased by the strong trials from NIGHT WITCHES, HILO, PLAQUETTE, THE GRACES and STELVIO.
The fastest 1000m heat was won by the pacy RARE EPISODE (59.54) while the fastest 800m heats were taken out by the unraced maidens EPAUVESCENT (47.58) and PROVIDE (47.75), a pair set to make strong debuts.
NOTED TRIALS
XX Amitto; Bivouac; Epauvescent; Knickpoint
X Calgary Queen; Glaciers; Mashrabiya; Missybeel; Night Witches; O'Tartan; Provide; Rare Episode; Silent Tryst; She's Ideel; Stelvio; The Graces.
RANDWICK August 14
Kensington; Heavy 8
3 Heats – 3 x 850m (Group/Listed)
A select session for the black type horses held over from August 11 to give these classy performers the benefit of a grass surface.
HEAT 1: Gai Waterhouse says FARNAN is the best horse in Australia! Everybody will have their own opinion on that but for now he looks to be in a good place heading towards the spring judging by his tradesman win in the slowest of the three select heats (50.51; 34.18). He jumped in front and did it at his own speed to comfortably hold another top colt MAMARAGAN by a half length at the finish. The runner-up was equally as good and worked well within himself without being asked to put any pressure on the winner. FIECE IMPACT also had an easy time of it finishing off nicely for third while KOLDING went around at his leisure out the back and only started to get into his work in the last 100 metres.
He's back! Golden Slipper hero Farnan leads throughout to beat another star colt Mamaragan and Fierce Impact in a trial @royalrandwick on Friday. @tabcomau @GaiWaterhouse1 pic.twitter.com/FVsHy8c9md

— Racing NSW (@racing_nsw) August 13, 2020
HEAT 2: Anther good 3YO PRAGUE had the blinkers on and was was made to work to the line from midfield, running the fastest last 600m of the heat winners (50.46; 33.69) to get the win over the good mare CON TE PARTIRO, who certainly made a better impression sharing the lead from the start and holding her ground well all the way to the line. BRANDENBURG's third was also a good effort as he could have taken a hand in the finish if put under more pressure. Really liked the way STAR OF THE SEAS is going in his trials. His easy fourth with plenty to offer was another indication that he is in good form for the start of his spring prep. SWEET DEAL is usually on the pace in her trials but she was not asked to compete in this heat. She was given a very easy time dropping to the rear and working home under no pressure. Oaks winner COLETTE was back and deep and was also having an easy exercise morning.
Strong finish from Prague to run down Con Te Partiro in Heat 2 @royalrandwick with a gap to Brandenburg. Quiet one from ATC Oaks winner Colette. @tabcomau @cmaherracing @mcacajamez pic.twitter.com/bmra0goj2a

— Racing NSW (@racing_nsw) August 13, 2020
HEAT 3: Stablemates SPLINTEX and INVICTUS SALUTE were running from the start with the latter unjdr a ride to get the upper hand late in the fastest of the three heats (50.010; 33.81). The good fillies DAME GISELLE and STELLA PAULINE worked to the line nicely behind the first pair but the eye catcher came from SEE YOU SOON making up several lengths under a quiet ride and looking strong through the line. Top class winner AVILIUS dropped out under a cold ride and was still three lengths behind the pack at the 200m but his work to the line late was as good as any ahead of him.
A @mark_mnracing quinella in Heat 3 @royalrandwick with Invictus Salute downing Splintex with a closing Dame Giselle third. And what about See You Soon in behind them!@tabcomau pic.twitter.com/o0oYVqUw4a

— Racing NSW (@racing_nsw) August 13, 2020
NOTED TRIALS
X Avilius; Con Te Partiro; Dame Giselle; Farnan; Fierce Impact; Kolding; Mamaragan; Prague; See You Soon; Splintex; Star Of The Seas; Sweet Deal
GOSFORD August 12
Course Proper; Heavy 8
13 Heats – 1 x 1200m (Open); 6 x 1000m (4 Open; 2 Maiden); 6 x 800m (2 Open; 4 Maiden)
Not an ideal morning for trials as the track presented difficult sloppy conditions with a loose surface after copping heavy race meeting traffic the previous day.
The standout was the strong win by the classy MUGATOO in the 1200m open heat where he worked well within himself and handled the conditions confidently for a soft one length win over a notable field that included FRANKELY AWESOME, DREAM FORCE and MUSTAJEER. The Irish import has already built an impressive record in Australia and could rise to even higher heights in the spring.
The spring stars continue to shine at the trials

Mugatoo put in a lovely piece of work this morning at @gosford_races to lead up stablemate Frankely Awesome @Leesracing @ausbloodstock2 pic.twitter.com/ERiz3ciapF

— Sky Racing (@SkyRacingAU) August 12, 2020
FRANKELY AWESOME also worked strongly to finish second but DREAMFORCE looked uncomfortable in the conditions with his effort to finish fourth below what we usually get from him in trials.
Other results saw the enigmatic MISS FABULASS show positive signs with a strong win in her 800m heat (50.22; 35.73) and OXFORD TYCOON impress with a smart win in the fastest of the six 1000m heats (61.63; 36.00).
Several maidens too the eye, not the least being the lightly raced MIDLAND with a comfortable win in the fastest of the six 800m heats (49.77;35.43).
NOTED TRIALS
XX Mugatoo
X Animate; Bandahara; Bella Violet; Express Award; Frankely Awesome; French Bonnet; Herschel; Irish Thunder; Let It Pour; Midland; Miss Fabulass; Oxford Tycoon; Pluck Sans Ma; Pride Of Adelaide.