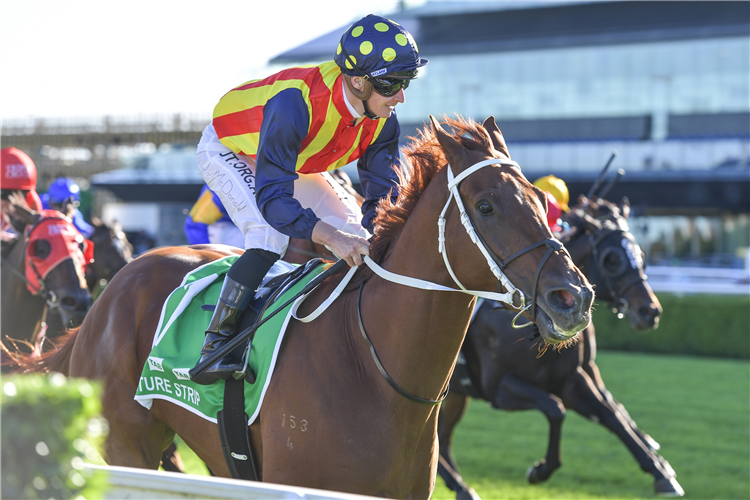 ROSEHILL August 18
Course Proper/Inside Grass; Heavy 8
15 Heats – Course Proper 1 x 1000m (Group/Listed); 1 x 900m (Group/Listed); Inside Grass 13 Heats – 3 x 1030m (1 Open; 2 Maiden); 10 x 900m (3 Open; 1 3YO; 6 Maiden)
The two black type heats on the course proper drew all the media attention but there were also some strong sprint pointers in later heats.
NATURE STRIP continued his spring build up and didn't disappoint with another sparkling display that would have convinced his harshest critics that he has matured into the complete package under Chris Waller's expert training. Just as he did in his resuming trial two weeks ago, James McDonald made no attempt to harness his natural speed and again he relaxed beautifully in full stride with no signs of the over keen traits that at times have been a worrying flaw in his makeup.
Daylight second....#TABEverest favourite Nature Strip puts a space on a classy field in his second trial this season at @rosehillgardens on Tuesday. @tabcomau @7horseracing pic.twitter.com/98NdJuZ3Wb

— Racing NSW (@racing_nsw) August 17, 2020
No rival had the intent or speed to go with NATURE STRIP in his 900m heat. He was left in a world of his own as he cruised through the line 5.5 lengths clear, clocking 54.69 and a well held 35.73 for his last 600m. The promising mare FITUESE worked well within herself for a soft second with the exciting Frankel filly HUNGRY HEART the one that took the eye doing her best work through the line for a kind fourth. Former Kiwi Group winner RIODINI had his second trial for the Waterhouse/Bott stable and did no more than was expected over this trip. Mark him down as an Epsom Handicap prospect.
Chris Waller sent out eight of the nine runners in the other black type heat over 1000m with his classy ex-Kiwi mare SENTIMENTAL MISS leading home his parade. The 2019 NZ Oaks winner was pushed out late to get the upper hand from the imported DJUKON in 64.09 (36.63) but the trial that would have delighted Waller was the strong third from the top class stayer FINCHE in only his second trial since his seventh in last year's Melbourne Cup. He was up on the pace from the start and was always travelling better than those around him. The other notable effort came from the honest Group performer LIFE LESS ORIDNARY running home from last start for a strong fourth.
Sentimental Miss given a good hit out this morning under @HugeBowman in her trial @cwallerracing

Stablemates Djukon and Finche came in second and third. pic.twitter.com/dM2I2W8AfM

— Sky Racing (@SkyRacingAU) August 17, 2020
The first two open heats over 900m on the inside grass were won by the fast mare SANGRIA (56.31; 35.78) and DIRTY WORK (55.98; 35.47) in slow time for this class before Gerald Ryan's brilliant runner MR MOSAIC came out and, just as he did two weeks ago in a similar trial, blew away his rivals to win his heat by almost four lengths in a fast 54.67 (34.78). He is ready to fly first-up but just what he can do beyond 1000m remains to be seen.
SANGRIA was too brilliant over the short trip, leading by several lengths before she was eased down to hold off an impressive last 200m from IN LIGHTEN ME but most eyes were on the high class Hawkes stablemates ZEBROWSKI and MASTER OF WINE having an easy time of it back in the pack without being asked to put in serious efforts.
All the way for Sangria and @clarkyhk in Heat 6 @rosehillgardens while it was easy work ahead of Saturday's Winx Stakes for Master Of Wine. @tabcomau @SnowdenRacing1 @HawkesRacing pic.twitter.com/HMeq0HFcwr

— Racing NSW (@racing_nsw) August 17, 2020
The Hawkes pair DIRTY WORK and ROCK had the measure of their rivals in the other 900m heat but the blackbook effort in this heat came from the classy STANDOUT after he settled last before circling the field to pull his way to the front turning for home. He could have won the heat easily but Nash Rawiller had him in a vice over the last 200m, holding him down to finish third. The effort of the lightly-raced HARTO also had plenty of merit.
A @HawkesRacing quinella with Dirty Work downing Rock in their 900m heat @rosehillgardens and a few lengths to Standout, who made a midrace move, in third. @tabcomau @7horseracing pic.twitter.com/lavGnmjrZ8

— Racing NSW (@racing_nsw) August 17, 2020
Another highlight was the clash of the rising stars PELTZER and DOUBTLAND in the open 3YO heat over 900m. All honours went to Gerald Ryan's unbeaten colt PELTZER as he was always in control dictating the pace, going to the line with plenty in reserve for a soft win in a slow 55.91 (35.26). DOUBTLAND came off the bit at the 350m and was put under a ride to find the line, doing his best work late to get third in an effort that will certainly improve his fitness.
Peltzer had an eventful morning pre-trial @rosehillgardens but put it all together for @KPMcEvoy easily accounting for Blossom Star and Doubtland in a 900m heat. @tabcomau @GRyanRacing pic.twitter.com/0u8UCQqwQ8

— Racing NSW (@racing_nsw) August 17, 2020
In the 900m maiden heats there were some smart wins from good prospects WILLINGA PANACHE (56.82; 35.,82), ICONICALLY (56.19; 35.90), CLOSE TO ME (56.00; 35.80) and HEART BREAKER (55.39; 35.01) but they were blown out of the park by another super trial win from Bjorn Baker's Choisir colt MALKOVICH who again turned it on to score by 6.3 lengths in a fast 54.68 (34.77). He is unbeaten in four trials and is ready to make up for his only race start defeat when he took on a hot field in last season's Golden Gift at Rosehill won by Dame Giselle, finishing sixth.
It's appropriate in Winx Stakes week we get another peek at her half-sister Covent Garden @rosehillgardens and she finished a close second to @StarTbreds filly Iconically in a 900m trial. @tabcomau @7horseracing @cwallerracing pic.twitter.com/ZrGpdrkkUE

— Racing NSW (@racing_nsw) August 18, 2020
NOTED TRIALS
XXX Nature Strip
XX Malkovich; Peltzer; Standout
X Close To Me; Dirty Work; FInche; Fiteuse; Harto; Heart Breaker; Hungry Heart; Iconically; Iliana; In Lighten Me; Lucky To Win; Mr Mosaic; Sangria; Sentimental Miss; Willinga Panache; Yangtze Rapids
"I think he's in a better place for sure."

Hear from @mcacajamez after #TABEverest favourite Nature Strip's easy trial win @rosehillgardens. He's due to resume in the Concorde Stakes on September 5. @tabcomau @7horseracing @LizzieJelfs pic.twitter.com/qpxnKrJe9A

— Racing NSW (@racing_nsw) August 17, 2020