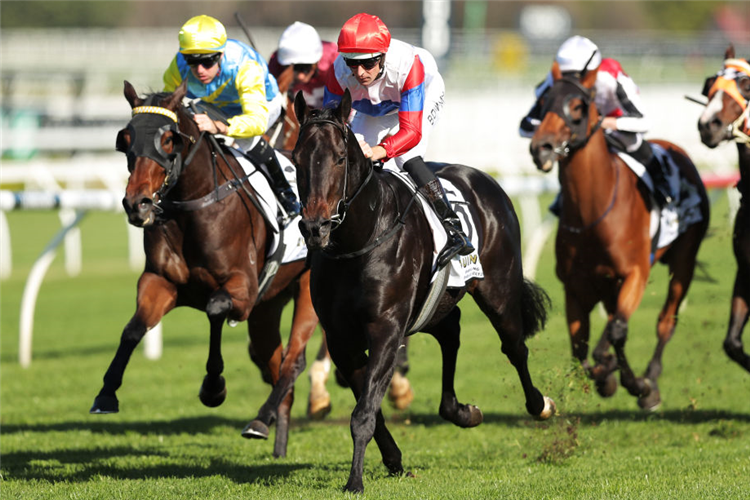 RANDWICK KENSINGTON – August 26
RACE 3: (9) On The Lead
RACE 7: (4) Archanna
RACE 1: 7-12-3-2
RACE 2: 5-1-13-11
RACE 3: 9-6-1-3
RACE 4: 5-7-8-2
RACE 5: 1-5-7-10
RACE 6: 7-9-6-12
RACE 7: 4-1-6-2
TRIAL WATCH REPORT
NOTED TRIAL RUNNERS – August 25-26
KENSINGTON WEDNESDAY: Stelvio (R1); Cadenabbia (R1); Iconically (R2); Malkovich (R2); Legend I Am (R2); Zanzidance (R2); Creator (R3); Rock Amore (R3); Big Parade (R5); Plaquette (R5); Amitto (R7); In Lighten Me (R7)
GOSFORD FRIDAY: Rocketing By (R3); Octagon (R3); Archery Butts (R5); Manly Cove (R5); Let It Pour (R6); Darling Diamond (R6); Provide (R6); Willinga Panache (R6)
ROSEHILL: She's Ideel (R1); Nimalee (R1); Mamaragan (R5); Peltzer (R5); Every Rose (R5); Osamu (R5); Sangria (R6); Mugatoo (R8); Frankely Awesome (R8); Herengawe (R8); Something Fast (R9); Entente (R9); Animate (R9)
ROSEHILL August 18: The first open heat over 900m on the inside grass were won by the fast mare SANGRIA (56.31; 35.78). She was too brilliant over the short trip, leading by several lengths before she was eased down to hold off an impressive last 200m from IN LIGHTEN ME.
Another highlight was the clash of the rising stars PELTZER and DOUBTLAND in the open 3YO heat over 900m. All honours went to Gerald Ryan's unbeaten colt PELTZER as he was always in control dictating the pace, going to the line with plenty in reserve for a soft win in a slow 55.91 (35.26). DOUBTLAND came off the bit at the 350m and was put under a ride to find the line, doing his best work late to get third in an effort that will certainly improve his fitness.
In the 900m maiden heats there were some smart wins from good prospects WILLINGA PANACHE (56.82; 35.,82) and ICONICALLY (56.19; 35.90) but they were blown out of the park by another super trial win from Bjorn Baker's Choisir colt MALKOVICH who again turned it on to score by 6.3 lengths in a fast 54.68 (34.77). He is unbeaten in four trials and is ready to make up for his only race start defeat when he took on a hot field in last season's Golden Gift at Rosehill.
RANDWICK August 14: Farnan won the slowest of the three select heats (50.51; 34.18) from another top colt MAMARAGAN by a half length at the finish. The runner-up was equally as good and worked well within himself without being asked to put any pressure on the winner.
GOSFORD August 12: The standout was the strong win by the classy MUGATOO in the 1200m open heat where he worked well within himself and handled the conditions confidently for a soft one length win The Irish import has already built an impressive record in Australia and could rise to even higher heights in the spring. FRANKELY AWESOME also worked strongly to finish second.
RANDWICK August 11: The lightly raced 6YO SOMETHING FAST - five wins from only 10 starts - was very good tracking deepest all the way to record a narrow but unextended win. He didn't come up in the autumn but this effort indicates he can return to the impressive winning form he displayed late last year. ZANZIDANCE is a promising maiden filly who was in cruise control to record a dominant 4.5 lengths win from the front in her 1080m trial in the fastest of the six maiden heats over the distance (63.36; 34.25). She has now won two recent trials on the synthetic at Randwick and will be a certain winner if she can convert this form to the turf.
ROSEHILL August 4: The Bjorn Baker-trained MANLY COVE was a stylish all the way winner of fastest 900m heat (55.28; 35.10).
RECENT TRIAL WATCH WINNERS: Commanding Missile; Patrolling; Parachuter; Midland; Verry Elleegant; Sweet Deal; Dame Giselle; Lord Olympus; Sharpay Ruler; Chianti; Forbidden Love; Savatiano; North Pacific; All Saints' Eve; Hard Faith; Rifles; Home Of The Brave; Skymist; Anders; Media Starguest; Bigger Than Thorn.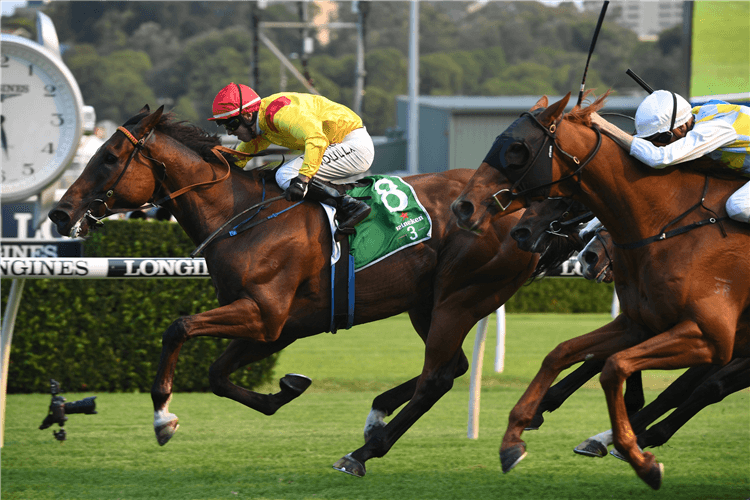 BLACKBOOK REPORT
Eligible Blackbook Runners – August 26
RANDWICK KENSINGTON: Amitto (R7)
SANDOWN: Chuck A Luck (R7); Five Kingdom (R8)
DOOMBEN Slow Hands (R5)
RECENT BLACKBOOK WINNERS: Savacool; Behemoth; Taikomochi; Badoosh; Getyourgreyon; Emeralds; Chassis; Zourhea; Maddi Rocks; Creedence; Inanup; Krone; Sixties Groove; Frankely Awesome; Sure Knee; Viridine.
Blackbookers – Selected August 22
(Follow for next 3 starts)
STAR OF THE SEAS: Could get his G1 in the Epsom.
LOOKS LIKE ELVIS: Luckless. Best over more ground.
NEW KING: Looking for 2000m.
PROBABEEL: Class act. Back in fine form.
BETCHA FLYING: Suited against own sex.
YONKERS: Set for a good campaign.