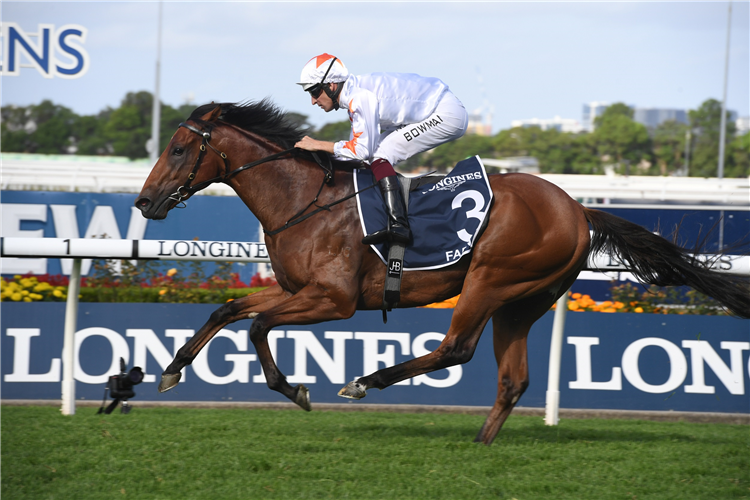 ROSEHILL August 31
Inside Grass; Good 4
15 Heats – 4 x 1030m (2 Open; 2 Maiden); 11 x 896m (4 Open; 2 3YO; 5 Maiden)
A welcome good track should have produced some keen trials but many were pedestrian affairs where there was little early pressure, leaving the leaders to sprint home too quickly for the chasers. Hard to know what to make of these results as the majority of times were outside the norm.
The clock watchers will be left in a quandary after the fastest of the 11 trials over 896m was won by Peter Robl's unraced SHODO SHIMA as he ran in the last heat of the day on a surface that had to be chopping out after the earlier traffic. It was the one trial where the pace was on from the start with SHODO SHIMA running head and head for the first 600m with SAN ANTONIO before going up a gear and sprinting away to score by six lengths in a fast 52.96 (33.97). It was the second trial win in succession by the Unencumbered colt and in keeping with his trainer's liking for his horses to be given a good test in their trials.
Robl would be happy as SHIMO SHIBA was the only heat winner to go under 53 seconds, running much faster than other heat winners like G1 winner TREKKING ((55.44; 34.56); top colt PRAGUE (54.86;34.58) and the classy mare FITUESE (53.89; 34.19). TESTIFIER (53.48; 33.89) and IRISH SONGS (53.70; 33.83) were the only other 896m heat winners to go under 54 seconds.
That said there was a lot to like about the ease of FITUESE's bold front running win and the stylish way PRAGUE got the upper hand in his heat under a quiet ride. TREKKING worked to the line strongly from midfield after tracking three and four wide from the start. Other noted performers to take the eye with their late work in the 896m heats included STANDOUT, HILO, GREYWORM and OLE KIRK.
Talented mare Fituese does it easily for @RachelK11 winning an 896m trial @rosehillgardens on Monday over Taken Everything and Coruscate. @tabcomau @JTRacingRwik pic.twitter.com/T3xcll7hQU

— Racing NSW (@racing_nsw) August 30, 2020
Another talented colt from the @cmaherracing yard - Prague and @mcacajamez accounts for Already Blessed and Ole Kirk in an 896m heat @rosehillgardens. @tabcomau @7horseracing pic.twitter.com/SKnWPxVmFe

— Racing NSW (@racing_nsw) August 30, 2020
Trekking, third in the 2019 #TABEverest, trials strongly taking out an 896m heat @rosehillgardens over Greyworm and Clearly Regal. @tabcomau @godolphin @7horseracing pic.twitter.com/nLLiWlmiCd

— Racing NSW (@racing_nsw) August 30, 2020
Chris Waller's quality mare HAUT BRION HER was an impressive winner of her 1030m heat (63.70; 35.10) and looks to be in top shape for her spring campaign. She led clearly and was throttled down in in the last 50 metres with her margin flattering the late closers that included the Hong Kong Derby placegetter CRACK ON CRACK ON and classy filly MONTEFILIA.
The Gary and John Moore partnership is ramping up with CRACK ON CRACK ON among their runners to put in solid trials. Their stablemates PETRONIUS (63.77; 35.32), PRINCESS ZEDDY (63.47; 35.37) and PRIVATE CHEETAH (63.36; 34.76) all led to win the other three 1030m heats - the latter looked the part and should soon be picking up a maiden win.
NOTE: The career of the high class filly SEE ME SOON appears over after she repeated her bad barrier behaviour and was scratched from her heat when she could not be loaded into the gates.
NOTED TRIALS
XX Haut Brion Her; Fituese; Prague; Shodo Shima
X Crack On Crack On; Dear Sibling; Deel With Me; Deference; Egyptian Missile; Greyworm; Hilo; Irish Songs; Montefilia; Ole Kirk; Petronius; Private Cheetah; Standout; Sure Knee; Testifier; Trekking; Valaquenta; Xylaroo; Yulong Samurai;
NEWCASTLE August 26
Course Proper – Good 4; /Beaumont Track – Soft 6
16 Heats – Course Proper 1 x 800m (Group/Listed); Beaumont 1 x 1200m (Open); 8 x 1000m (4 Open; 4 Maiden); 6 x 800m (2 Open; 1 3YO; 3 Maiden)
A classy set featuring a visit from Sydney by Les Bridge's Everest contender CLASSIQUE LEGEND along with top jockeys Kerrin McEvoy, Hugh Bowman and Nash Rawiller. Bowman and Rawiller made the trip principally to ride some notables from the Kris Lees stable.
CLASSIQUE LEGEND didn't disappoint as he controlled his four horse heat over 800m on the course proper, Kerrin McEvoy sitting outside the lead then allowing the big striding grey to forge away in the closing stages for a soft win. No doubt the day out will bring him on for his looming return but the runner-up TACTICAL ADVANTAGE trialled equally as well sitting on the back of the winner all the way and never asked to extend at any stage.
Easy work for #TABEverest runner Classique Legend winning his first trial, @newcastleraces_ , on the road to the $15m feature. The grey with @KPMcEvoy on top ran 48.59 for the 800m. @tabcomau @7horseracing @BonHo93524033 pic.twitter.com/0SIVLs80bf

— Racing NSW (@racing_nsw) August 25, 2020
The Lees team looks ready to burst into the spring with super trials from class act MISS FABULASS and his unbeaten 3YO THE BOPPER. MISS FABULASS is really back on her game. She was in cruise control to score by 5.38 lengths in her 1000m heat (61.18; 33.30), her fast last 600m showing she is may be ready to really live up to her early promise. THE BOPPER made a big impression winning his first two country starts in April and May and his easy 800m heat win (47.24; 32.95) indicates he can rise quickly through the classes.
Unbeaten @Leesracing 3yo The Bopper impresses in his trial @newcastleraces_ leading throughout under @HugeBowman in 47.24 for the 800m on the Beaumont track. @tabcomau @7horseracing pic.twitter.com/NaanY9JqWp

— Racing NSW (@racing_nsw) August 26, 2020
Other Lees-trained runners to impress included ENCHANTED HEART, GEO, IRISH THUNDER and TRUE FAITH.
The fastest 1000m heat winner was Kim Waugh's unraced 3YO gelding DIFFERENT STROKES (60.53; 33.61) while Brett Partelle's noted speedster RIFLES showed he had improved since his recent Newcastle 900m win by recording the fastest 800m heat win (47.07; 32.040). The promising DIFFERENT STROKES has been noted in earlier trials while the unraced SKYE BANNER has good prospect on the strength of his easy 800m heat win (47.59; 33.83)
NOTED TRIALS
XX Classique Legend; Tactical Advantage; Miss Fabulass; The Bopper
X Bombasay; Different Strokes; Enchanted Heart; Geo; Irish Thunder; Medellin; Rifles; Oaklfield Romance; Skye Banner; Silver Lass; Sportsman; True Faith; Tupou;
RANDWICK August 25
Randwick A Grass; Good 4
13 Heats – 1 x 1200m (Open); 8 x 1050m ( 4 Open; 4 Maiden); 4 x 735m (1 Open; 2 3YO; 1 Maiden)
Golden Slipper winner FARNAN was the focus of attention, putting in another impressive trial effort to lead at his leisure for a sharp 3.8 lengths win in the fastest of the eight 1050m heats (61.99; 33.07). He is possessed with abundant natural speed that is certain to make him a worthy rival for rivals of all ages through the spring. He was unchallenged but his fellow G1 winner KING'S LEGACY was having a quiet time and only got into his work late to finish strongly into fourth in a another nice prep for his coming campaign. The classy SHARED AMBITION also had an easy time of it before picking up late to surge through the line.
"He's flying!"

Golden Slipper winner Farnan makes a spring statement winning his 1050m heat @royalrandwick on Tuesday from Shout The Bar and Splintex, with King's Legacy closing in late. @tabcomau @7horseracing @GaiWaterhouse1 pic.twitter.com/kSgFutquFv

— Racing NSW (@racing_nsw) August 24, 2020
The only 1200m heat was won in fine style by the lightly-raced 3YO YARDSTICK (71.75; 35.56), showing his talent on the firmer surface after a heavy track failure at only his second start. Expect to see him bounce back as he has plenty of ability. He was unchallenged to lead from the start but the stayers WU GOK and NANCHO took the eye with their late work running strongly through the line. The imported G1 winner NANCHO boasts an impressive record in Europe and is one to follow with interest
All the way for Yardstick in a 1200m heat @royalrandwick over Miss Siska and Hush Writer. Doncaster winner Nettoyer and Hungarian import Nancho finish alongside each other. @tabcomau @GaiWaterhouse1 @Dynamic_WONIT pic.twitter.com/hMNNkIgc1E

— Racing NSW (@racing_nsw) August 24, 2020
The best of the other 1075m heat winners were PRIVATE THOUGHTS (62.34; 33.39), ALCHERMIS (63.77; 34.14) and COLONEL (62.76; 34.19) but there were plenty of quiet trials that took the eye. Those noted getting through their work easily included MIRRA VISION, EMERALD, QUANTICO, ROCHA CLOCK and KIRWAN'S LANE.
The 735m heat for 3YO fillies saw the Kiwi visitor PAZIENZA, winner of her only start at Trentham, produce a sharp effort to win from the unraced SKEDADDLE in 43.21 (33.16). It was a solid effort but her time was bettered in the colts heat by the promising maiden FALCON (42.55; 32.58). The handy types ENCOUNTABULL and ICIAFOX had a very easy time behind him in a bunched pack.
Good class stablemates CHAT and CUBA dominated the open heat over 735m heat (42.98; 32.75) with both not fully extended in a close finish. CHAT's effort had more merit due to the extra ground he covered.
NOTED TRIALS
XX Farnan
X Alchermis; Chat; Colonel; Cuba; Emeralds; Encountabull; Falcon; Iciafox; Invincible Ninja; King's Legacy; Kirwan's Lane; Mirra Vision; Miss Dior; Nancho; Pazienza; Private Thoughts; Quantico; Rocha Clock; Shared Ambition; Skedaddle; Wu Gok; Yardstick