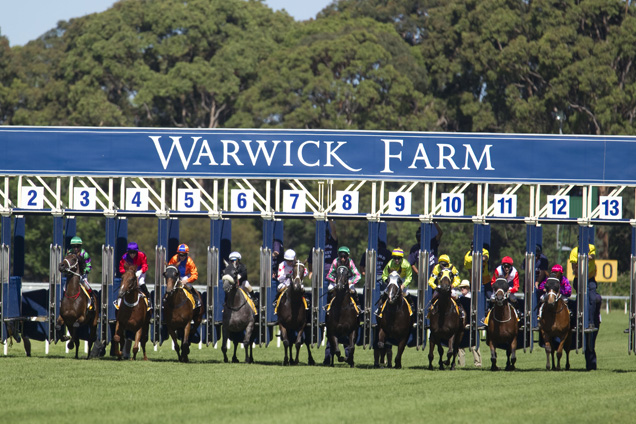 WARWICK FARM September 2
RACE 1: (3) Yangtze Rapids
RACE 5: (5) Gemmahra
RACE 7: (10) In A While (EW)
RACE 1: 3-5-7-9
RACE 2: 3-4-2-7
RACE 3: 6-3-7-5
RACE 4: 3-1-5-4
RACE 5: 5-3-9-4
RACE 6: 9-4-3-5
RACE 7: 10-4-5-2
TRIAL WATCH REPORT
NOTED TRIAL RUNNERS – September 2-4
WARWICK FARM WEDNESDAY: Yangtze Rapids (R1); Kaakit Akit (R2); Glaciers (R2); Mr Mosaic (R3); Junglized (R3); Miyake (R5)
MUSWELLBROOK THURSDAY: Splendiferous (R3); Significance (R6)
WYONG FRIDAY: Archery Butts (R3); Mashrabiya (R4); Bella Violet (R4); O'Tartan Lass (R4); Miss Fabulass (R6); Emeralds (R6); Missybeel (R6); Bombasay (R8); Rifles (R8)
RANDWICK SATURDAY: Harto (R1); Petronius (R3); Air To Air (R3); Giovanna Run (R3); Nature Strip (R4); Gytrash (R4); Ball Of Muscle (R4); Splintex (R4); Dirty Work (R4); Hungry Heart (R6); Avilius (R7); Finche (R7); Shared Ambition (R7); Wu Gok (R7); Miss Sentimental (R7); Reloaded (R8); Mirra Vision (R9); Quantico (R9)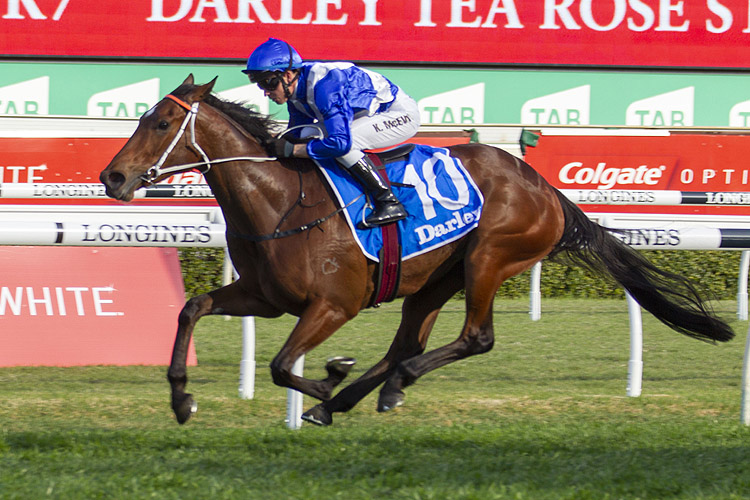 TRIAL POINTERS
NEWCASTLE August 26: Super trial from class act MISS FABULASS. Showed she is really back on her game as she was in cruise control to score by 5.38 lengths in her 1000m heat (61.18; 33.30), her fast last 600m showing she is may be ready to really live up to her early promise. Brett Partelle's noted speedster RIFLES showed he had improved since his recent Newcastle 900m win by recording the fastest 800m heat win (47.07; 32.040).
RANDWICK August 25: The fastest of the eight 1050m heats (61.99; 33.07) was won by Farnan with the classy SHARED AMBITION having an easy time of it before picking up late to surge through the line. In the only 1200m heat the stayer WU GOK took the eye with his late work running strongly through the line. In other 1050m heats there plenty of quiet trials that took the eye. Those noted getting through their work easily included MIRRA VISION, EMERALD and QUANTICO.
WARWICK FARM August 21: The focus was on Everest contender GYTRASH in his first Sydney trial over 799m. He really showed his class with the way he extended in the last 50 metres for a strong second to the classy mare Fasika in a fast 46.97 (33.31and is sure to benefit from his first serious right handed experience. The quickest 799m heat was recorded by the veteran marvel BALL OF MUSCLE. He sped over the trip in 46.09 (32.967) to score by 8.5 lengths, proving again that he is still one of the fastest short course sprinters in Sydney. Chris Waller would have been delighted by the 799m heat win by his promising 3YO filly GIOVANNA RUN (47.55; 33.96).
ROSEHILL August 18: NATURE STRIP continued his spring build up and didn't disappoint with another sparkling display that would have convinced his harshest critics that he has matured into the complete package under Chris Waller's expert training. Just as he did in his resuming trial on August 4 James McDonald made no attempt to harness his natural speed and again he relaxed beautifully in full stride with no signs of the over keen traits that at times have been a worrying flaw in his makeup. He was left in a world of his own as he cruised through the line 5.5 lengths clear, clocking 54.69 and a well held 35.73 for his last 600m. The exciting Frankel filly HUNGRY HEART took the eye doing her best work through the line for a kind fourth. Chris Waller sent out eight of the nine runners in the other black type heat over 1000m with his classy ex-Kiwi mare SENTIMENTAL MISS leading home his parade. The 2019 NZ Oaks winner was pushed out late to get the upper hand in 64.09 (36.63) but Waller would have been delighted by the strong third from the top class stayer FINCHE in only his second trial since his seventh in last year's Melbourne Cup. He was up on the pace from the start and was always travelling better than those around him. The other notable effort came from the honest Group performer LIFE LESS ORDINARY running home from last start for a strong fourth. The fastest open heats on the inside grass over 900m saw Gerald Ryan's brilliant runner MR MOSAIC came out and, just as he did two weeks ago in a similar trial, blow away his rivals to win his heat by almost four lengths in a fast 54.67 (34.78). He is ready to fly first-up but just what he can do beyond 1000m remains to be seen. The Hawkes pair DIRTY WORK and ROCK had the measure of their rivals in another 900m heat. The effort of the lightly-raced HARTO also had plenty of merit.
WARWICK FARM August 7: The veteran king of Sydney barrier trials BALL OF MUSCLE is now in his 10th year but showed he retains plenty of zest with a soft win his 806m heat in his favoured soft/heavy conditions. Would you believe this was his 30th barrier trial since he started racing in 2013 and he's won 22 of them – if only we could bet on trials!
ROSEHILL August 4: You can't harness natural speed so it was good to see the brilliant NATURE STRIP work through his gears for an easy win in the second of the Group and Listed heats over 900m. James McDonald was happy to let the pacy Spiritual Pursuit lead with NATURE STRIP cruising wide on the track until straightening when class kicked in. McDonald barely moved as NATURE STRIP took control with the feature of his trial being how easily he put three lengths on the second horse in the last 50 metres. An effort to note behind him was RELOADED working through the line strongly from last although 10 lengths from the winner.
RECENT TRIAL WATCH WINNERS: Rocking By; Miss Fox; Mugatoo; I Am Superman; Kimpembe; Let It Pour; In Lighten Me; Plaquette; Commanding Missile; Patrolling; Parachuter; Midland; Verry Elleegant; Sweet Deal; Dame Giselle; Lord Olympus.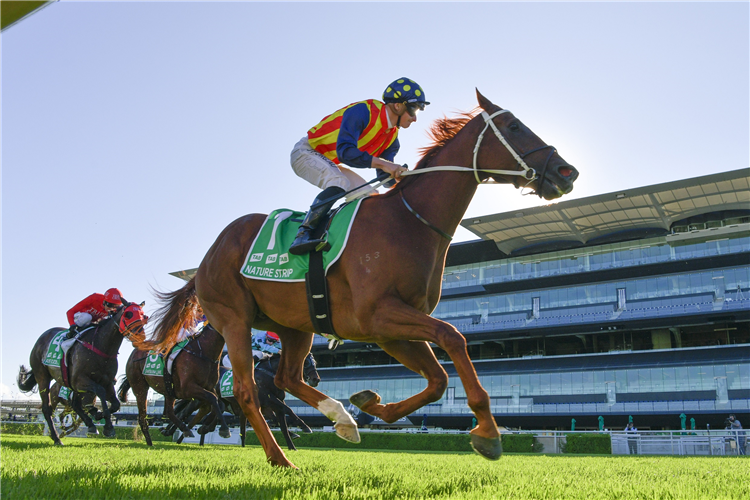 BLACKBOOK REPORT
Eligible Blackbook Runners – September 2-3
BENDIGO WEDNESDAY: Kazuhiko (R1)
BALLARAT THURSDAY: Five Kingdom (R5)
RECENT BLACKBOOK WINNERS: Savacool; Behemoth; Taikomochi; Badoosh; Getyourgreyon; Emeralds; Chassis; Zourhea; Maddi Rocks; Creedence; Inanup; Krone; Sixties Groove; Frankely Awesome; Sure Knee; Viridine.
Blackbookers – Selected August 29
(Follow for next 3 starts)
OVERLORD: Barrier risk but surely he will drop his maiden.
GIRL TUESDAY: Class mare going well for new stable.
TENLEY: Plenty of merit in her first-up effort.
NONCONFORMIST: Could be a spring star.
ORDEROFTHEGARTER: Shaping as a Cups chance.
MR QUICKIE: This could be his best prep.