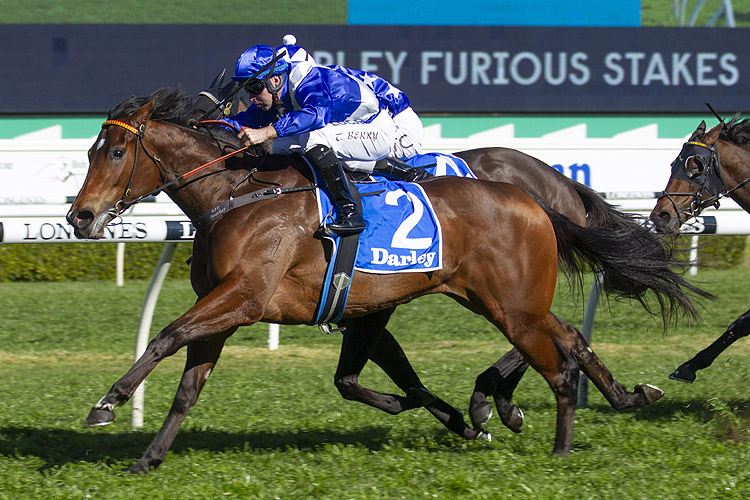 RANDWICK September 21
Kensington; Soft 6
10 Heats – 5 x 850m (1 Open; 4 2YO); 5 x 845m (5 2YO)
An eventful set featured nine heats for 2YOs but it was the first heat for the older horses that provided the sensation of the morning when the crack sprinter NATURE STRIP dumped his rider James McDonald when he reared high as the gates opened. He then took off riderless and skirted the outside rail at a full gallop to lead the other three runners before he was corralled past the post by his handlers. He was reportedly unscathed but it's the first known time NATURE STRIP has behaved in this manner and brought a quick ruling from stewards that he must trial again before his next start. Just how this impacts on his prep for The Everest remains to be seen.
Without Nature Strip's obvious speed it was left to WILD RULER to to take up the running before he was rounded up in the last 100m by the good mare LIBERTINI in comfortable style. She sat last and went to the line kindly putting good time on the clock (50.13; 33.29). WILD RULER also had plenty in hand ahead of the third runner MIZZY.
It was a sensation to start the morning at the @royalrandwick trials.

The #TABEverest favourite Nature Strip lost @mcacajamez just after jumping. @LizzieJelfs reports both jockey and horse are ok. pic.twitter.com/RkSJMs8qtz

— Sky Racing (@SkyRacingAU) September 20, 2020
There were nine 2YO heats with four over 850m before the last five over the shorter 845m. The soft track held up OK but the key to these early 2YO trials is to weigh up the heat times and more importantly their closing sectionals and match that to the visual merit of each performance.
HEAT 2 (850m - Colts and Geldings; 50.53/33.92): The Snowden stable, renowned for their success with early 2YOs, unveiled a classy type in KALASHNIKOV. No doubt he was trained up for his debut trial as he is a $600,000 first crop runner by their Golden Slipper winner Capitalist but he ticked all the boxes as he looked the complete professional controlling the heat from the start, extending easily under little pressure and putting a margin on his rivals to score by five lengths in the fastest of the heats for the males. It obviously stamps him as an early pick for the Breeders Plate. There was merit in the effort of third placegetter SEMPREINTE.
Capitalist colt Kalashnikov impresses winning a @royalrandwick 2yo trial on Monday from Unwritten and Sempriente. And you can't miss the flashy Navajo in behind them! @tabcomau @SnowdenRacing1 @jmeharron pic.twitter.com/55SZGzEhCZ

— Racing NSW (@racing_nsw) September 20, 2020
HEAT 3 (850m – Fillies; 50.52/34.17): Not sure what to make of this heat as the overall time was good but they did it early with the leaders coming under the pressure as they slowed in the run to the line. This allowed the winner VACCINE (Not A Single Doubt) from the Waterhouse/Bott stable to pick up strongly in the last 100m after sitting behind a line of three leaders and take a split to forge through line for a solid win. I always like a youngster that can find the line from off the pace. Her stablemate MISS HOFF was a sound second after sitting three wide outside the lead.
"There's a vaccine that's ready."

Some Monday morning gold from @hkdarren as the @GaiWaterhouse1 & Adrian Bott filly Vaccine wins a 2yo trial @royalrandwick over stablemate Miss Hoff and @godolphin's Tinge. @tabcomau pic.twitter.com/DAceyK6FiG

— Racing NSW (@racing_nsw) September 20, 2020
HEAT 4 (850m - Colts and Geldings; 50.59/34.46): A solid win by Chris Waller's Snitzel colt RIVER SNITTY, railing up to fourth on the turn and easing across heels to take a gap and finish off best under a ride from Hugh Bowman to score by a half length. Again it was a fast first half before a slow closing sectional that may have flattered the runner-up CONSTRUCT as he sailed home down the outside rail from last in an effort that really took the eye.
River Snitty holds off a fast-finishing Construct in their 2YO trial this morning for @cwallerracing and @HugeBowman

He was a $350,000 @mmsnippets purchase from @BaramulStud pic.twitter.com/xzXTvZ86QV

— Sky Racing (@SkyRacingAU) September 21, 2020
HEAT 5 (850m – Fillies; 50.00; 33.74): The standout performance of the morning came from the precocious Written Tycoon filly ENTHAAR from the noted 2YO stable of Ciaron Maher and David Eustace running easily the fastest time of the nine juvenile heats over both distances. She's a classy mover who was under a tight hold from the jump but steadily increased her margin to score by almost five lengths with another four lengths back to third placegetter, a sure sign that this is worthy form. She obviously could have gone faster if let off the leash and will command all the interest in the Gimrack Stakes. The effort of runner-up LOVE ME TENDER had merit while I expect to see improvement from fourth placed LITTLE MISS MAGIC.
Written Tycoon filly Enthaar does it easily to win a 2yo trial @royalrandwick on Monday for @cmaherracing and @EmiratesPark over Lovemetender and Our Filly. @tabcomau pic.twitter.com/2WRP3ONaA0

— Racing NSW (@racing_nsw) September 21, 2020
HEAT 6 (845m - Colts and Geldings; 50.65/34.54): The well named Bjorn Baker-trained MAURICE'S MEDAD provided his sire Maurice with a first crop winner in the first of the shortened heats, not unexpected as he had the benefit of an earlier 735m trial at Randwick on September 8 where he finished second. The pack were all off the bit 400m from home and it was a bunched finish with less than a length covering the first four who were all ridden out. Not the strongest of trials visually but I will be looking for improvement from runner-up ATHLETIC and fourth placed REVIVALIST.
A narrow win for @BBakerRacing's Maurice's Medad in a @royalrandwick trial on Monday over @godolphin colt Athelric and Revivalist. @tabcomau pic.twitter.com/RbOeBFUtdz

— Racing NSW (@racing_nsw) September 21, 2020
HEAT 7 (845m – Fillies; 50.11; 33.8): Another win for the Waterhouse/Bott team with a nice I Am Invincible filly TOTAL BABE. She's a typical early comer for this stable as she has plenty of natural pace and her fast overall time and splits say she should be very competitive on debut. She ran it out well while the runner-up HIDE YOUR HEART also showed she has a bright future as she settled last and was held up until the 200m before finishing off in pleasing style when clear. A heat that added to the quality of the fillies form on display.
HEAT 8 (845m- Colts and Geldings; 51.08/34.50): A heat win for the Godolphin stable by RETRIEVAL. He is by the veteran sire Medaglia D'Oro - not known for getting early 2YO winners – and while he didn't light up the clock in a pedestrian heat there was a lot to like about the way he was able to find the line after settling fourth on the rail and getting held up when full of running between the 400m and 200m. The runner-up INSURGENCE was OK but I liked the effort of his stablemate OBLIQUE finishing fifth under a soft ride, bearing in mind the slow time.
HEAT 9 (845m – Fillies; 50.42/34.43): Another good fillies heat run in solid overall time with EXCELA BELLA, a daughter of Exceed And Excel, giving Waterhouse/Bott their third heat win of the morning. She is another natural runner who showed speed from the start to control the heat and hold off a late bid by AUTHENTIC JEWEL to score by a neck with a clear margin to the rest. The runner-up will no doubt improve as she was restrained early and worked into it strongly before peaking on her run.
HEAT 10 (845m - Colts and Geldings; 51.20/34.65): The soft track conditions played a part but this was the slowest heat of the day, won by ASTROLOGER (Star Turn) for the Snowden stable. Lacks size but showed good race sense to settle fourth behind pace and work to the line best to get the upper hand from the joint leader ALMAHERO. The slow time makes it hard to rate this form above what we saw earlier although the $1.5 million colt MONTENEGRO and fourth placed RETIRO both found the line in encouraging style.
NOTED TRIALS
XXX Enthaar
XX Hide Your Heart; Kalashnikov
X Authentic Jewel; Construct; Excela Bella; Libertini; Little Miss Magic; Love Me Tender; Miss Hoff; Oblique; River Snitty; Sempreinte; Total Babe; Vaccine; Wild Ruler