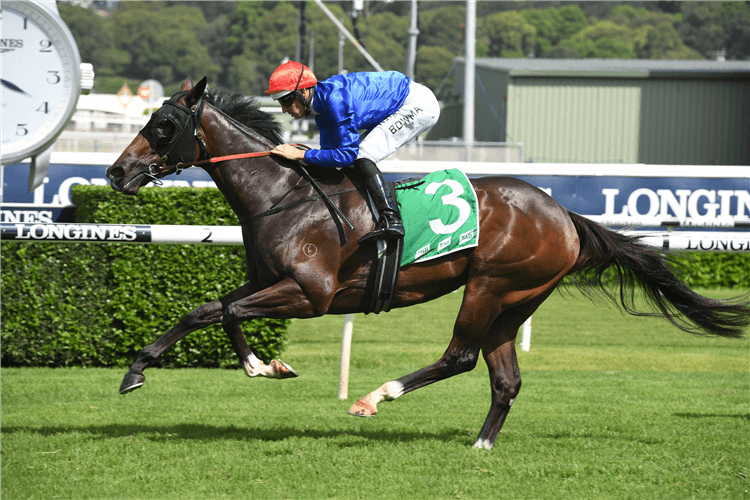 NEWCASTLE October 2
Beaumont Track; Good 4
16 Heats – 1 x 1200m (Open); 7 x 1000m (4 Open; 3 Maiden); 8 x 800m (1 2YO; 3 Open; 4 Maiden)
TRUMBULL (Kim Waugh); First trial back for this classy individual who rose to a Listed win during the winter and is certain to win a good race over the summer if this 1000m trial win is any guide. Ridden with no urgency he settled last in his heat (60.37; 33.76) before slicing through the field in the last 300m to surge away for a soft win under no pressure. Handled the winter tracks OK but I am sure he is best on top of the ground.
The fastest time in the 1000m heats was recorded by SPIRIT OF VALOR (59.73); 32.97) who has now won two trials since coming to the Kris Lees from the Maher/Eustace yard. Has natural pace and did all that was required to win from a quietly ridden OXFORD TYCOON. The imported Group winner CHIEF IRONSIDE also won a 1000m heat in slow time (62.15; 33.98) for Lees with his maiden stablemate TRIPLE ACE (61.60; 34.16) going quicker in his heat win.
The Lees-trained speedster ICONIC STAR was the star of the 800m heats with the flying mare never out of second gear under Louise Day to win her heat hard held. Her time (47.89; 33.85) wasn't the quickest but she could have gone much faster if let off the leash. She is already a 1000m winner at Moonee Valley and would love to see her head back there for one of those 955m scampers.
Tracey Bartley produced three sharp 800m heat winners with his unraced maiden filly EMPOWERMENT setting the time standard (47.25; 33.66). She has obvious potential as this was only her second trial and first since last December and she did it with style with her ears pricked. His other winners were BEDAZZLE (47.50; 33.90) and the wayward MISS BALTIMORE (48.08); 34.42) who ran off on the home turn but recovered to beat a smart one in MISS KOJIKI from the Lees yard. The Lees team also won other 800m heats with FROZEN IN TIME (48.17; 34.05) and ALWAYS ON SHOW (48.09; 33.98).
The Paul Perry-trained SERENATA won the only 2YO heat over 800m (48.20; 34.45) but the strong third of LAN KWAI FONG took the eye finishing off nicely after being held up and getting to the outside late.
NOTED TRIALS
XX Trumbull; Iconic Star
X Bedazzle; Empowerment; False Step; Free Dawn; Frozen In Time; Lan Kwai Fong; Miss Baltimore; Miss Kojiki; Oxford Tycoon; Pandano; Petrology; Ruger Rose; Spirit Of Valour; Triple Ace
A nice trial from #TheKosciuszko contender Two Big Fari this morning at @newcastleraces_ @howlett_racing pic.twitter.com/5XrCGujcb2

— Sky Racing (@SkyRacingAU) October 2, 2020
Quite a finish to the 2yo trial @newcastleraces_ on Friday with striking Scissor Kick filly Serenata, trained by Paul Perry, getting the nod. @tabcomau pic.twitter.com/9EHNPiKHqF

— Racing NSW (@racing_nsw) October 2, 2020
HAWKESBURY September 29
Inside Grass; Good 3
13 Heats – 1 x 1250m (Open); 3 x 1000m (1 Open; 3 Maiden); 8 x 760m (2 2YO; 2 Open; 4 Maiden)
The interest focused on the accomplished Group performers from the Godolphin in the open heat over 1000m. FLIT and PLAQUETTE dominated the heat from the front with the latter sitting outside her stablemate and working just a shade better over the last 1000m for a narrow win in the fastest of the four trials over the trip (60.27; 33.48). Their stablemate PANDEMIC sat back and worked to the line under a nice hold for third. All three are sure to competitive when produced.
The @godolphin pair Flit and Plaquette hit the line together after an easy trial at @hawkesburyrc pic.twitter.com/jZMUWL3vqV

— Sky Racing (@SkyRacingAU) September 28, 2020
Other Godolphin performers to note were the unraced 1000m maiden heat winner COLOURS (60.69; 34.56) and the Lonhro filly TESTIMONIAL winning the quickest of the 2YO heats over 760m (46.62; 34.02).
Talented sprinter SANDBAR had too much pace in the quickest of the two open heats over 760m (45.74; 33.19) but the strong third by the classy SUPERIUM in that heat showed he could be on the way back to his impressive early form. There were small field in most 760m trials with the locally-trained maiden DREAMLINE setting the time standard for the eight heats over the distance (44.65; 32.63).
NOTED TRIALS
X Colours; Daksha; Dreamline; Em Cee Gee; Flit; Healing Hands; Jokes; Norwegian Bliss; Oregon Trail; Pandemic; Plaquette; Quintessa; Sandbar; Superium; Tanzimat; Testimonial.
Quintessa kicked clear of them at the top of the straight in Trial 1 this morning at @hawkesburyrc @mark_mnracing

Etah James was coasting and hit the line well @cmaherracing pic.twitter.com/FCYaVzxrbO

— Sky Racing (@SkyRacingAU) September 28, 2020
More Than Ready filly Contentedly took out a 2yo trial for @GaryPortelli and @Kathy_ohara at @hawkesburyrc on Tuesday from @godolphin fillies Tanzimat (Lonhro) and Camino Real (Shamardal). @tabcomau pic.twitter.com/9CRU25O0my

— Racing NSW (@racing_nsw) September 29, 2020