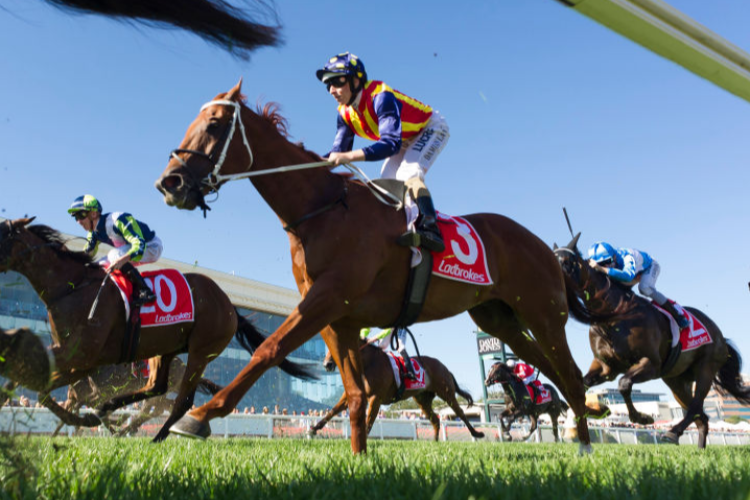 ROSEHILL January 15
Course Proper/Inside Grass; Good 4
16 Heats – Course Proper 1 x 900m (Group); Inside Grass 3 x 1030m (2 Open; 1 Maiden); 12 x 900m (2 Open; 2 3YO; 5 2YO; 3 Maiden)
It's a big wake-up call when one stable can produce 10 Group winners in the one barrier trial including six with victories at the highest level.
The Group horses – all trained by Chris Waller - had the use of the course proper for a star studded 900m trial made up of the G1 winners Nature Strip, Verry Elleegant, Kolding, September Run, Funstar and Toffee Tongue, G2 winners Hungry Heart, Madam Rouge and Subpoenaed and the G3 winner and multiple G1 placed Star Of The Seas.
Still, it was an impressive show underlining the immense depth of quality in the Waller stable heading into the autumn. But it certainly couldn't be used as an immediate form guide as it was no more than a collective working gallop for the stablemates.
What a line-up! Check out the @cwallerracing stars, most in their first trial of 2021 - Funstar, Hungry Heart (wins), Kolding, Madam Rouge, Nature Strip, September Run, Star Of The Seas, Subpoenaed, Toffee Tongue & Verry Elleegant. @tabcomau @7horseracing pic.twitter.com/bI1YJkJ9yE

— Racing NSW (@racing_nsw) January 14, 2021
With the markers out approx. 15 metres the majority of the group worked as a pack with their riders under obvious instructions to keep their mounts under tight restraint from start to finish. Noticeably they allowed their mounts to gallop on for another 300m past the post.
The winner HUNGRY HEART clocked a very pedestrian 55.57 on a Good 4 surface, a time well outside what these big names are capable of under serious trial or race conditions.
By comparison the dozen 900m heats run on the Inside Grass at this session saw only two heats – one for 2YOs and the other for maidens – run in slower time. The other 10 heat winners over 900m all ran under 54.62 seconds with four going under 54 seconds.
Given the lack of intent by the Waller team it was not surprising that eight runners in the all-star heat finished within 1.8 lengths of the winner. The exceptions were Caulfield Cup winner Verry Elleegant and Oaks winner Toffee Tongue – being stayers they were ridden with no urgency over the short course and did their own thing behind the pack.
So what positives can we take from this trial de force?
Obviously the Waller team is in a good place at this early stage of their autumn preparations.
Kolding and Star Of The Seas were having their second trials with Waller indicating they are scheduled to resume ahead of their stablemates who are at least a month off starting their campaigns. The majority will obviously be seen again in trials before they resume and that will give us the opportunity to really assess their early autumn prospects.
The most notable aspect was Waller's decision to trial the enigmatic NATURE STRIP in ear muffs, a ploy that saw the power sprinter settle kindly outside a line of leaders and surge through the line for a close second to a keen Hungry Heart.
Given the quality of this trial I would mark down MADAM ROUGE and SUBPOENEAD as two mares in a good place at this stage of their preparations as they had plenty in the locker working beside their high profile G1 counterparts.
The heats over 1030m and 900m on the inside grass also featured some big names, principally from the Hawkes stable.
Caulfield Guineas winner OLE KIRK did his best work late in his 900m heat, finishing fourth almost six lengths from his free running stablemate GREYWORM (54.21; 34.29). EMANATE and BORN A WARRIOR also impressed in this strong heat.
All the way for @HawkesRacing's Group 3 winner Greyworm in a @rosehillgardens trial on Friday with some nice work from stablemate & Golden Rose winner Ole Kirk in fourth. @tabcomau @7horseracing pic.twitter.com/pt5lJOFigI

— Racing NSW (@racing_nsw) January 14, 2021
The highly vaunted MASKED CRUSADER was always in control of his 900m heat, winning comfortably under an easy ride. His overall time wasn't super quick (54.31) but he won with plenty in hand and did dash home his last 600m in 33.89, the fastest closing sectional of the morning. Behind him were nice trials from WELSH LEGEND, STANDOUT and the classy NORTH PACIFIC.
Easy work for @HawkesRacing's Masked Crusader winning a @rosehillgardens trial on Friday - could this be his preparation? Eye-catching showing from @GRyanRacing's Standout while North Pacific and Mount Popa have soft trials. @tabcomau @7horseracing pic.twitter.com/EOPQcg5Wmn

— Racing NSW (@racing_nsw) January 14, 2021
Crack Group winner PELTZER had an easy time finishing a hard held fourth in his 900m heat for the three-year-old males. The winner RULE OF LAW was pushed out to beat OSAMU in a solid trial (53.71; 34.26) where they went much quicker than the 3YO fillies heat won by NEVER SECOND (54.62; 35.11).
Plenty of talent in this trial at @rosehillgardens won by @SnowdenRacing1 3yo Rule Of Law - Bondi Stakes winner Peltzer runs fourth and Spring Champion placegetter Bucharest back in the field. @tabcomau @7horseracing pic.twitter.com/X2OAqbtqIL

— Racing NSW (@racing_nsw) January 14, 2021
The star of the five 2YO heats was HOME AFFAIRS, an unraced I Am Invincible colt from the Chris Waller stable. His dominant two lengths win in the fastest of the five 900m heats (53.43; 34.13) ensures he will be given high respect when he debuts.
Impressive first trial from @cwallerracing 2yo Home Affairs at @rosehillgardens on Friday, the @CoolmoreAus colt cost $875,000 and was too good for King Of Sparta and Gulf Of Thailand. @tabcomau @7horseracing pic.twitter.com/hQn3qQSmCV

— Racing NSW (@racing_nsw) January 14, 2021
Annabel Neesham's quality filly ASHEMA, runner up to the highly rated Acrobat at her first start, also impressed with her strong heat win in good time (53.95; 34.42). She has trained on well from her debut.
The high expectations for the $2.8 million colt MOUNT FUJI could be a step closer after his impressive win in his maiden heat over 1030m (62.50; 34.76). He is a work in progress and is improving with every experience, showing good field sense to charge through the line from well back after having to change course over the last 200m.
BULLET RIDER showed good improvement on his prior race and trial form to record a smart win in the fastest of the three maiden heats over 900m (53.40; 34.21) while the efforts of the Hawkes stablemates JENGA and ARCTIC to finish first and third in their maiden heat (54.34; 34.23) were good pointers to their race prospects.
NOTED TRIALS
XX Home Affairs; Masked Crusader
X Arctic; Authentic Jewel; Ashema; Born A Warrior; Bullet Rider; Canadian Spice; Emanate; Greyworm; Headliner; Hilal; Hungry Heart; Jack The Lad; Jenga; Madam Rouge; Miss Siska; Mount Fuji; Nature Strip, Ole Kirk; Peltzer; She Hulk; Subpoenaed; Welsh Legend