RANDWICK KENSINGTON February 17
RACE 3 (6) My Demetra (EW)
RACE 5: (4) Oscar Zulu (EW)
RACE 6: 5) Brazenpine (EW)
RACE 7: (7) Eight Diamonds (EW)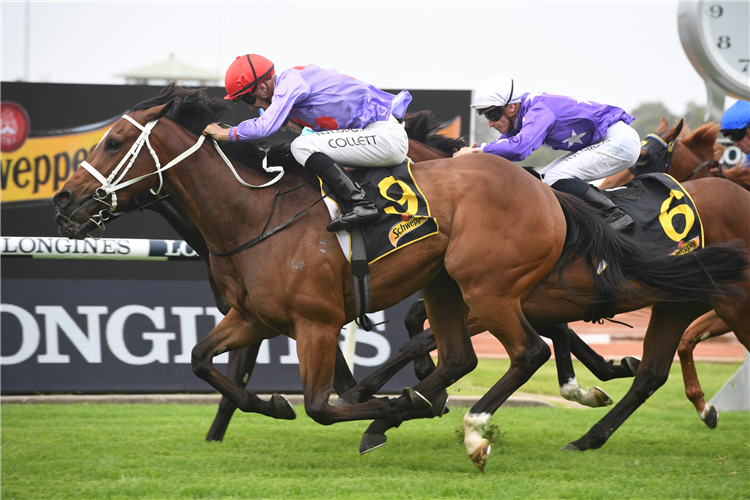 RACE 1: 11-10-9-1
RACE 2: 2-5-3-1
RACE 3: 6-7-3-2
RACE 4: 8-3-1-2
RACE 5: 4-6-9-1
RACE 6: 5-10-3-4
RACE 7: 7-1-4-6
TRIAL WATCH REPORT
Noted Trial Runners – February 17-19
RANDWICK WEDNESDAY: Trifaccia (R1); Ma And Pa (R2); Holy Reign (R4)
NEWCASTLE THURSDAY: Much Much Bettter (R6)
CANTERBURY FRIDAY: Kooled (R1); California Cible (R2); The Bullring; Blesk (R8)
RECENT TRIAL WATCH WINNERS: Every Rose; Colette; Trinity Missile; Masked Crusader; Tailleur; Nature Strip; Head Of State; Peltzer; Profiteer; Written Beauty; Bastaki; Nothinsweetaboutme; Bojack; Skedaddle; Wheelhouse; Hilal; Flash Panther; Vucetich; Silent Tryst; French Bonnet
BLACKBOOK REPORT
Eligible Blackbook Runners – February 17
RANDWICK KENSINGTON: Oscar Zulu (R5); Marsannay (R5)
SANDOWN: Translator (R5)
RECENT BLACKBOOK WINNERS: Poetic Charmer; Masked Crusader; Quantum Mechanic; Irish Butterfly; Head Of State; Brutality; Zethus; More Prophets; Grinzinger Allee; Bandersnatch; Housay; Viral; Trengganu; Sacramento; Paradee; Bella Tiara; Montepulciano; Sword Of Mercy.
Blackbookers – Selected February 6
(Follow for next 3 starts)
GEM SONG: Excellent return from long break.
GIMMIE PAR: Can only improve on strong debut.
MO'UNGA: Still raw. Will keep getting better.
SEPTEMBER RUN: All class. Top of her sprinting age group.
STARDOME: Solid returns. Set for longer races.
TRICKY GAL: Tried hard. Honest mare.