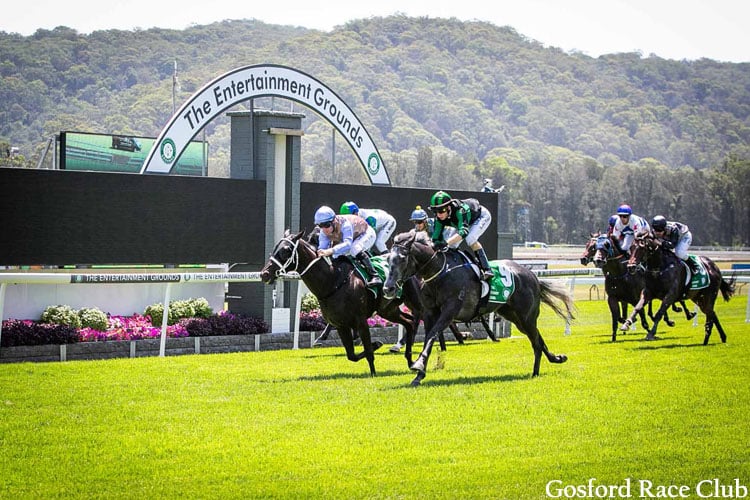 GOSFORD February 24
RACE 3: (6) Salateen
RACE 7: (8) Flexible
RACE 1: 4-12-11-2
RACE 2: 2-4-5-8
RACE 3: 6-8-5-7
RACE 4: 1-2-4-3
RACE 5: 6-7-2-5
RACE 6: 1-8-4-10
RACE 7: 8-1-10-7
BLACKBOOK REPORT
Eligible Blackbook Runners – February 24/25
GOSFORD WEDNESAY: Super Effort (R3)
WYONG THURSDAY: Lady Of Luxury (R2)
PAKENHAM THURSDAY: Savvy Lad (R7)
RECENT BLACKBOOK WINNERS: Nimalee; Emanate; Bonaparte; Marsannay; Poetic Charmer; Masked Crusader; Quantum Mechanic; Irish Butterfly; Head Of State; Brutality; Zethus; More Prophets; Grinzinger Allee; Bandersnatch; Housay.
Blackbookers – Selected February 20
(Follow for next 3 starts)
BETTER GET SET: Nice filly for the Brisbane classes.
BROOKLYN HUSTLE: Super first-up. Good sprinter.
BUTTER CHICKEN: Promising staying filly.
FLAT HEAVEN: No luck. Sure to improve.
IMPECUNIOUS: Expect plenty of upside from this filly.
LUNAKORN: Talented. Can be well placed by top stable.
SHE'S IDEEL: Honest mare back in good form.
THE ELANORA: Has bigger goals over longer trips.
TRIAL WATCH REPORT
Noted Trial Runners – February 24-27
GOSFORD WEDNESDAY: Russian Standard (R1); Substitution (R1); Prasiolite (R1); Bonython (R5); Our Lancette (R6)
WYONG THURSDAY: California Cible (R2); Le Vizir (R2); Vanilla Sky (R2); Girl Mania (R3); Bonython (R4); Siege (R4); Parachuter (R7)
CANTERBURY FRIDAY: In The Blink (R1); Conrad (R1); Leading Lady (R1); Yatsumi (R1); Russian Standard (R1); Patrolling (R2); Sammy (R2); Najmah (R6)
RANDWICK SATURDAY: Shaquero (R2); Captivant (R2); She's All Class (R3); Four Moves Ahead (R3); Trumbull (R4); I Am Superman (R4); Criaderas (R4); Discharged (R4); Sweet Deal (R5); Master Of Wine (R6); Forbidden Love (R7); Lina's Hero (R9); Subedar (R9); Bound To Win (R9)
RECENT TRIAL WATCH WINNERS: Subpoenaed; Close To Me; Sebrenco; Much Much Better; Every Rose; Colette; Trinity Missile; Masked Crusader; Tailleur; Nature Strip; Head Of State; Peltzer; Profiteer; Written Beauty; Bastaki
TRIAL POINTERS
GOSFORD February 17: Kim Waugh's top notch performer TRUMBULL is set to resume in style after a super win in his 1000m heat where he won hard held by 1.7 lengths and could have gone much quicker in the heavy ground (62.49; 37.44).
RANDWICK February 16: Victory Vein winner CAPTIVANT is set to play a big hand in the coming 2YO races after another sharp trial win over 1050m (63.27; 35.59) by a soft 3.25 lengths. This time he showed more early dash than his earlier trial win at Randwick on February 5 when he swept home from last, indicating that he is focused and primed to take on whatever the Snowdens have planned for him.
ROSEHILL February 11: Notable Group horses to impress with wins in the open heats included I AM SUPERMAN while NAJMAH was very good in her 3YO heat. Magic Millions Classic winner SHAQUERO recorded a narrow win over boom colt Remarque in their 900m heat (54.30; 34.75). They split the line together and fair to say honours were even - SHAQUERO was on pace from the jump and was never put under pressure when challenged by other runners.
RANDWICK February 5: There were two heats for the Group and Listed horses on the Kensington track. The race fit DISCHARGED did the job in good style in the first heat over 1000m (58.77; 33.76) The second heat over 850m saw John Thompson's good mare SWEET DEAL take the eye with an impressive second. She took plenty of ground off the winner Mamaragan under a big hold, serving notice that she is in the right form to add to her excellent first-up record, especially when placed against her own sex. In the 2YO heats early season winner CAPTIVANT zoomed home from the rear with a fast last 600m to win his 735m heat (43.72; 33.01) and unraced filly YATSUMI made an impression in her fast heat (43.63; 33.48). The fastest 2YO heat winner over 735m was the Mark Newnham-trained RUSSIAN STANDARD (43.50; 33.52). He is a youngster with definite debut prospects.
WARWICK FARM February 1: SUBEDAR (4th) impressed with the way he found the line in the course proper heat over 1000m for the black type horses, indicating he has come on well from his first-up placing after a long spell. The 3YO polytrack trial over 740m went to the Joe Pride-trained PARACHUTER in a slowly run heat (45.48; 35.33) where a bunched finish saw few runners put under pressure.
ROSEHILL January 27: Unraced filly VANILLA SKY has obvious prospects after recording her second trial win in the quickest of the three 1030m heats (62.86; 35.09). She opened up a big lead before she was throttled down in the last 50 metres.