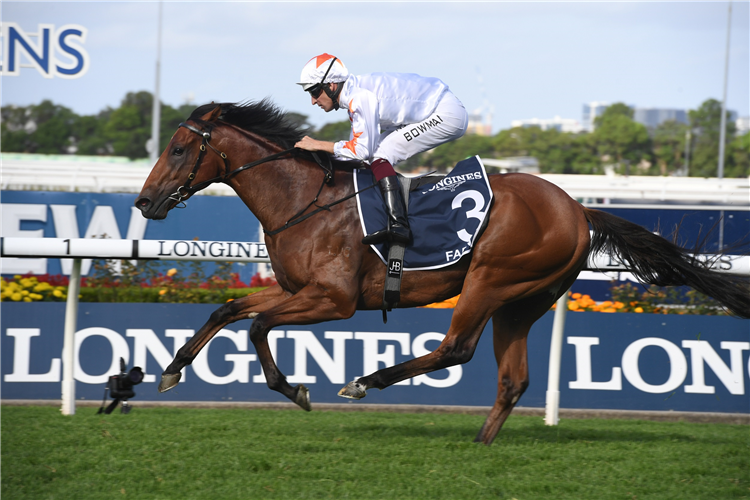 GOSFORD March 1
Course Proper; Good 4
17 Heats; 5 x 1000m (3 Open; 2 Maiden); 12 x 800m (4 Open; 5 2YO; 3 Maiden)
The growing trend of top metro stables using provincial trials to their advantage was evident as Gai Waterhouse and Adrian Bott sent five horses to this set and all won their heats.
The standout was their Golden Slipper winner FARNAN having his all-important second trial as he prepares to rekindle his career after a disappointing spring. He repeated his earlier trial win at Randwick with another efficient display, holding the lead with the inside running and getting away over the last 200m for a solid win in the fastest of the five 1000m heats (59.48; 34.74). It was good work as GREAT NEWS kept at him on his outside under riding over the last 600m yet he responded kindly to win by a soft 1.36 lengths.
A second trial win for Golden Slipper winner Farnan this prep as @clarkyhk keeps him going to beat @kimwaugh6's Polytrack Provincial Championships contender Great News at @gosford_races with Pride Of Adelaide in third. @tabcomau @7horseracing @GaiWaterhouse1 pic.twitter.com/G9NYpMz78E

— Racing NSW (@racing_nsw) February 28, 2021
The other Waterhouse/Bott winners were the 2YO trio CONVERGE, BAHAHAA and TATTOIST taking out 1000m heats against older rivals and the unraced 3YO maiden TOO MUCH CAVIAR.
The unraced American Pharoah filly TATTOOIST has now won two trials at Gosford and while she is small she is a natural runner who will be well suited over the short courses. She went a shade quicker in her 1000m heat (61.51; 36.83) than stablemate BAHAHAA (61.65; 36.64), a Shalaa filly who had done little in one race start and three previous trials. Frankel gelding CONVERGE won on debut at Warwick Farm in December and did enough to beat his older rivals in an open heat in the slowest of the five 1000m heats (62.42; 36.75).
Kris Lees had his usual big representation with the focus on his Group star MUGATOO in a strong 1000m heat. He worked to the line as expected for a strong second behind smart stablemate WANDABAA in a trial that sets him up for his Melbourne trip for the All Star Mile. WANDABAA did it easily to win the trial by 2.63 lengths (61.19; 361.15) and is in good form to resume, having also won her previous Gosford trial last month.
Wandabaa sprints clear to win a @gosford_races trial on Monday from @Leesracing stablemate Mugatoo finishing on late with Ocean Go in third. @tabcomau @7horseracing @ausbloodstock2 pic.twitter.com/w5aw6qC1bf

— Racing NSW (@racing_nsw) February 28, 2021
In the 800m heats the unbeaten 3YO filly MAJESTIC SHOT, winner of two country races last October, looked sharp winning the fastest trial over the trip (47.73; 34.33) after doing her share of work outside a speedy leader. Other 800m heat winners to impress included ZOROCAT (48.35; 35.11), the 2YO newcomers MABEL (49.93; 36.28) and SONNET STAR (48.97; 35.46) and the Lees-trained CHIANTI (49.23; 35.50).
NOTED TRIALS
X Bahahaa; Chianti; Farnan; Itz Lily; Mabel; Majestic Shot; Mugatoo; Nomoretawq; Pure Rubick; Red Nebula; Soldier's Desire; Sonnet Star; Tattooist; Too Much Caviar; Wandabaa; Zaniah; Zeftabrook; Zorocat
HAWKESBURY February 26
Inside Grass; Soft 5
19 Heats; 1 x 1250m (Open); 7 x 1000m (3 Open; 4 Maiden); 11 x 800m (2 Open; 6 2YO; 3 Maiden)
It was a good day out for the Godolphin team, winning six heats led by a noted Group One performer and several promising 2YO and maiden prospects.
Team Snowden also stepped up with some pleasing results including three heat wins.
OPEN HEATS: Godolphin's Group star CASCADIAN won his 1000m heat as you would expect against much lesser performed rivals but he did it in style, surging home from off the pace for a soft win although the time wasn't flash (60.31; 33.84).
You can't miss that white face of @godolphin galloper Cascadian as he sails down the outside to win a trial at @hawkesburyrc on Friday from Bravado and Pressure. @tabcomau @7horseracing pic.twitter.com/Wohi9z6g9f

— Racing NSW (@racing_nsw) February 25, 2021
The fastest 1000m open heat was won in brilliant style by JUAN DIVA (59.49; 32.83), who really opened up over the last 200m to win by almost four lengths with PETRONIUS working stylishly under no pressure back in second place. The other 1000m open heat saw an impressive win by a rising 3YO KERMANDING (60.11; 33.61). He beat the subsequent Group winner The Elanora over 1800m at Randwick in November and two recent trials have been excellent. Mark him down as a top prospect for future 3YO distance races.
The two open heats over 800m were won by the locally-trained pair MILITARY ACADEMY (47.33; 32.71) and PARIS IN MAY (48.22; 33.58) where the times say it all about the merit of their respective performances.
2YO HEATS: Godolphin stole the show winning three of the six heats over 800m led by the talented pair SLIDERS (48.20; 33.54) and TESTIMONIAL (47.64; 33.15). Both showed the benefit of their race experience to win by clear margins. SLIDERS was very sharp and coasted to a soft 4.27 lengths win but TESTIMONIAL posted the better time winning well within himself by 1.65 lengths, a margin that flattered the chasers. The third Godolphin winner DARK ENERGY (48.36; 33.94) split runners late for a solid win in slower time.
The other notable 2YO winner over 800m was the Garry Frazer-trained ANAGAIN posting fast time (47.63; 33.54) for a soft win over another good type CHILL.
In the 1000m heats the unraced 2YO filly NAJMATY, an impressive daughter of I Am Invincible, took on older rivals in a maiden heat and added to her growing reputation with another sharp performance. She raced eagerly behind a hard pace before sprinting to the line to win by almost five lengths in the fastest of the seven heats over 1000m (59.32; 34.14). She's now had three excellent trials and is ready to go to the races.
MAIDENS: There is queue forming for when the Godolphin's sharp 3YO BEYLIKS resumes after he posted his second impressive trial win to confirm he has developed well from his earlier racing. He couldn't be held back to them as he strode out win his 800m heat by 2.35 lengths in the fastest time of the day (47.16; 32.73). Stablemate STELVIO also won his heat in good style in slower time 47.59; 33.27) and James Cummings would also have been pleased with strong placings from TERJANE and LA SAGRA.
The Snowden-trained Exceed And Excel filly POIGNANT has been in the Trial Watch blackbook for 12 months. After five trials surely she is ready to go, again confirming her ability with a strong 1000m heat win (60.29; 33.97). Another maiden who has the talent to win races is the John Thompson-trained JOJO WAS A MAN. He was extra good covering ground in just his second trial and doing it easily to win his 1000m heat with plenty in hand (60.68; 34.46).
NOTED TRIALS
XX Beyliks; Kermanding; Najmaty; Testimonial
X Anagain; Cascadian; Chill; Dark Energy; Jerry; Jojo Was A Man; Juan Diva; La Sagra; Le Gai Soleil; Military Academy; Petronius; Poignant; Sliders; Stelvio; Tersane