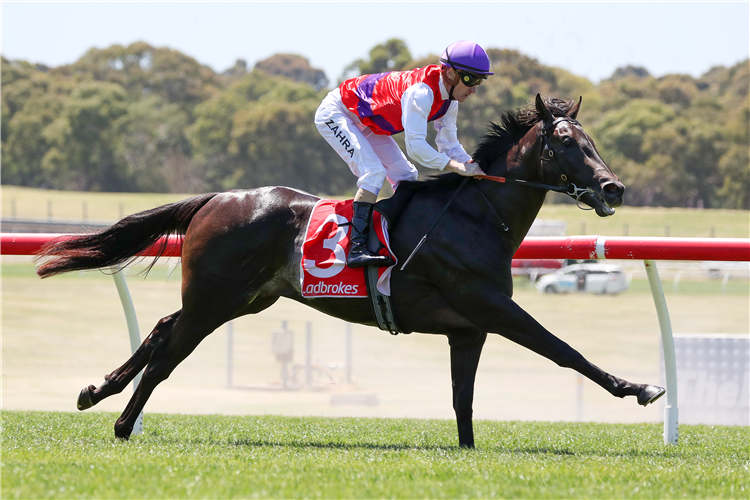 RANDWICK March 11
Randwick A Grass; Good 4
15 Heats – 2 x 1200m (2 Open); 7 x 1050m (3 Open; 1 2YO; 3 Maiden); 6 x 735m (2 Open; 3 2YO; 1 Maiden)
SIGNORE FOX (Peter & Paul Snowden): The Ramornie Handicap winner has won two recent trials and is in top form to resume. Just as he did at Canterbury on February 23 he was never of the bit as he surged through the line from off the pace for a soft 1.5 lengths win in the fastest of the seven heats over 1050m (62.76; 34.37).
ARTORIUS (Anthony & Sam Freedman): The Blue Diamond winner topped off his Golden Slipper preparation with an impressive second in his 1050m heat (63.50; 35.62). Ridden with no urgency from the gates, he settled at the rear and was still last at the 300m before peeling to the outside where he made up 10 lengths on the tearaway leader HARLEY STREET in great style to be beaten a neck on the line, showing he had adapted well to the clockwise direction as he easily ran past another Slipper contender CAPTIVANT.
A big finish from @FreedmanRacing's Golden Slipper third favourite ($7) Artorius into a close second in a @royalrandwick trial behind @Freedman_bros Harley Street with Riduna third and Captivant close up. @tabcomau @7horseracing pic.twitter.com/VFad5LtF1v

— Racing NSW (@racing_nsw) March 10, 2021
The other open heats over 1050m were won in good style by KEMENTARI (64.12; 34.64) and ROYAL CELEBRATION (63.10; 34.47) while SPLENDIFEROUS was the best of the three maiden heats, showing good speed for a sharp win in fast time (62.94; 34.69).
Kementari picks up Irithea in the closing stages to win a trial at @royalrandwick on Thursday with Running Four Bub in third. @tabcomau @godolphin pic.twitter.com/2ReNWIhY7a

— Racing NSW (@racing_nsw) March 10, 2021
In the 735m heats the fastest time was posted by the unraced maiden MAREEBA (43.57; 33.34) from the well performed stablemates EXPLOSIVE TRUTH and JIMMY's DREAM. They are trio ready to win races.
SWITCHED took the honours in the open heats over 735m (43.77; 33.60) while the quickest 2YO heat was won by the high priced I Am Invincible filly BILLIONDOLLARBABY (44.09; 34.00) in her second appearance since her first trial in November. FABULOUS CHOICE was another youngster to impress in his heat win in slower time (44.63; 34.29)
NOTED TRIALS
XX Artorius; SIgnore Fox
X Al Sahara; Auszstar; Billiondollarbaby; Brandenburg; Explosive Truth; Fabulous Choice; Field Wiri; Jimmy's Dream; Kementari; Lackeen; Lillium; Mareeba; Miss Claudia; Nor Izzati; Osman; Royal Celebration; Ranges; Rubamos; Running Four Bub; Splendiferous; Switched;
Armatree and Ranges give @SnowdenRacing1 the quinella in heat 11 at @royalrandwick on Thursday with Brandenburg a close third. Nice to see 2018 Villiers winner Sky Boy back at the trials too! @tabcomau pic.twitter.com/cVe1emt7D4

— Racing NSW (@racing_nsw) March 10, 2021
WYONG March 11
Course Proper; Good 4
17 Heats – 1 x 1200m (Open); 4 x 1000m (3 Open; 1 Maiden); 12 x 845m (5 2YO; 4 Open; 3 Maiden)
NOTED TRIALS
X Enchanted Heart; He's Purring; Joy For Us; Just Field; Ralph's Folly; Riccardo; Rock Step; Salina Dreaming; Socialist; Sterny Bear; Sweet Ruby; Vibrant; Victorella; Zorocat