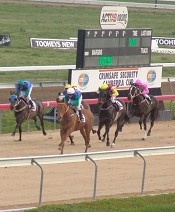 WARWICK FARM March 19
Polytrack Synthetic
6 Heats – 1 x 1175m (Open); 5 x 740m (1 Open; 2 2YO; 1 3YO; 1 Maiden)
My view of polytrack trials is well documented - take them as you will on face value.
Best trial of the morning came from the lightly raced 3YO MISSION LEGEND. Should resume on good form after a strong win the fastest 740m heat (44.34; 33.90). Other nice winners in the 740m heats were the 2YO colt KHUMBU (44.64; 34.48) and maiden filly TRUE VALENTINE (44.62; 34.51).
AIR TO AIR and RUBAMOS finished 1-2 in the 1175m heat (61.88; 34.50) and will be worth watching when they resume.
NOTED TRIALS
XX Mission Legend
X Air To Air; Gypsy King; Ideel Girl; Khumbu; Rubamos; True Valentine