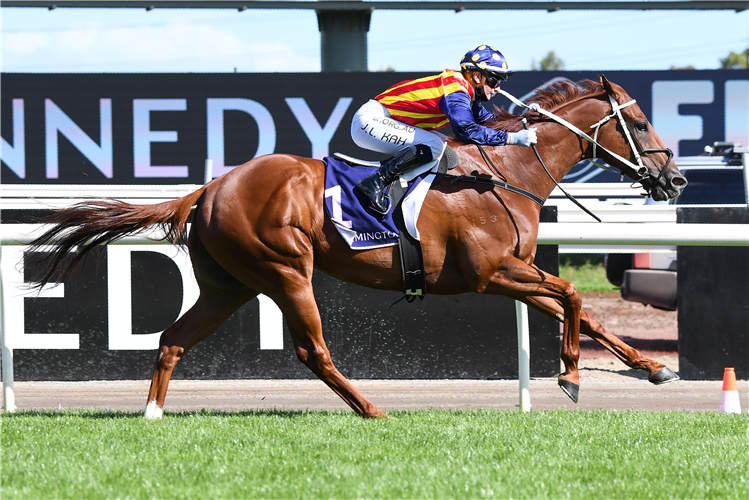 ROSEHILL August 26
Course Proper/Inside Grass; Heavy 8
11 Heats – Course Proper 1 x 1000m (Group/Listed); 2 x 900m (Group/Listed); Inside Grass 2 x 1030m (2 Open); 6 x 900m (2 Open; 4 Maiden)
This session was all about NATURE STRIP – and rightly so.
The reigning sprint champion was the standout performer in his first appearance since the autumn and didn't disappoint as he trucked through his 900m heat on the course proper in great style.
Glyn Schofield would have enjoyed the ride as NATURE STRIP led easily by three lengths in the middle stages and at the finish had extended his margin to more than six lengths under a cold ride from the comeback jockey.
The big boy is back! #TABEverest favourite Nature Strip (@SchofieldGlyn) in cruise mode as he races away from @cwallerracing stablemates Subpoenaed (Daniel Cremin) and September Run (Pauline Leflaec) in a @rosehillgardens trial. Madam Rouge followed. @tabcomau @7horseracing pic.twitter.com/QP6cWsq2J0

— Racing NSW (@racing_nsw) August 25, 2021
The time said it all as NATURE STRIP recorded a smart 54.94 (34.57) while the second 900m heat on the course proper was won by GIANNIS in much slower time (56.76; 35.71).
It was an ominous warning that NATURE STRIP is in great health heading into the spring, while Schofield was out to prove his fitness as he prepares for his return to race riding after his long layoff since last December.
Schofield rode in seven trials and won five heats, three for Chris Waller (three) and two for the Ryan/Alexiou stable.
NATURE STRIP had only three rivals in his heat, all stablemates, with classy pair SUBPOENAED and SEPTEMBER RUN working nicely under no pressure behind him.
Golden Rose contender Giannis works home well to take out Trial 3 at Rosehill, with @cwallerracing stablemate Hoover Lucy in 2nd. pic.twitter.com/2pqUI2O5bV

— SKY Racing (@SkyRacingAU) August 25, 2021
GIANNIS sat off the pace in his heat before working home strongly over the last 200m to get the better of HOOVER LUCY and HIGH SUPREMACY in the closing stages.
Only three horses contested the black type heat over 1000m on the course proper with the ex-Singapore galloper ARAMAYO leading from the start for a pedestrian win over SHARED AMBITION in slow time (63.77; 36.21).
Aramayo (Daniel Cremin) leads all the way from Shared Ambition (Josh Cartwright) and Charm Star (Yusuke Ichikawa) in the opening trial at @rosehillgardens on Thursday. @tabcomau @cwallerracing pic.twitter.com/dOBzNn4utx

— Racing NSW (@racing_nsw) August 25, 2021
The 1030m heats on the inside grass saw solid wins recorded by the good types SOLAR APEX (65.48; 36.65) and SEDUCTION QUEEN (65.07; 36.19).
The open heats over 900m featured a sharp performance by the lightly raced ex-Queensland filly ENTERPRISE POMME in her first trial for the Gerald Ryan/Sterling Alexiou stable. She responded well when put under a ride to record a strong win in good time for the session (56;35.,42). Her well performed stablemate STANDOUT took the eye with his strong third in his first trial since a disappointing campaign early in the year.
The maiden heats over 900m saw BELLA ROUGE ridden out to record the fastest time of the session (55.97; 35.73) but there was a lot to like about the closing third of DIO in her heat under a soft ride. KOOLED, FORTUNE HARBOUR and HOLLYWOOLD NORTH were other maidens to make an impression.
NOTED TRIALS
XX Nature Strip
X Dio; Enterprise Pomme; Fortune Harbour; Giannis; Hollywood North; Kooled; Seduction Queen; Solar Apex; Standout; Zeyrek