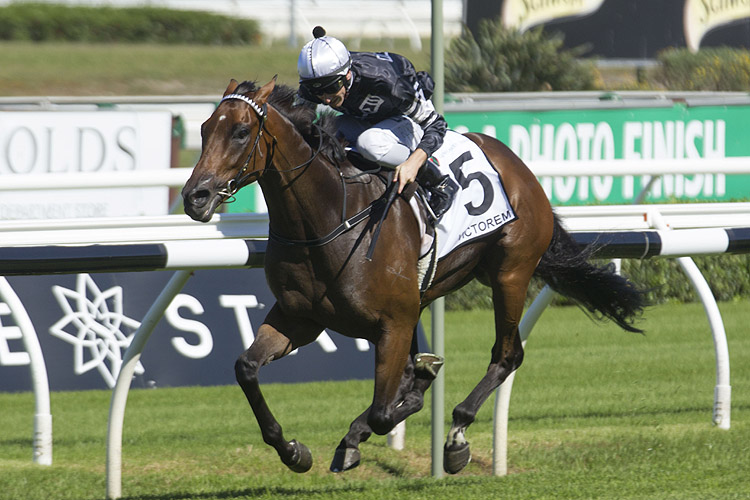 GOSFORD August 30
Course Proper; Soft 5
11 Heats – 1 x 1200m (Open); 6 x 1000m (2 Open; 1 3YO; 3 Maiden); 4 x 800m (2 Open; 2 Maiden)
A strong set of trials featuring Sydney's leading jockeys and quality runners from top metropolitan stables.
Gai Waterhouse and Adrian Bott sent a big team of 11 horses from Randwick and won three trials with the stayer HUSH WRITER beating three stablemates in the 1200m heat (73.70; 36.48), unbeaten 3YO SILENT IMPACT dominating his 1000m heat (60.18; 35.27) and the stakes placed maiden filly SHIHONKA careering to a six lengths win in the fastest 800m heat (48.76; 34.42).
John Thompson's problem child MAMARAGAN bounced back from his Kembla Grange failure with a classy win in a strong 800m heat (49.08; 34.68) and the Port Macquarie-trained VICTOREM did it easily to win the fastest 1000m trial (60.11; 35.;01). He's also had his issues and is now a 7YO but he is an obvious talent when right.
Jenny Graham's stable star Victorem signals he's on target for #TheKosciuszko with an easy trial win at @gosford_races on Monday over Barossa Rosa and Vangelic. @tabcomau @port_races pic.twitter.com/3zmt77Utbn

— Racing NSW (@racing_nsw) August 29, 2021
The good mares NIMALEE and ATHIRI were in strong form winning their open trials while NORWEGIAN BLISS and THUNDER ROSE were other maiden heat winners to make a good impression.
NOTED TRIALS
X Athiri; Barossa Rosa; Cinquedea; Dalgarno; Enfleurage; French Bonnet; Hush Writer; Mamaragan; Larkspur Run; Nimalee; Norwegian Bliss; Quantico; Shihonka; Silent Impact; Thunder Rose; Victorem; Vittoriosa;
Thunder Rose looking a treat! Gaps them by 5 1/2 L in her Trial for Rodney Bailey at Gosford today! pic.twitter.com/7cxtoeHXzY

— SKY Racing (@SkyRacingAU) August 30, 2021
WARWICK FARM August 30
Course Proper; Soft 7
Polytrack/Synthetic
18 Heats – Course Proper 3 x 1200m (1 Open; 2 Maiden); 4 x 810m (4 Open) 4 x 805m (4 Maiden); 4 x 800m (4 Maiden); Polytrack 1 x 1175m (Open); 2 x 740m (1 Maiden; 1 3YO)
A big session that featured crack sprinter EDUARDO having his second trial as he gears up for his Everest bid.
With no jockeys available due to COVID restrictions he was ridden in his 810m heat by track rider Michelle Read, who gave him plenty of galloping room sitting wide and make the home turn four deep under a hold.
The Bjorn Baker-trained OCEAN EMPEROR, having his first trial since May, railed up and was unextended to win the heat (47.82; 33.01) with EDUARDO closing off to be beaten less a length. The winner is eligible for lower class Benchmark events and can be well placed in a suitable sprint.
Ocean Emperor (Paul Whitmore) rails through to win a Warwick Farm trial on Monday over Eduardo (Michelle Read) and Zoushack (Zac Wadick) in third. Eduardo is $15 in the #TABEverest market. @tabcomau @BBakerRacing pic.twitter.com/xNuOCHD1VS

— Racing NSW (@racing_nsw) August 30, 2021
Bjorn Baker won seven heats and would have been equally pleased with the winning performances of STARSPANGLED RODEO in a slow 810m open heat (48.85; 33.31) and his trio of 800m maiden heat winners DIVINE OKAY (47.66; 33.40); MIDORI BEAUTY (47.44; 33.14) and BATTLETON (48.53; 33.90).
The Clarry Conner-trained PICK THE SCORE is a sharp short course mare and her speed should see her hard to run down when produced fresh after her fast 810m heat win (47.71; 33.20). Other maiden heat winners to blackbook include SIX AGAIN, JESSE JAMES and the wayward PRINCESS GLAMOUR, who won her heat by 2.9 lengths after she shied and ran out in the last 50m when leading by six lengths.
It was standard fare in the three polytrack heats but ZAIN'S GIRL won the 1175m heat with authority by almost seven lengths and SPELLZ had her opposition well covered in her 740m heat.
NOTED TRIALS
X Battleton; Divine Okay; Eduardo; Fifteen Aria; Jesse James; Midori Beauty; Ocean Emperor; Pick The Score; Princess Glamour; Six Again; Spellz; Starspangled Rodeo; Zain's Girl