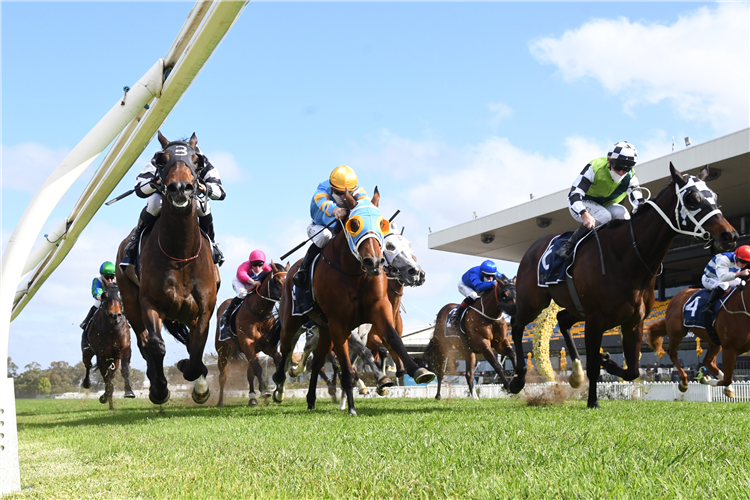 ROSEHILL October 6
Best Bets
RACE 2: (3) Depiction
RACE 4: (2) Fifteen Aria
RACE 8: (8) Quantico
For Value
RACE 1: (13) White Glove Test
RACE 6: (6) Lady Of Luxury
RACE 1: 13-4-5-11
RACE 2: 3-1-5-4
RACE 3: 7-4-3-8
RACE 4: 2-3-1-4
RACE 5: 4-7-8-2
RACE 6: 6-5-2-4
RACE 7: 5-3-6-4
RACE 8: 8-2-3-5
TRIAL WATCH REPORT
Noted Trial Runners – October 6-7
ROSEHILL WEDNESDAY: Shadow Bridge (R7); Dancing Gidget (R8)
GOSFORD THURSDAY: Stars And Shadows (R1); Midori Beauty (R4); Prize Draw (R4); Miss Maz (R7); Rick's Mania (R7); Deep Romance (R7); Attribution (R8); Eyewitness (R8)
RECENT TRIAL WATCH WINNERS: Le Vizir; Zou De Moon; Kementari; Smirnova; Sejarden; Coolangatta; Ka Bling; Able Willie; Villaden; Norwegian Bliss; Yonkers; Barossa Rosa; Home Affairs; Ellsberg; Roots; Cotehele; Minsk Moment; Belluci Babe.
TRIAL POINTER
ROSEHILL September 14: Handy mare DANCING GIDGET was strong in in her open heat win over 900m (56.63; 34.77). The time wasn't great but she did enough.
BLACKBOOK REPORT
Eligible Blackbook Runners – October 6
ROSEHILL: Headliner (R2); April Rain (R8)
RECENT BLACKBOOK WINNERS: Elusive Express; Montefilia; Belluci Babe; Shihonka; High Supremacy; Kiss The Bride; She's Ideel; Atishu; Yearning; Hitotsu; Love Tap; Mr Mozart; Animate; Entriviere; Contemptuous; Jamaea; Geist.
Blackbookers – Selected October 2
(Follow for next 3 starts)
CHARMS STAR: Like to see her against her own sex.
I AM SUPERMAN: Sure to appreciate more ground.
TAVIDANCE: Strong late. Likes soft tracks.
YOUNG WERTHER: He's in the frame for the Cups.
ZAMBEZI RIVER: Inside gate did him no favours. Certain to win races.