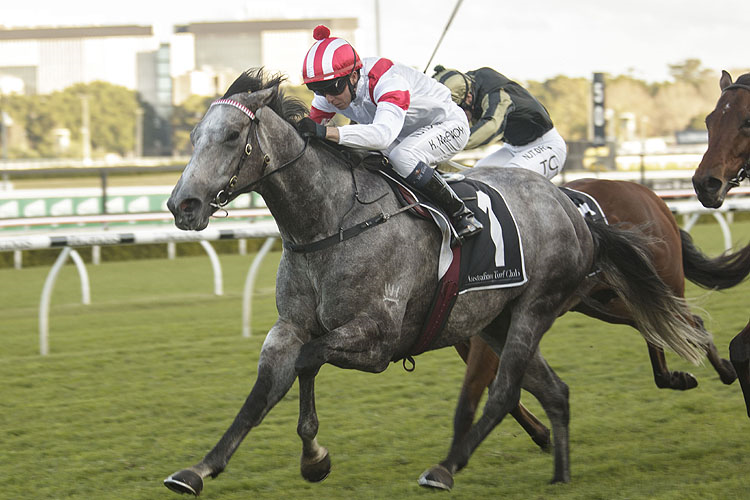 RANDWICK September 10
10 Heats - Course Proper – Soft 5 - 1 x 1000m (Group/Listed)
A Grass – Good 4 - 4 x 1050m (2 Open; 2 Maiden)
I'm not sure if it was Les Bridge or John O'Shea who came away from the Randwick trials on Friday sporting the bigger grin.
Both trainers had plenty to smile about after watching a bevy of their spring prospects perform in fine form in heats on the course proper (Soft 5) and Randwick A Grass (Good 4).
Their Everest contenders CLASSIQUE LEGEND and LOST AND RUNNING hooked up in the only black type trial over 1000m on the course proper while they had to be delighted with the way a number of their other runners performed in the A Grass heats.
CLASSIQUE LEGEND – back where he belongs with Les Bridge after his wasted Hong Kong excursion – showed how much he is enjoying being back in familiar surrounds with a robust win in his first trial appearance since his return to Randwick.
Reigning #TABEverest champ Classique Legend gets the job done in his first local appearance in 11 months winning a @royalrandwick trial on Friday over @tabcomau's Everest runner Lost And Running with I Am Superman third. @7horseracing pic.twitter.com/srqaoMhV27

— Racing NSW (@racing_nsw) September 9, 2021
LOST AND RUNNING, having his second trial, showed early pace wide on the track to share the lead with I AM SUPERMAN with Kerrin McEvoy tucking CLASSIQUE LEGEND in behind.
McEvoy eased the big grey off the heels of I AM SUPERMAN on the turn and briefly pushed him along to gain the upperhand at the 200m while LOST AND RUNNING was well held under Hugh Bowman, sitting a half length back on their outside.
The trio worked to the line strongly with CLASSIQUE LEGEND doing all that was required to win by a short head from a closing LOST AND RUNNING in good time (58.52; 34.39). Both horses are set to resume in The Shorts at Randwick next week.
The Snowden-trained I AM SUPERMAN, having been gelded, looked in top order working well within himself and many would rate his effort to finish a half length back in third and visually under less pressure as a superior trial to the first pair. The closing effort of MINHAAJ, a new stablemate of LOST AND RUNNING, would also have pleased O'Shea.
Les Bridge had more reasons to crack it for a rare smile after winning two other heats with MADAM LEGEND and LEGEND I AM, a pair owned in the same interests as Classique Legend.
His good mare MADAM LEGEND trucked through her 1050m trial (62.88; 34.30) on the A Grass for a dominant win that points to her being in the right form to add another good class race to her record. She was under a throttle hold to win by half length from the fast closing BLESK, a member of the O'Shea team who has now put in two excellent trials that suggest he is heading into a profitable campaign.
Zelady Luck holds off a fast finishing Quantico to win a trial at @royalrandwick on Friday with Newsreader in third. Also in the trial was Shadow Hero in his first appearance back from Hong Kong. @tabcomau @GaiWaterhouse1 pic.twitter.com/ekpprLIo6V

— Racing NSW (@racing_nsw) September 9, 2021
Bridge won another 1050m heat with the promising maiden LEGEND I AM (62.71; 34.64) while other members of the O'Shea team taking the eye with their efforts in the 1050m heats included COTEHELE, QUANTICO, NEWSREADER, STROMBUS, KOKORO and I AM NEFERTITI.
The stars of the shorter 740m trials were the classy sprinters EDUARDO and SIGNORE FOX.
They contested separate trials with SIGNORE FOX surging home under a tight grip to beat SWEET DEAL and AIM in his heat (44.14; 33.28) while EDUARDO used his natural speed to lead MAMARAGAN from start to finish in their heat (43.82; 33.86) with both sprinters going to the line with plenty in hand.
Eduardo showed he's ready for next week's The Shorts as he wins a trial at @royalrandwick on Friday over Mamaragan and Born A Warrior. The @PrideRacing sprinter is a $15 chance in the #TABEverest . @tabcomau @7horseracing pic.twitter.com/ogUuk0ohgS

— Racing NSW (@racing_nsw) September 9, 2021
Dual Group 1 placed @SnowdenRacing1 sprinter Signore Fox wins a trial at @royalrandwick on Friday from Sweet Deal, warming up for #TheInvitation, and Aim. @tabcomau @7horseracing pic.twitter.com/DpFKNwr9vm

— Racing NSW (@racing_nsw) September 10, 2021
The fastest 740m heat win was recorded by John Thompson's unraced maiden TILLOTSON, who sprinted clear for a sharp 1.75 lengths win in his heat (43.71; 33.60).
NOTED TRIALS
XX Madam Legend; Signore Fox
X Aim; Blesk; Classique Legend; Cotehele; Eduardo; Field Wiri; I Am Nefertiti; I Am Superman; Kokoro; Legend I Am; Lost And Running; Mamaragan; Minhaaj; Newsreader; Penciled; Quantico; Strombus; Tillotson; Uncaged
First Australian outing for @ANeashamRacing import Fourhometwo (Raphael Marchelli) is a win in a Warwick Farm trial on Tuesday over Starspangled Rodeo and another import Numerian. @tabcomau pic.twitter.com/sZQWpCtDNP

— Racing NSW (@racing_nsw) September 6, 2021
WARWICK FARM September 7
Course Proper (Soft 6); Polytrack
14 Heats – 3 x 1200m; 3 x 805m; 3 x 800m; Polytrack 1 x 1175m; 4 x 740m
NOTED TRIALS
X Arranmore; Astern's Girl; Belluci Babe; Dehorned Unicorn; Djawadi; Fourhometwo; Mightybeel; Russbuss
Talented @godolphin 4yo Gravina arrives in time to win a trial at @WyongRaceClub on Tuesday over Pandora Blue while Kementari sneaks into third place. @tabcomau pic.twitter.com/IZ1AsZIMsZ

— Racing NSW (@racing_nsw) September 6, 2021
WYONG September 7
Course Proper – Good 4
13 Heats – 1 x 1200m (Open); 4 x 1000m (2 Open; 2 Maiden); 8 x 845m (3 Open; 5 Maiden)
NOTED TRIALS
X Barossa Rosa; Galbalan; Gravina; Kementari; Lashes; Oakfield Blossom; Riviera Blue; Trumbull