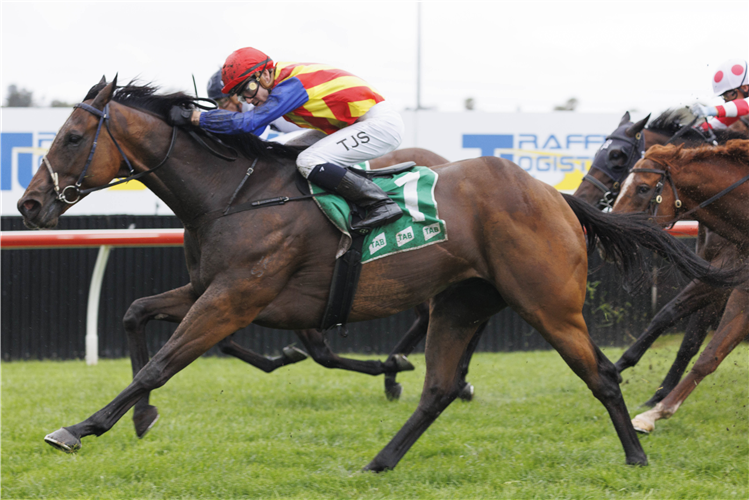 WARWICK FARM December 30
Inside Grass/Polytrack; Soft 5; 26 Heats
Grass – 5 x 1207m (3 Open; 2 Maiden); 4 x 821m (4 Open); 5 x 818m (5 2YO); 3 x 815m (3 Maiden); 3 x 812m (3 Maiden)
Polytrack – 2 x 1175m (1 Open; 1 Maiden); 4 x 740m (1 2YO; 3 Maiden)
If variety is the spice of life we certainly got it at this session with 26 heats on the grass and polytrack tracks over seven different distances!
The 20 heats on the inside grass were run on a Soft 5 and were mostly standard fare with just a few exceptions. The polyrack heats were also average and provided little to enthuse about.
ELEVEN ELEVEN (Greg Hickman): Added a touch of class to proceedings with an excellent win in his open heat over 1207m, clocking the fastest time of the five trials over the distance (72.29; 34.88). He surged to the line under a soft ride, showing he is primed to return to the Gold Coast for the Magic Millions where he has performed so well on previous visits.
Eleven Eleven (@G1TySchil) finds the line nicely to win a trial at Warwick Farm on Thursday over Edison and Nishikori. @tabcomau @HickmanRacing pic.twitter.com/cisvydYCcZ

— Racing NSW (@racing_nsw) December 29, 2021
EMPEROR (Matthew Dunn): His first trial since he was placed in the Breeders Plate on debut underlined that this I Am Invincible colt is well above average. He travelled sweetly outside the leader in his 818m heat and dropped his rivals with smooth acceleration over the last 200m, posting one of the quickest last 600m splits for the morning (48.19; 33.96) and best overall time for the five 2YO heats. Should be a player in the good juvenile races.
Breeders' Plate third placegetter Emperor, trained by @mattydunnracing, cruises to an impressive win in a 2yo trial at Warwick Farm on Thursday from Nonshalaant and Zambezi River (runner-up in Breeders'). @tabcomau pic.twitter.com/jTmLlCf5eo

— Racing NSW (@racing_nsw) December 30, 2021
In the four open heats over 821m the wins by INVINCIANO (49.08; 34.01) and SKY COMMAND (49.77; 34.30) were commendable while soft trials by the Waller stablemates WAIRERE FALLS and YIYI took the eye.
Off Shaw gets the job done in a blanket finish to a Warwick Farm trial on Thursday, downing Wairere Falls with Subterranean third. @tabcomau @BBakerRacing pic.twitter.com/TcBpuT21S2

— Racing NSW (@racing_nsw) December 29, 2021
In other 2YO heats over 818m youngsters to impress included the heat winners PLYMSTOCK (49.46; 34.85) and MUMBAI JEWEL (48.84; 34.40) while placegetters WYNGARDIUM and ZAMBEZI RIVER are a pair open to definite improvement. Godolphin filly PLYMSTOCK (Ribchester) is a half-sister to G1 winner Trekking while MUMBAI JEWEL, a $575,000 yearling, is another racy runner for champion sire I Am Invincible.
Ribchester filly Plymstock, a half-sister to G1 winner and #TABEverest placegetter Trekking, wins a trial at Warwick Farm on Thursday over Proud Image and Wild Calm in third. @tabcomau @godolphin pic.twitter.com/XITdOAgcIf

— Racing NSW (@racing_nsw) December 29, 2021
Another 2yo trial winner for @ANeashamRacing as Mumbai Jewel (I Am Invincible) takes out her Warwick Farm heat on Thursday over Street Smarts (Street Boss) and Mrs Patmore (Snitzel) in third. @tabcomau pic.twitter.com/VddLMcDMO6

— Racing NSW (@racing_nsw) December 30, 2021
In the maiden heats the better winners included SHADES OF ROSE (815m - 46.71; 33.20), TICK TICK TICK (815m – 47.49; 33.47), REATEROS (812m – 47.28; 33.40), CHICKERARTIE (815m – 48.40; 34.58) and the polytrack pair LUCKY SUN (740m – 44.20; 34.08) and LAMPLADY (740m - 45.74; 34.95).
The Hellbent youngster FIRE AND ICE showed nice pace to win the polytrack heat for the juveniles (44.90; 34.60)
NOTED TRIALS
XX Eleven Eleven; Emperor
X Belle Espoir; Chickerartie; Fire And Ice; Fragore; Invinciano; Lamplady; Lucky Sun; Mumbai Jewel; Plymstock; Reateros; Shades Of Rose; Sky Command; Tick Tick Tick; Wairere Falls; Wyngardium; Yiyi; Zambezi River
Smart Missile filly Smart Vengeance, trained by @ANeashamRacing, holds off Wingardium (Vancouver) to win a 2yo trial at Warwick Farm on Thursday, with Bessmati (Fastnet Rock) in third. @tabcomau pic.twitter.com/7R3rBb6zwO

— Racing NSW (@racing_nsw) December 30, 2021
The flashy Deep Field colt Sweet Ride, trained by @ANeashamRacing, just gets the better of Frozen Prince (Pride Of Dubai) to win a Warwick Farm 2yo trial on Thursday with Tarcwell (Press Statement) in third. @tabcomau pic.twitter.com/xpedjmRfKA

— Racing NSW (@racing_nsw) December 30, 2021