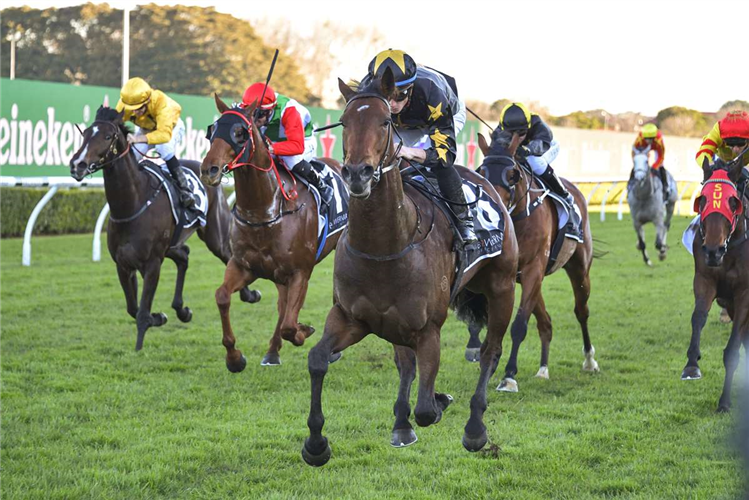 WARWICK FARM April 22
Inside Grass; Soft 7
18 Heats – 4 x 1200m (2 Open; 1 2YO; 1 Maiden); 4 x 816m (4 Open); 4 x 813m (4 2YO); 3 x 810m (1 2YO; 1 3YO; 1 Maiden); 3 x 807m (3 Maiden)
Polytrack; Synthetic
8 Heats – 1 x 1175m (Open); 7 x 740m (1 Open; 4 2YO; 1 3YO; 1 Maiden)
The inside grass was rated a Soft 7 but was one of the better surfaces horses have had for grass trials in recent times.
The big session featured nice trials from several horses heading for the Brisbane carnival and there were a number of notable efforts in the 2YO heats from unexposed youngsters. The results indicate the Bjorn Baker stable is building a nice team for the Brisbane carnival.
BATTLETON (Bjorn Baker): First trial since his fifth in the G1 Coolmore Stud Stakes underlined that this Zoustar colt is a quality 3YO. Had no trouble dealing with his older rivals in his 815m heat (49.31; 34.19) , tracking three wide under a good hold from James McDonald and having plenty in the locker through the line to win by 1.5 lengths. The stable should have their eyes on a suitable Brisbane target and suspect Mc Donald will be keen to ride if he heads north.
PRIME CANDIDATE (Bjorn Baker): Another good Brisbane prospect for the Baker stable. He can mix his form but his easy 3.4 lengths win in the fastest 816m heat (458.06; 33.64), leading easily and allowed to run along, showed he has freshened up nicely since he last raced in January.
O'TYCOON (Bjorn Baker): Stylish Written Tycoon colt went into the blackbook when he won his first trial in December and his reappearance confirmed he is an above average talent. James McDonald was content to sit wide outside the lead in his 813m heat, travelling well within himself before asserting himself turning for home. Had plenty in reserve going to the line for a soft win in quick time (48.31; 33.86). Looks strong form as he beat the closing ECONOMICS, a nice type who impressed in an earlier trial win.
THE ROCKWELL SCALE (Matthew Dunn): Another strong trial from this robust maiden 3YO by All Too Hard. He was very eager to run through the first half of his 807m trial and was never off the bit to clock fast time (48.18; 34.30). He's now won two trials since he was placed in his first race start in December and is ready to compete when he resumes.
In other 2YO grass trials the talented fillies EMILIA ROMAGNA and SOARING AMBITION performed boldly splitting the line together in their 813m heat in good time (48.35; 34.00). Other youngsters to make an impression included the heat winners MATRONYMIC (813m 49.69; 34.71) and SWISS EXILE (810m 48.77; 34.41).
The Polytrack heats featured a fast 740m heat win by JULIAN ROCK (43.20; 32.90), his runaway four lengths win somewhat unexpected as he is a 7YO who had been off the scene for nine months and has rarely shown such speed over short courses.
The 2YO heats over 740m on the poly could be misleading but there was plenty to like about the way the way Tracy Bartley's unraced Deep Field filly MARILLER (44.09; 33.52) and the Godolphin pair BADGE (43.76; 33.45) and SELOUS (44.41; 33.80) won their heats with authority.
NOTED TRIALS
XX Battleton; Prime Candidate; O'Tycoon; The Rockwell Scale
X Airstrike; Air To Air; Amati; Badge; Brookspire; Dehorned Unicorn; Emilia Romagna; Julian Rock; Kubrick; Lady Fraulein; Lashes; Marillier; Matronymic; Night Of Power; Oryx; Po Kare Kare; Rock Chant; Selous; Sibaaq; Soaring Ambition; Swiss Exile; Tycoonist; West Cork; West Of Africa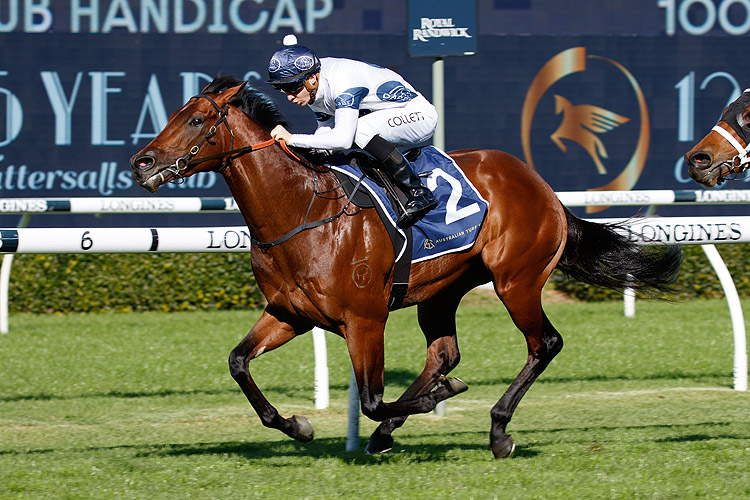 RANDWICK April 19
Randwick A Grass; Soft 7
18 Heats – 2 x 1200m (2 Open); 10 x 1050m (4 Open; 3 2YO; 3 Maiden); 6 x 736m (3 Open; 3 2YO)
Polytrack;Synthetic – 2 Heats 1 x 1080m (Open); 1 x 780m (Open)
Several likely types for the Brisbane carnival produced strong trials along with some promising efforts from youngsters making their first public appearance.
LE GAI SOLEIL (John O'Shea): It was a déjà vu performance as her 1050m heat win (63.79; 35.18) was an almost identical performance to the trial she won over this same distance before her impressive first-up win in February. She was back last about eight lengths off the leaders before sweeping home down the outside rail under a cold ride from Kerrin McEvoy. Looks well prepared for a trip north. Her stablemate PIZARRO could not be missed splitting runners late for a strong fifth after also making up good ground from the rear – he won his maiden at his third start before a break and will not surprise to see him progress quickly through the classes.
Le Gai Soleil sails down the outside to win a trial at Randwick over Billiondollarbaby, who ran on with her, and Four Moves Ahead in third. @tabcomau @JohnOSheaRacing pic.twitter.com/2BXMrK0UrX

— Racing NSW (@racing_nsw) April 18, 2022
MALKOVICH (Bjolrn Baker): No surprise to see this short course flier run away with his 1050m heat by more than eight lengths in the fastest of the 10 heats over the distance (62.97; 34.35). It was strong confirmation that he is in good form after his failure on a very heavy track in the G1 Galaxy and confirms he is one of the quickest horses in Sydney over a short course. Ideally placed up to 1100m – anything beyond that is a worry!
RINGMASTER (Michael Freedman): Unraced youngster by Zoustar was a standout winning the fastest 2YO heat over 1050m (64.12; 35.31). Showed he had come on from placings in his first two trials to put his rivals away with ease with a sharp turn of foot from four lengths off the leaders at the 500m. Cruised away under no pressure over the last 200m to score by almost three lengths. Ready to go the races.
NOTED TRIALS
XX Le Gai Soleil; Malkovich; Pizarro; Ringmaster
X Ambassadors; Authentic Jewel; Baroque Road; Boomsong; Eleven Eleven; Excelladus; Exoshuffle; Hamaki; Hawaii Five Oh; Hi Dubai; Jamaea; Katalin; Shadow Crush; Vreneli.
Dawn Passage, clicked along by @RachelK11, wins a trial at Randwick on Tuesday from Sneaky Paige with Native Rock in third. @tabcomau @GaiWaterhouse1 pic.twitter.com/0RF0K9wBUH

— Racing NSW (@racing_nsw) April 18, 2022