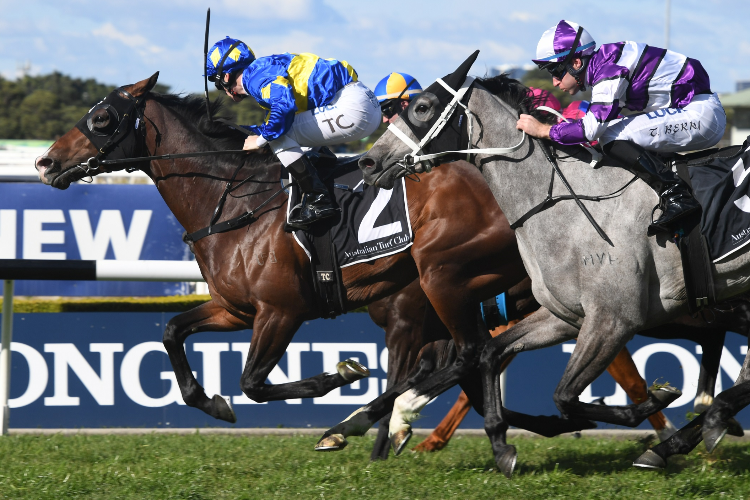 CANTERBURY MAY 4
RACE 1: 10-14-9-1
RACE 2: 5-2-14-10
RACE 3: 5-7-2-1
RACE 4: 3-7-6-9
RACE 5: 10-2-7-5
RACE 6: 4-6-5-3
RACE 7: 14-6-9-11
TRIAL WATCH REPORT – May 4-5
NOTED TRIAL RUNNERS
CANTERBURY WEDNESDAY: Ambassadors (R1); Zambezi River (R1); Selous (R1); Amati (R2); Julian Rock (R6)
HAWKESBURY THURSDAY: The Rockwell Scale (R5); Oryx (R5); Smooth Flight (R5)
EAGLE FARM WEDNESDAY: Kalashnikov (R8)
WAGGA THURSDAY: On The Lead (R7)
RECENT TRIAL WATCH WINNERS: Tycoonist; Thorpe; African Daisy; Excelladus; Bethencourt; Essonne; Podium; Democracy Manifest; Kementari; Najmaty; Owen County; I'm Secret; Best Side; Moroccan Lad; More Sundays; Coco Rox; Paris Dior; Quiet Riot; Largo Winch; Czar; Heresy; Zeminnika.
TRIAL POINTERS
WARWICK FARM April 22: Another strong trial from robust maiden 3YO THE ROCKWELL SCALE. He was very eager to run through the first half of his 807m trial and was never off the bit to clock fast time (48.18; 34.30). He's now won two trials since he was placed in his first race start in December and is ready to compete when he resumes. The Polytrack heats featured a fast 740m heat win by JULIAN ROCK (43.20; 32.90), his runaway four lengths win somewhat unexpected as he is a 7YO who had been off the scene for nine months and has rarely shown such speed over short courses. The 2YO heats over 740m on the poly could be misleading but there was plenty to like about the way SELOUS (44.41; 33.80) won his heat with authority.
WARWICK FARM April 8 (Polytrack): Godolphin had some nice 2YOs in the four juvenile trials. Their unraced SELOUS took the eye with his fourth in another heat.
RANDWICK February 7: Black Opal Stakes winner KALASHNIKOV, unraced since last year's Golden Slipper, has had a stable change to Brisbane since this trial win. This was his second trial and he was dominant surging away from his rivals over the last 200m to win by almost four lengths in easily the fastest of the six heats over 1050m (62.12; 34.58). Expect he is set to make up for lost time.
BLACKBOOK REPORT
Eligible Blackbook Runners – May 2-3
WARRNAMBOOL WEDNESDAY: Rudhyar (R6)
CANTERBURY WEDNESDAY: Zambezi River (R1)
RECENT BLACKBOOK WINNERS: Rights Of Man; Bandersnatch; Je Suis Belle; Milford; Juan Diva; Mamounia; Enterprise Prince; El Patroness; Mr Brightside; Bullfinch; Daisies; Athelric; Maserartie Bay; Express Pass; Blackcomb; Mac 'N' Cheese; Duais; Star Of Michelin; Kinloch; She's Extreme; Zeyrek.
Blackbookers – Selected April 30
(Follow for next 3 starts)
ATISHU: Back on track. Trust her at the barrier.
FASHCHANEL: Honest mare. Always competitive.
NEW ARRANGEMENT: Almost fell when looking likely. Going well.
SAIGON: Tried hard first-up. Well placed in Melbourne
SURREAL STEP: Good campaign ahead. Fitter next time.
TWIN STARS: Strong youngster. Will benefit from natural improvement.