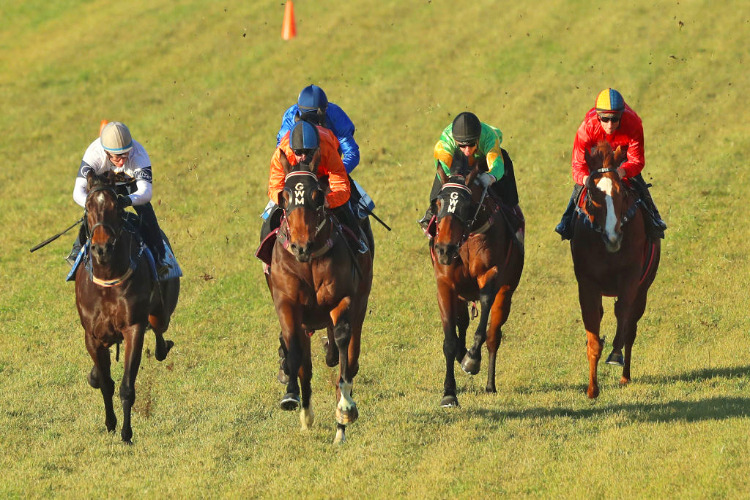 WARWICK FARM January 10
Inside Grass; Soft 7
12 Heats – 2 x 1200m (I open; 1 Maiden); 3 x 801m (3 Open); 4 x 799m (4 2YO); 3 x 796m (3 Maiden)
Gary Portelli produced two fast heat winners while some worthwhile form should come out of the four 2YO heats.
CAPITAL REIGN (Gary Portelli): This fast running 3YO by Capitalist has been well placed to win four of his six starts on out of town tracks at 900m and 1000m. This was his first trial since a Midway placing at Randwick in October and was the standout win of the morning as he cleared out to score by seven lengths in his 801m heat, recording the fastest time of the morning (46.31) with a very fast last 600m (32.99), a rare sectional in trials on soft tracks.
The fastest win in the three maiden trials over 796m was recorded by Capital Reign's stablemate SINGLE TOUCH (46.73; 33.72), an effort that points to him being ready to improve on four unplaced race results to date. The third placing in this heat by the unraced MIROSLAVA also impressed as a filly open to improvement.
In the other maiden heats SUPRINA impressed with a close second to the free running BULLET FORCE in good time (46.98; 33.70) while the third placing by EXPLETIVE in the heat won by the older gelding AMORTAL (47.40; 34.19) was a promising effort from a filly having her first trial.
The fastest 2YO heat win over 799m was won by DEEP EXPECTATION (46.92; 33.77). She also won a trial in September before she was unplaced in the Gimcrack Stakes at her first race start and should improve on that form when next produced.
Godolphin won two juvenile heats with the previously noted SUMATRA (47.79; 34.03) and NORTHUMBRIA (47.80; 34.55), who was well fancied when he made his debut at Warwick Farm last month.
The other 2YO heat the million dollar Not A Single Doubt youngster FLASHING STEEL looked the part running on well from off the pace for a strong win (47.29; 34.19). The classy trial winner EMPEROR was given an easy time finishing third.
NOTED TRIALS
XX Capital Reign
X Able Willie; Amortal; Deep Expectation; Emperor; Expletive; Flashing Steel; Miroslava; Northumbria; Rebel Rama; Shocking Force; Single Touch; Stolen Jade; Street Smarts; Sumatra; Suprina
Flying Artie colt Sir Artie, trained by @SnowdenRacing1, kicks away around the turn to win a 2yo trial at @gosford_races on Thursday by a couple of lengths over Calamity Fox (Foxwedge) with Rhiannon (Awesome Rock) in third. @tabcomau pic.twitter.com/AUUWmBbqxI

— Racing NSW (@racing_nsw) January 5, 2022
GOSFORD January 6
Course Proper; Soft 7
19 Heats – 1 x 1200m (Open); 7 x 1000m (3 Open; 4 Maiden); 11 x 800m (2 2YO; 3 Open; 6 Maiden)
Lonhro filly Trendy Lass, trained by @GaiWaterhouse1 & Adrian Bott, leads most of the way to win a 2yo trial at Gosford on Thursday from Selfless Act (Panzer Division) and River Danzka (Headwater) in third. @tabcomau pic.twitter.com/FeGI4ZARpW

— Racing NSW (@racing_nsw) January 5, 2022
NOTED TRIALS
X Ashman; Beholder; Bethencourt; Converge; Cross The Rubicon; Diamond Blush; Eye See Things; Eyewitness; Devil Racer; Fleet Air Arm; Gidgee Guy; Gulf Of Tomini; In The Blink; Pole Position; Sir Artie; Syzygy Stars; The Winter Sun; Trendy Lass; Welloutofreach
Eye See Things leads all the way to win a trial at @gosford_races on Thursday but all eyes were on the @GaiWaterhouse1 & Adrian Bott Group 1 winner Converge hitting the line in second with a gap to Spellcatcher in third. @tabcomau @7horseracing pic.twitter.com/JXeIClPUsn

— Racing NSW (@racing_nsw) January 6, 2022