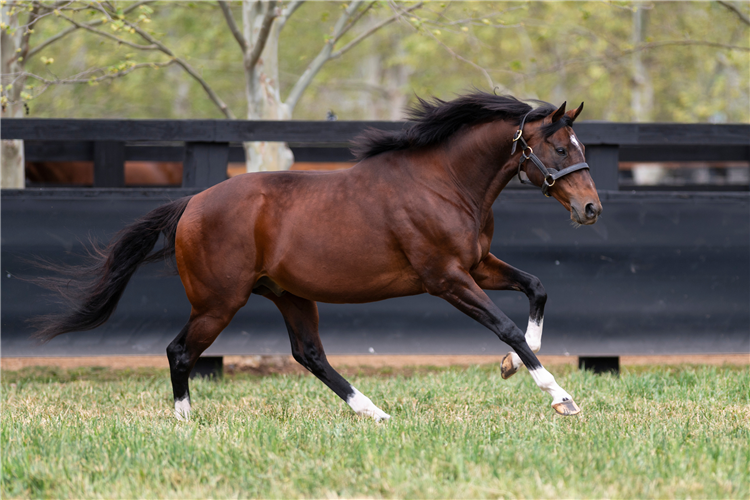 Pixie Knight (3 c ex Pixie Hollow by King Halo) scored a dominant two length victory in Sunday's Sprinters Stakes (Gr 1, 1200m) at Nakayama, providing Maurice (Screen Hero), who is currently covering his fourth book of mares at Arrowfield Stud, with his first Grade One winner.
The Northern Racing-bred and Silk Racing-owned Pixie Knight defeated Resistencia (Daiwa Major) with Shivaji (First Samurai) a close third. The favourite, Danon Smash (Lord Kanaloa), finished sixth.
Winning jockey Yuichi Fukunaga indicated there is still plenty of development to come with the colt who has now won three of his eight career starts including the Nikkan Sports Sho Shinzan Kinen (Gr 3, 1600m) in January.
"I had several ideas and tactics of where to position him, but it turned out that we got the best position than anyone could have hoped for," said Fukunaga who positioned the colt on the rails in third, before finding a gap in the straight and powering clear with 150 metres left to run.
"From the beginning of his career, I've always believed in the strength and potential this colt obtains and have voiced it too, but to be honest, I never thought he would give such a strong performance and land a Grade One win this fast.
"He's still not physically balanced yet but he will improve, mature and definitely become a target to beat in numerous future sprint races in or outside the country."
Pixie Knight is the second winner out of Pixie Hollow (King Halo) and US Grade 1 winner A Kiss For Luck (Reflected Glory) is the colt's third dam.
First 3yo since 2007 to win the G1 Sprinters Stakes!

3c 4. PIXIE KNIGHT (Maurice x Pixie Hollow (King Halo)) under a great Yuichi Fukunaga ride brilliant in a sizzling 1.07.1

Congratulations to the champ MAURICE on his first G1 winner! #JRA#speeeed

pic.twitter.com/8qkziUxUKc

— Graham Pavey (@LongBallToNoOne) October 3, 2021