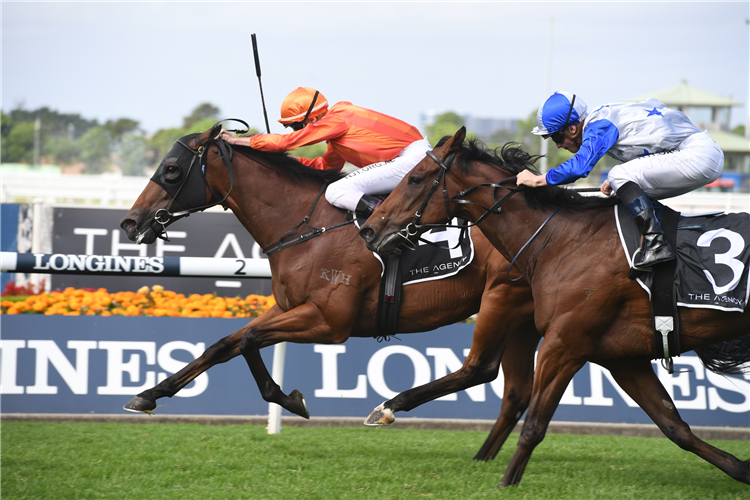 Evergreen stallion Fastnet Rock (Danehill) showed he was a still a force to be reckoned with in the breeding shed as his son Dreamforce (7 g ex Eskimo Queen by Shinko King) provided him with his 39th Group 1 winner as he landed the George Ryder Stakes (Gr 1, 1500m) at Rosehill on Saturday.
It was a much deserved first elite-level victory for the seven-year-old gelding, who had been placed at Group 1 level on three occasions prior to his victory on Saturday.
The John Thompson-trained gelding was popped out by Nash Rawiller and was never headed showing his mettle when joined by The Bostonian (Jimmy Choux), eventually beating him by a neck. Hot-favourite Te Akau Shark (Rip Van Winkle), after making a lot of ground in the straight, did not have enough left in the final 50 metres and finished third.
Thompson was full of praise for the multiple stakes-winning gelding, who he labelled the most honest horse he had trained and deserving of the Group 1 success.
"He's as honest as the day is long," Thompson said.
"His record speaks for itself.
"He's a real tough bugger.
"It's tough being a leader because you're doing the work all the time and are the one left there. That makes them vulnerable. But on his day he's as good as any of them."
Thompson said Dreamforce settled better than last start and the trainer was confident a long way out, with Dreamforce racing to his 12th career win from 32 starts.
"He just had him in a nice rhythm today and when he can do that he gives a real good kick," Thompson said.
"Nash said to me before the race 'if I'm travelling well I'll get out into the better going' and when he came out so wide I knew he was confident."
The gelding is out of dual Group 1-winning Shinko King (Fairy King) mare Eskimo Queen, who Kitchwin Hills sold to Boutique Bloodstock / Paul Willetts for $400,000 at the Inglis Chairman's Sale last year, making him a half-brother to Deep Chill (Wandjina), while further afield this is same family as Our King Sway (Shinko King).
In 2019 Eskimo Queen produced a filly by Snitzel (Redoute's Choice) and has most recently been served by his multiple Group 1-winning son Trapeze Artist.
"It's our first Group 1 winner after 25 years of trying"
The result also brought up the first Group 1 winner for owner-breeder John McGrath, who due to enforced restrictions because of coronavirus was watching from his sofa, said he was over the moon to nab his first elite-level victory.
"We are here in self-isolation and we just blew our lungs out," said McGrath. "It is our first Group 1 winner of owning and breeding and we are really appreciative of all the hard work that goes into these and there are dozens and dozens of people that have contributed and I feel privileged to own him."
McGrath acquired the mare after tasking Mick Malone of Kitchwin Hills to source some nicely bred mares to breed from.
"We bought Eskimo Queen when she finished racing and Mick Malone from Kitchwin Hills organised that for me when I wanted to get into the breeding world," said McGrath.
They then sent the mare to Fastnet Rock with the resulting foal Dreamforce, but a breeder and vendors worst nightmare befell them during prep for the Inglis Australian Easter Yearling Sale.
"A few weeks prior to the Easter Sale Mick rang me and said I don't know what has happened but he has just stopped walking properly and they had everyone look at him, but there was nothing we could do. This obviously worried us, because Mick thought he could be anything.
"We took him down to the sale because he wasn't in any pain, but his walking didn't improve."
As expected the colt failed to make his $250,000 reserve, so McGrath decided to send him into training with John Thompson and that decision clearly paid off on Saturday.
"When we got him back to farm we found he had a stifle cyst - we are not sure that was the reason he wasn't working well enough we are not sure, but when he had that removed we left him in the paddock for the next six months and we will race him ourselves.
"When we got him back I took him to John Thompson and asked if he wanted to trainer him and he said yes. When he started his race he was OK - he had a few wins in town.
"Then John called me and said 'I have a really hard conversation to have with you, but I really like that horse, but I think we need to geld him.' He said he is quite genuine, but I can see on the training track there is more under the bonnet you haven't got to yet. So I followed his advice and we gelded him and he went up to another level and he's never stopped going up, all coming to fruition on Saturday."
McGrath was also quick to pay tribute to the trainer: "John has said publicly that he might be his favourite horse he's ever trained and given the horses he has trained that means a lot.
"I think John is one of the most underrated trainers in the country. He is a quiet achiever and very humble, I love his training methods, like me he is very patient. We have really taken our time and he hasn't been overly raced and he has repaid us for being so good to him."
McGrath will keep the family line going, having retained the gelding's sister Ladybeetle, who is also in training with Thompson, but remains unraced.
"We have retained the sister so we can keep the line going which is exciting for us."