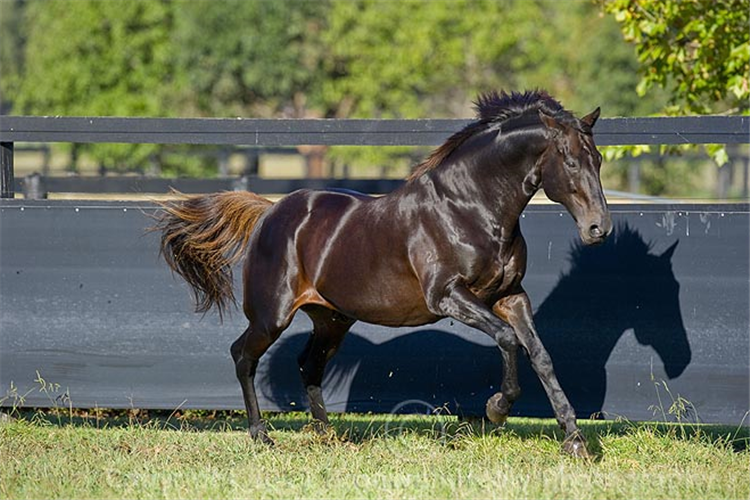 Danzero (Danehill) - the winner of the 1994 Golden Slipper Stakes (Gr 1, 1200m) - died at Rosemont Stud on Monday at the age of 28.
Trained by the Freedman Brothers, the son of Danehill (Danzig) won the Maribyrnong Trial Stakes (Listed, 900m) and Blue Diamond Prelude (Gr 3, 1100m), en route to his victory in the Group 1 at Rosehill. He also finished second in the Sires' Produce Stakes (Gr 1, 1400m) following his victory in the Golden Slipper.
Danzero started the stud season phase of his career with Arrowfield before moving to Rosemont in 2011 where he covered three seasons before retiring from stud duties. He also shuttled to Cheveley Park Stud in Newmarket for two seasons in 2000 and 2001.
Danzero is the sire of 40 stakes winners, six elite level scorers, including Dance Hero, who emulated his sire in the 2004 of the Golden Slipper. He is also the dam sire of 31 stakes winners and five Group 1 winners headlined by young stallion Exosphere (Lonhro).
"He was the first stallion to stand at Rosemont and was in fact the only stallion to stand at our original farm at Ceres." Rosemont principal Anthony Mithen said.
"He helped set in motion the stallion business for us and ultimately the purchase of Rosemont Gnarwarre from Tony Santic which is now home to our five-strong stallion roster.
"It is fair too say he changed the course of what we do at Rosemont. We had an itch to scratch and try the stallion game and he got us off the mark. While his fertility let him down, the horse didn't disappoint.
"It was an honour to have him on the farm and he was revered by all that got to lean over his fence and give him a pat. He helped teach us the stallion game and was a true gentleman.
"He has been in the best health for the nine years he's been with us. He refused to be boxed at night. We built him his own expensive box before he arrived, only to learn he hated being cooped up and just wanted to spend his days and nights outside - rugged and roaming! I think he spent only three nights in that box ever!
"Our longest serving employee Suzanne Mowat who has looked after him for the best part of a decade found him Sunday morning, resting peacefully. He will now be buried just outside his paddock. May he rest easy."