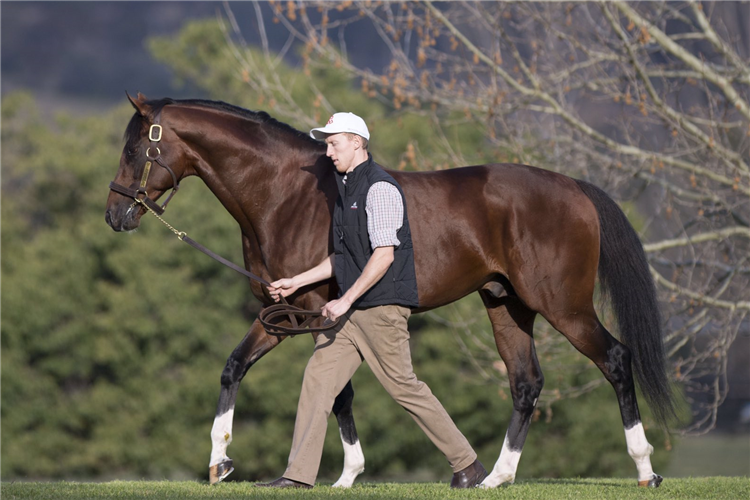 Cranbourne-trained Sharp Response (2 g ex Marli Magic by Host) defied his starting price to record an impressive debut win at Sale becoming the sixth winner for Arrowfield shuttler Maurice (Screen Hero).
Sharp Response had specking in early betting at $51 before starting a $17 chance under Beau Mertens in registering a short-neck victory from Tranquil Bay (Cable Bay) with the $3 favourite The Art Of Flying (Flying Artie) three-quarters-of-a-length away third.
A $70,000 Inglis Melbourne Premier Yearling Sale buy by his trainer from the draft of Flinders Park Stud, Sandhu said that the gelding was bought on type.
"He was a nice-looking horse and he went a little cheaper than I thought as he had some growing to do," Sandhu said.
"He was not very big at the time. We gelded him and he grew a bit and I think if we turn him out, he will grow even more and furnish into a nice horse."
That is the quandary for Sandhu, whether to press on for another start, or two.
"The one thing about him is he's very athletic and a very sound horse," Sandhu said.
"He does a lot right at home. He doesn't act up a lot and is very professional on the track.
"It will be nice if he goes home, eats up and then we'll have the hard decision to make, but it's a good problem to have."
Mertens had done most of the education work aboard Sharp Response and was confident the gelding could run well at his debut.
"The question was whether the track got too wet, but he got through that alright," Mertens said.
"He's a little professional and he handled everything well.
"It's good to see that from a young horse, to see him step out with the attitude he has."
Maurice will stand for a fee of $44,00 (inc GST) this spring. His first Australian-bred crop includes the stakes placed duo Mazu and Maurice's Medad.
Sharp Response becomes the first winner for his dam, winning Host (Hussonet) mare Marli Magic. His third dam produced Recast (Thunder Gulch) and Gonski (Danehill) while this is also the family of Downhill Racer (Danehill Dancer) and Pinezero (Danzero).

FP
Silk
Horse, Age & Sex
Sire & Dam
Jockey
Trainer
SP
WT

1st

8. SHARP RESPONSE (AUS) 2yo G


MAURICE (JPN) - MARLI MAGIC (AUS)

BEAU MERTENS
JULIUS SANDHU
$17.00
58.0kg
J Sandhu & Absolut Indian Equines (Mgr: Mrs V Gaur Basu)

2nd

18. TRANQUIL BAY (AUS) 2yo F


CABLE BAY (IRE) - BALMODENA (AUS)

CRAIG NEWITT
A & S FREEDMAN
$6.50
56.0kg
Highclere Thoroughbred Racing Australia Ltd (Mgr: Hon. H Herbert), Peake Racing (Mgr: P Edwards), Rkh Thoroughbreds (Mgr: R Hamer), A Nicoll, P Baker, S Bruhn, Mrs L Bruhn, Ms E Lawlor, Ms A Elliott, J Calvert-Jones, P Scope, R Howard, S Scupham, C Dale, Mrs K Grossek, A Tate & Mrs S Ridgway

3rd

11. THE ART OF FLYING (AUS) 2yo G


FLYING ARTIE (AUS) - CANARY (AUS)

BEN MELHAM
CIARON MAHER & DAVID EUSTACE
$3.00
58.0kg
R E Wilson, J Randalls, T Jovanovski, S W Bruhn, P K & A W Racing, Wintime Racing, C Rosbergen, Six Five Four Five, C K Mayfield, J P Mannix, C A Anson, D & L Alford, S J Pickworth, Ms L Fair, K C 19, P J Hooper, J Sier, Miss S Alexander & P M Pavey
4th
16. GULF OF ADEN (AUS) 2yo C


EXCEED AND EXCEL (AUS) - TRULY WICKED (AUS)

DAMIEN THORNTON
CHRIS WALLER
$8.00
58.0kg
5th
6. MEDIA EMPIRE (AUS) 2yo C


WINNING RUPERT (AUS) - EMBELLISHED (USA)

JAMIE MOTT
MICK PRICE & MICHAEL KENT JNR.
$26.00
58.0kg
6th
17. CHAMBERY (AUS) 2yo F


ILOVETHISCITY (AUS) - LARISSAR (AUS)

MICHAEL DEE
PATRICK PAYNE
$17.00
56.0kg
7th
4. GET ON THE GAS (AUS) 2yo G


SHAMUS AWARD (AUS) - TEAR GAS (NZ)

MARK ZAHRA
LLOYD KENNEWELL
$4.75
58.0kg
8th
9. SMOKE 'N' GIN (AUS) 2yo G


SHALAA (IRE) - JUNIPERS (NZ)

DANIEL STACKHOUSE
J W PRICE
$51.00
58.0kg
9th
13. MANHATTAN ANNIE (AUS) 2yo F


MANHATTAN RAIN (AUS) - ORPHAN (AUS)

JACK MARTIN
P G CAREY
$101.00
56.0kg
10th
10. SYRUP (AUS) 2yo G


SQUAMOSA (AUS) - SHE'S GOLDEN (AUS)

A LYNCH
LYN SHAND
$101.00
58.0kg
11th
19. POWER CRUNCH (AUS) 2yo G


SAFEGUARD (AUS) - UNRUFFLED (AUS)

JASON BENBOW
DOUG HARRISON
$17.00
58.0kg
12th
12. TWO DOLLAR TOM (AUS) 2yo G


WANDJINA (AUS) - RANCHY (USA)

WILL GORDON
CHRIS HYLAND
$201.00
58.0kg
13th
14. SISTER VIANNEY (AUS) 2yo F


ILOVETHISCITY (AUS) - AGAIN KATHLEEN (AUS)

BILLY EGAN
GREG EURELL
$17.00
56.0kg
14th
3. FORGED (AUS) 2yo G


EXOSPHERE (AUS) - REAL DESIRE (AUS)

DEAN HOLLAND
MICHAEL & WAYNE & JOHN HAWKES
$15.00
58.0kg