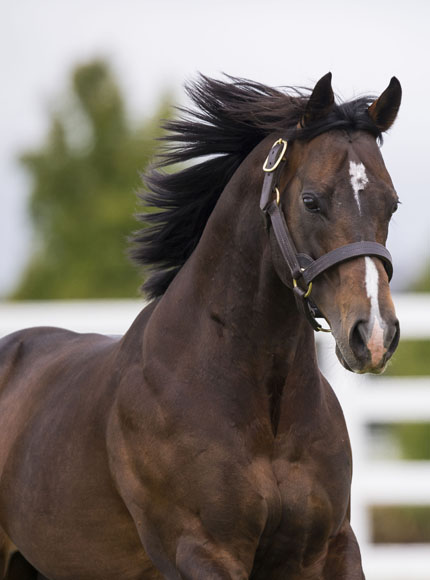 Cable Bay (Invincible Spirit) - who is currently covering his fourth book of mares at Woodside Park Stud - will stand for a reduced fee of £8,000 at his northern hemisphere home Highclere Stud in 2021, having stood for £15,000 in 2020.
However in a gesture to protect breeders, the stud is launching a new incentive for the 2021 breeding season by offering '50-50' terms for Cable Bay and it's other stallion Land Force (No Nay Never).
The new programme means breeders purchasing any nomination for a Highclere stallion will be asked for 50 per cent of the fee on October 1, under SLF guarantee, but the remaining half will only be payable when the progeny reaches its target price at public auction as a foal or yearling.
If the breeder places a reserve on the progeny in excess of the target price, the remaining 50 per cent fee would become payable. Similarly, when using these terms should the breeder subsequently decide not to sell the progeny at public auction, the remaining 50 per cent fee would become payable.
Cable Bay will stand for £8,000 this year, meaning the target price will be £24,000, while Land Force will be available for £5,000, hence a £15,000 auction target price.
European breeders will also benefit from another of Highclere Stud's new initiatives this season as they simultaneously launch Euros4Euros Terms whereby when a mare visits from an EU country the nomination currency is automatically switched into Euros.
As such breeders looking to purchase a nomination to Cable Bay and Land Force in 2021 will have the options of Traditional 1st October SLF Terms, 50/50 Terms and Euros4Euros Terms.
"We are offering these simple ideas to give breeders more flexibility within the commercial breeding market in these more challenging times," said stud director Jake Warren.
"Both Cable Bay and Land Force were both extremely popular in 2020 covering big books, which now gives breeders excellent crops to follow with both stallions, however if they do happen to fall short of the Target Price, using 50/50 will protect their investment. We also hope that launching Euros4Euros for European breeders encourages our valued customers across Europe to travel their mares whilst also simplifying things should they wish to use 50/50 terms as well."