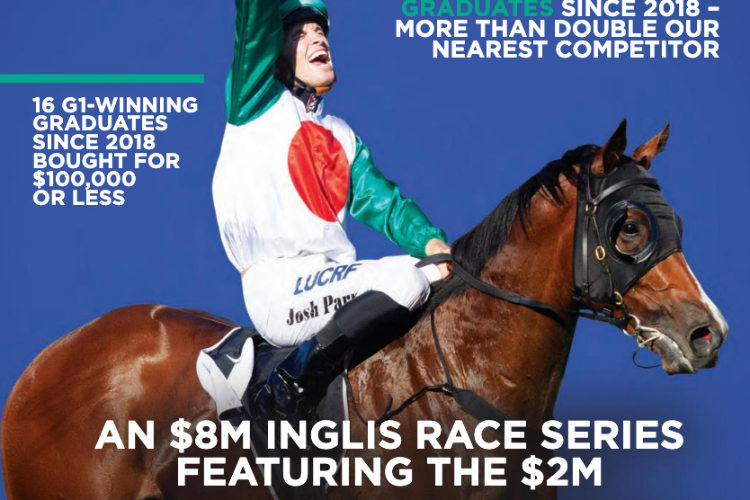 Previously the Easter Preview Magazine, this year's publication has been expanded to preview all three of Inglis's major select yearling sales of 2020 – Classic, Premier and Easter.

The Classic Sale catalogue is already online, the Premier catalogue is due out in a couple of weeks and the 2020 Inglis Australian Easter Yearling Sale is again shaping as a phenomenal collection of outstanding yearlings by the world's best stallions and prepared by the southern hemisphere's best horse people.

The final Easter Yearling Sale catalogue will be available in mid-January. As revealed in the magazine, already confirmed for Easter are siblings to the likes of The Autumn Sun, Sunlight, Loving Gaby, More Joyous, Aethero, Kenedna, Able Friend, Werther, Yankee Rose, Mossfun, Unforgotten, Jameka, Jon Snow, Brazen Beau, Lucia Valentina, Kubrick, Invincibella and many other top-level horses.

Separate to the Sales Season Preview Magazine, a digital publication of select 2020 Easter pedigrees has also been created.
To view the Inglis 2020 Sales Season Preview Magazine, click here.
To view a PDF of some of the best pedigrees for Easter 2020, click here.
Among those clients featured in the 96-page magazine are Aquis Farm, Stonehouse Thoroughbreds, Murrulla Stud, Highgrove Stud, Longwood Thoroughbred Farm, Brae Sokolski and Gary Diamond

Additionally, the magazine includes stories on pinhook successes, the American influence, the changing ways of Asian buyers as well as many others. Select stories have been technologically enhanced to tell in digital form and the Stonehouse Thoroughbreds video can be viewed here.