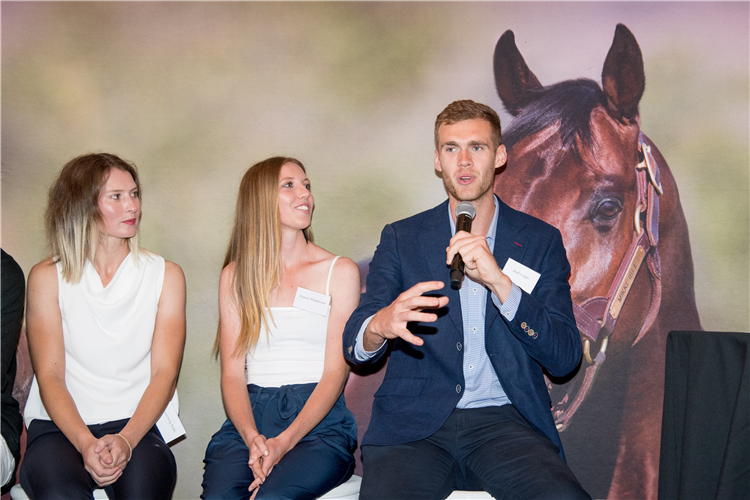 Name: Jack Cripps
Age: 24
Current Job Title: Sales & Syndicates at McEvoy Mitchell Racing
How did you get into the industry?
I joined a program called the Thoroughbred Industry Careers Explorer Cadetship program, the program gives you a taste of all aspects of the industry and placements with industry leaders. Without this program I can guarantee that I wouldn't have joined the industry.
What was your first job in racing?
I worked at Godolphin Northwood Park in Seymour as part of my four and a half month stud placement. To be able to work with so many bluebloods was surreal and the company's attention to detail shows why it is one of the industry's powerhouses.
First racing memory?
My mum and dad used to cater for the Geraldton races so I would always wonder off and watch the horses parade. I specifically remember asking dad to place a bet on for me on a horse called Bar Runner - he didn't put the bet on because we had to leave and couldn't watch the race. The next day on the back page of the Geraldton Guardian was a photo of Bar Runner first past the post. I still won't forgive him for that one.
Who has been the biggest influence on your career?
There have been many during my short time in the industry, but one who I work very closely with and learn a lot from is Matt Tillett. He is very knowledgeable and is more than willing to lend his time. Matt played a large hand helping in me getting he role I am in now, which I am forever grateful for.
If there was one thing you could change about racing / bloodstock in Australia, what would it be and why?
The one thing that I think needs to be addressed is the welfare of our stablehands/track riders, they work crazy hours at a minimum wage and they are a massive part of our industry and I think they need more support. I know there has been a lot of talk about it, but if trackwork started at 6am instead of 4am that would be a huge step in the right direction.
What can racing do to attract more people?
I think making it enticing for people to get through the gates, try a free entry day with some good entertainment or something that makes the non race goer a race goer. Getting people through the door is the hardest part. I think the racing state of origin is a great idea as well as the syndication side of ownership, which is really taking off - taking away the misconception that you have to be rich to own a racehorse.
If you didn't work in racing, what would you be doing?
I'm not sure to be honest, I've always enjoyed my real estate and have my ticket to sell houses so maybe a real estate agent.
Favourite racehorse of all time?
Takeover Target - I remember when he beat Apache Cat in the Winterbottom at Ascot in 2008, from there reading and watching replays of what he had done, where he had been and the journey he and Joe Janiak went through. I think this story, along with many other 'rags to riches' stories are why people love the game and why people want to be a part of it.
Do you think COVID will have an affect on the industry and if so what will it be?
I think trainers have and will lose some support through owners which is inevitable in this climate, but looking at the sales results this year there was still a big appetite to purchase yearlings which is a big positive. I might be sounding too optimistic but I think COVID will have a positive impact on our industry in the sense that the spotlight is on us, when the AFL had stopped racing was the only sport going which has brought new people into our industry. I know gambling turnover was up over this period which indicates there are more people watching the races. The key will be getting those new people through the gates, watching races and into the ownership circles.