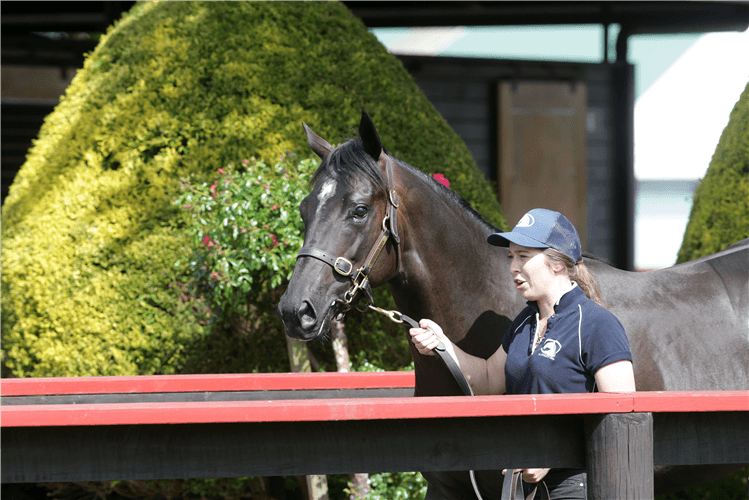 Day 1 of the 2019 New Zealand Bloodstock Ready to Run Sale of Two-Year-Olds saw local and international buyers in action.

Purchasers from New Zealand, Hong Kong, Korea, Macau, Malaysia, China, Singapore and Australia were all active on Wednesday, the first day of the sale. Overall 112 lots were sold for NZ$10,789,500 at a clearance rate of 63%, a decrease in turnover of 10% compared to the corresponding session last year when 115 lots sold for NZ$11,980,500 with a clearance rate of 63%.

The 2019 average was down 8% from NZ$104,178 in 2018 to NZ$96,335 on Wednesday whilst the median fell from NZ$67,500 a year ago to NZ$60,000.

In 2018, Hong Kong-based buyers bought 38 lots overall for a total spend of NZ$7,012,500. 17 of those lots were purchased on day 1 for a total of NZ$3,615,000, accounting for 30% of turnover on day 1 in 2018 compared to 23% of turnover during Wednesday's session this year.

Waikato Stud's Savabeel sired Wednesday's top purchase, lot 162 out of Iffraaj mare Saoirse from the draft of Riversley Park. The colt, who had breezed in a time of 10.87, was secured by prominent Karaka buyer David Ellis for NZ$500,000.

Te Akau Racing's David Ellis was the overall leading buyer by aggregate after securing 5 2-year-olds for a total of NZ$1,090,000.

"There were two outstanding colts in the sale and we're really lucky that we bought them both," said Ellis.

"The Savabeel colt had probably as good as Breeze Up as I've seen here for many years.

"We're thrilled they both came from Sam Beatson's property. He's a really good operator, does the horses really well and it gives buyers like myself confidence to pay a little bit extra to buy the good ones."

Ellis also bought lot 154, a son of Coolmore Stud's Pierro from the Riversley Park draft for NZ$340,000. His dam is the unraced Redoute's Choice mare Rose Of Pania who is herself a daughter of Group 1-placed Sir Tristram mare Rose Reward making her a sister to dual Group 1 winner Lotteria. The colt had breezed in a time of 11.02.

Yesterday also saw 3 lots sell for NZ$420,000, all bought by Hong Kong-based buyers. Those were lot 9, a son of Vinery Stud's Press Statement who is the second foal out of Karata, a daughter of Melbourne Cup (Group 1) winner Let's Elope.

Lot 144, a gelding by Vinery's Headwater who had breezed the quickest in a time of 10.30 and lot 145, a gelded son of former Aquis shuttler Holy Roman Emperor who is from the family of Xtravagant.

All 3 were also sold by Riversley Park who finished the day as the leading vendor by aggregate, with 4 of the top 5 lots and overall selling 15 two-year-olds for a total turnover of NZ$3,700,000.

Australia was the leading country by spend with 50 lots purchased for an aggregate of NZ$4,554,500, ahead of Hong Kong who spent NZ$2,620,000 for 12 two-year-olds. Domestic buyers followed closely behind with New Zealand purchasing a total of 26 lots for NZ$2,520,500.

NZB Managing Director Andrew Seabrook said: "Overall the results weren't as strong as we would have liked on Day 1."However, the demand is still keen for the good ones and those buyers are very aware of the success that Ready to Run graduates have achieved over the years.

"We are looking forward to tomorrow's trade. And we expect the statistics to improve as passed lots are traded through." The second and final day of the sale will begin at 11am on Thursday.