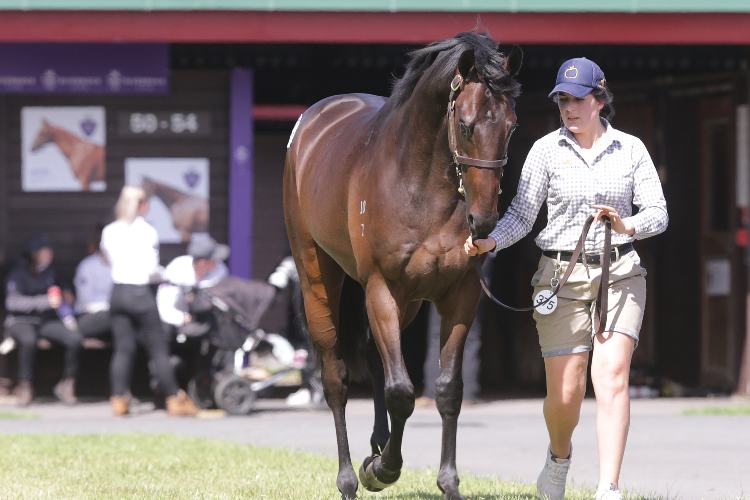 Day 2 of selling at New Zealand Bloodstock's 2019 Ready to Run Sale of Two-Year-Olds saw 257 lots go under the hammer.
NZB's Managing Director Andrew Seabrook was pleased with the final outcome of the Sale.
"Whilst unhappy with the clearance rate at the end of Day 1, the significant improvement on the second day was very encouraging at 74%, up on last year's 68%," Seabrook said.
The aggregate reached NZ$23,585,500 (down 3% from NZ$24,325,500 in 2018) while the average was NZ$91,722 (down 5% from NZ$96,530 in 2018) and 16 lots were sold for a figure of NZ$300,000 or more. The median remained on par with 2018 at NZ$60,000 indicating a strong middle market.
Hong Kong-based purchasers had been quieter on day 1 this year compared to the corresponding day in 2018 and at the end of the sale this year they had bought 33 lots for NZ$5,234,000 accounting for 22% of the market. In 2018, Hong Kong-based buyers bought 38 lots overall for a total spend of NZ$7,012,500 which accounted for 30% of the market.
The top-priced lot on Thursday and for the sale overall was lot 375 who was sold by Woburn Farm to Andrew Williams Bloodstock for NZ$550,000. By the now Rosemont Stud-based Shamus Award, the brown colt had breezed in a time of 10.51. He is the fourth foal out of the stakes placed Domesday mare Exchanges who has produced 2 winners from 2 foals to race to date.
Williams had to fend off several underbidders including Caulfield trainer Lloyd Kennewell.
"I have bought him for an international client, with a view of him initially heading to Lindsay Park Racing (in Victoria) on the way to Hong Kong," he said.
"We thought it was the best breeze of the sale and physically we thought he was the best horse of the sale. He is just a very good individual and he is just head and shoulders above anything else we saw this week. He is a special horse to add to the programme."
Williams had to go a little further than he planned to secure the colt.
"I genuinely thought he was going to be a NZ$400,000 to NZ$500,000 horse and that is what the good horses are making these days," he added.
Later in the day agent Willie Leung went to NZ$440,000 to secure lot 407. The colt had breezed in a time of 10.63 and is a Savabeel half-brother to multiple Group 1 winner and Waikato Stud-based sire Sacred Falls.
"It's always a dream to have a horse with a stallion pedigree and he has a good pedigree. He is a half-brother to Sacred Falls and by champion sire Savabeel, who is doing really well in Hong Kong.
"We will try and keep him as a colt if possible, but we will just see how he goes in the next six months. He will stay here for the preparation and then will head up to Hong Kong.
"I bought him for Mr Jackie Wong, who is a big owner in Hong Kong, and also for trainer Michael Chang."
Although there was plenty of interest in the colt, Leung believes he was value at NZ$440,000.
"I think this one was quite reasonable for a horse that is physically strong with an excellent pedigree. So I think this is good value to have a Savabeel with an outstanding pedigree.
"He was within my budget and was a good buy."
Savabeel has had 4 winners in Hong Kong so far this season headed by leading earner Fun Times. He was the leading sire by average at this sale in 2018 and took the title again this year with the 8 2-year-olds by him selling for NZ$1,920,000 at an average of NZ$240,000 and a top price of NZ$500,000. Real Impact had 3 juveniles sell for a total of NZ$464,000 and average of NZ$154,667, just ahead of Pins whose 6 lots averaged NZ$144,583.
Waikato-based Hiwi Lodge finished the sale as the leading purchaser by aggregate spending NZ$1,440,000 on 8 lots while Riversley Park were the leading vendor by aggregate again this year selling 31 lots for NZ$6,267,500. They were also leading vendor by average with an average of NZ$202,177.