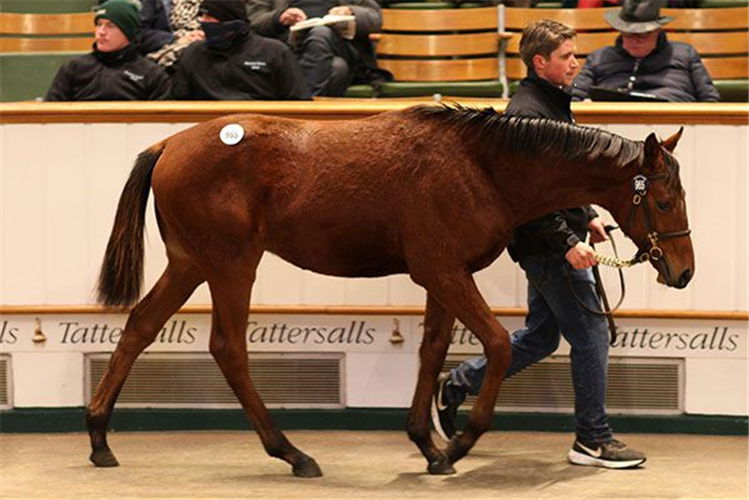 The Dubawi (Dubai Millennium) colt out of placed Montjeu (Sadler's wells) mare Madonna Dell'Orto became the equal second highest priced foal to sell in Europe and the highest priced foal sold in Europe since 2002 when he was bought by Godolphin for 1.8 million guineas on Friday during the third day of the Tattersalls December Foal Sale.
The February-foaled colt is a half-brother to stakes winning Fastnet Rock (Danehill) mare I Can Fly and Listed winner Viscount Barfield (Raven's Pass). His second dam is Sabria (Miswaki) who produced dual Group One winner Landseer (Danehill).
MV Magnier was left underbidder on the colt who was sold by the Swinburn family's Genesis Green Stud.
"I just wish Walter was here to see this, he owned the mare and had her in training," said Michael Swinburn. "I Can Fly was the last one he knew and he was absolutely over the moon.
"She is a mare that I always thought would suit Dubawi, the shape of her. When I Can Fly came up I approached Liam O'Rourke at Darley and asked what was the chances of a foal share to Dubawi, and he said he would be delighted to have her. She is just a pure vessel of a mare, anything she has produced has been a good version of the stallion. She hasn't had any foal the same as the other one – she just throws to the stallion and throws a good version of him."
He added: "It is so hard to get one that is nice, to get it through x-rays, through scopes. I just hope he comes up lucky for Sheikh Mohammed. I have loved the stallion since his early days, I am happy for everyone at the farm, the lads are so loyal and it is a big effort."
Swinburn recounted the rocky start to the investment into the family; "I bought the granddam Sabria at a September Sale here years ago with Oliver St Lawrence, I went home and went into the kitchen and Mum and Dad must have got wind of it that I had bought a mare - it caused an outcry! Walter bailed me out at 25,000 guineas and we have had the family ever since, it has been fantastic for us - it has probably built Genesis Green."
Purchaser Anthony Stroud commented; "I didn't think we'd have to go that far but he is a lovely horse, he is well bred and from a great farm. He is by Dubawi, who had such a wonderful Breeders' Cup, and the boss said go for it. Huge respect to the underbidders, and we are very lucky to have the horse. As long as he is a good racehorse, that is all that matters."
675,000 Guineas for Furnace Mill Stud's Frankel Colt
MV Magnier had earlier enjoyed better fortune when securing a colt by Champion sire elect Frankel (Galileo) for 675,000 guineas. It was a fantastic result for David and Trish Brown's Furnace Mill Stud, who bred and consigned the colt and whose granddaughter Emily Brown led him up. BBA Ireland's Michael Donohoe and Yeomanstown Stud's Gay O'Callaghan were amongst the early bidders, with MV Magnier entering the fray at 400,000 guineas and eventually seeing off the persistent attentions of the Juddmonte Farms' Simon Mockridge and Barry Mahon.
"He's a very nice horse who is very good looking and a brother to a good horse as well. David and Trish Brown are very good breeders, and we've known them a very long time so I'm delighted to be able to buy this horse from them. Sadly David couldn't be here today but hopefully he'll be happy with that result," said MV Magnier.
"It is fantastic, worth all the sleepless nights," smiled an emotional Trish Brown. "He has been brilliant all the way through, a lovely horse. It was lovely to see him making that money. We bought the mare here as a three-year-old, I think she is 16 now. She was 25,000 guineas from New England Stud and she has been a star.
"We bred Juan Elcano by Frankel and it was obvious to go back to him again, we felt the mare deserved a chance with him. We have her two-year-filly by Oasis Dream with us and she is in-foal to Sea The Moon. We have had three by Frankel, they have all had the most wonderful temperaments, wonderful horses to deal with."
David Brown, a former cricketer who played 26 Test matches for England between 1965 and 1969 before establishing Furnace Mill in 1976, was not at Tattersalls today and his wife explained:
"He has not been good on his legs of late and finds it difficult up here. He is holding the fort at home, I am sure he was watching – he can just about manage to operate the Tattersalls website!"
The colt is out of the placed mare Whatami (Daylami) who has produced stakes winning pair Nkosikazi (Cape Cross) and Juan Elcano (Frankel) while further back this is the family of Invincible Spirit (Green Desert) and Pride Of Dubai (Street Cry).
Overall on Friday, 183 lots sold for 17,051,000. The average finished at 93,175 guineas and the median was 60,000 guineas.