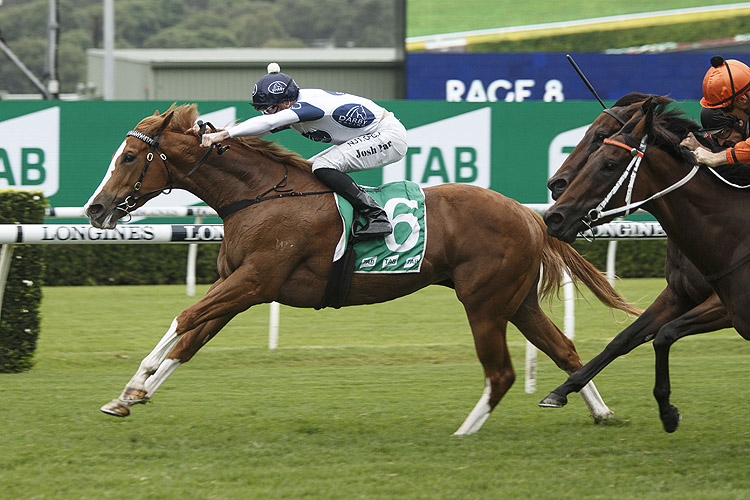 In a result described as 'incredible' by Darby Racing Syndications Scott Darby, Every Rose (Choisir) has become the second horse to surpass the magical seven figures in an Inglis Digital Online Auction, with the daughter of the Choisir (Danehill Dancer) selling for $1.3million to Suman Hedge Bloodstock on behalf of a client.
"I had a feeling she would sell well, and thought she would hit $1 million," a thrilled Scott Darby said.
"But $1.3 million – that's unbelievable!
"What a great way to sell, with Inglis Digital, obviously we were very encouraged with the recent results on the platform of Funstar ($2.7 million) and Fasika last month ($920,000).
"Those two mares have paved the way and I must say a huge thank you to Inglis and the team for the work they did in promoting her, Harry Bailey from the bloodstock team contacted me on Saturday and floated the idea of selling her on Inglis Digital, and it's certainly paid off.
"The owners were very supportive, there was no hesitation when we said we would sell her in a bespoke Inglis Digital sale and we were confident knowing the fillies and mares market has been insanely strong.
"I know there were about half a dozen inspections at Noogee Park and Jilly and Tony Henderson did a wonderful job presenting her over the past few days to interested parties.
"Also, a big thank you to Mark Newnham, who put the mare first and said she was ready to be a mum, all the owners who saw it through to the end, and of course Suman Hedge and his client for their support, I know she will be a wonderful broodmare.
It's been the busiest year Suman Hedge can remember at the sales – both physical and online and comes just three weeks after he purchased Fasika (So You Think) from the August (Late) Online Sale also on behalf of a client. Like Fasika (So You Think), Every Rose is set for a date with Champion Sire Written Tycoon (Iglesia).
"When we were analysing her and looking at her pedigree and physique, Every Rose suited him down to the ground," Hedge said.
"She would also suit a stallion like Zoustar perhaps down the track, as he as reacted quite well to Danehill line mares.
"Every Rose really ticked all the boxes for what we look for, she won the Gimcrack on debut over 1000 metres which is obviously one of the earliest two-year-old races and even beyond her actual race record, it's the horses around her.
"She was just beaten by Group One-winning two-year-old colts Farnan, King's Legacy at her second and third start and then she defeated the likes of Away Game and Hungry Heart, so there is a lot of depth to her performance wise.
"We had good intel from people I really respect, that have seen Every Rose that she is a high quality mare, a great type with plenty of size and scope.
"She's by Choisir, she's fast with a good pedigree that includes proven producers and she fit the budget, although I must say that was a nerve-wracking final five minutes of bidding, because we were at our absolute top!
"My understanding is that there were high profile people and farms that were on her, which always gives me confidence that we are around the right mark.
"It's been an incredibly busy period, there is a huge appetite for quality mares, the racing is so strong here and luckily have continued through the pandemic, and the sales have been strong on the back of that."
High class triple Group Three winner Sovereign Award (Shamus Award) will be offered in another bespoke Inglis Digital Online Auction which will run across next Wednesday and Thursday, September 22nd and 23rd.
The Danny O'Brien-trained daughter of outstanding young sire Shamus Award (Snitzel) won nine times and accumulated in excess of $580,000 in earnings.
"She was a very talented mare and reminded me a lot of her sire with her bold, front-running style," O'Brien said.
"While she showed a lot of ability early, she really came into her own as an older mare.
"She won Group races at Caulfield, Moonee Valley and Flemington last season by getting on the lead, setting a strong pace and effectively galloping high-class rivals into submission."
Bidding on the Inglis Digital 'Sovereign Award Online Sale' will open from the morning of Wednesday September 22nd and close from 4pm on Thursday September 23rd.
For more information on the sale of Sovereign Award, please contact a member of the Inglis bloodstock team.
Entries for the Inglis Digital September (Late) Online Sale will close at midnight next Wednesday, September 22nd, with the sale to run from September 24th through to September 29th.